---
23 Airport Services At Frankfurt Airport That Make You Feel Like A Vip
---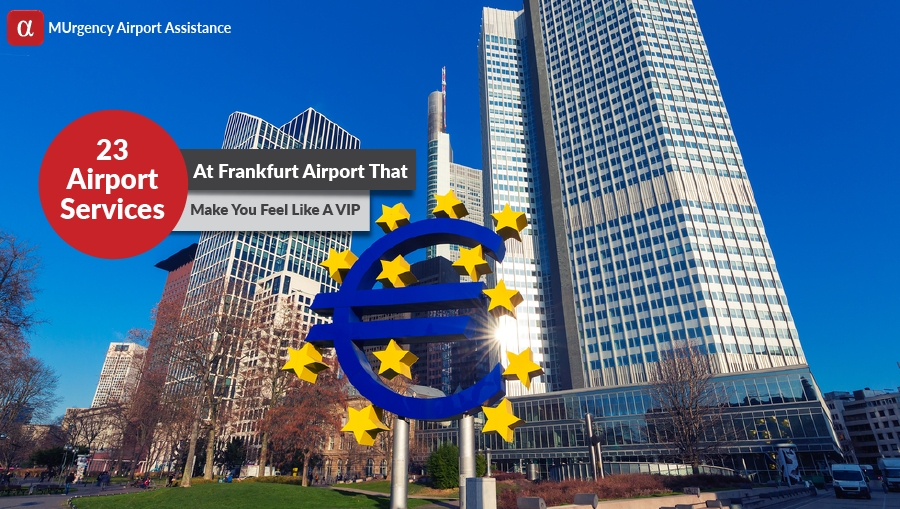 ---
Is your flight delayed? Are you running late for a meeting in another city? Can't find a quick ride to your destination from the airport? These are common situations at Frankfurt airport (Rhein-Main-Flughafen or Flughafen Frankfurt am Main), which is a gateway to the Germany's financial center. Frankfurt is the place of finance, which houses the European Central Bank and a place of rich culture. It is also Germany's busiest airport. At the airport, there has been an influx of business people rushing through the Frankfurt airport, maybe bumping into tourists, families, and artists. If you want to scurvy past the rush, quickly at the airport, these are the services you need.
How Does Frankfurt Airport Rank With Other German Airports?
In 2016, Frankfurt airport served 60,786,937 passengers, and the airport has a capacity to accommodate 65 million travelers.
For Munich airport, it served 42,261,309 passengers, and the airport has a capacity to accommodate 60 million travelers.
As for Dusseldorf Airport, 23,521,919 passengers, making it Germany's third busiest airport.
Airlines Operating At Frankfurt Airport
| | | |
| --- | --- | --- |
| Adria Airways | Aegean Airlines | Aer Lingus |
| Aeroflot | Air Algerie | Air Arabia Maroc |
| Air Astana | Air Canada | Air China |
| Air Europa | Air France | Air India |
| Air Moldova | Air Namibia | Air Serbia |
| Air Baltic | Air Berlin | Alitalia |
| AlMasria Universal Airlines | American Airlines | ANA All Nippon Airways |
| Asiana Airlines | Austrian Airlines | SATA Internacional |
| Belavia Airlines | BMI Regional | British Airways |
| Bulgaria Air | Cathay Pacific | China Airlines |
| China Eastern Airlines | China Southern Airlines | Condor Flugdienst |
| Croatia Airlines | CSA Czech Airlines (Tschechien) | Delta Air Lines |
| Egyptair | El Al | Ellinair |
| Emirates | Ethiopian Airlines | Etihad Airways |
| Finnair | FlyEgypt | Freebird Airlines |
| Globus | Gulf Air | Iberia |
| Icelandair | Iran Air | Iraqi Airways |
| Japan Airlines | KLM-Royal Dutch Airlines | Korean Air |
| Kuwait Airways | TAM Linhas Aéreas | LAN Airlines |
| LOT Polish Airlines | Lufthansa | MEA-Middle East Airlines |
| MIAT-Mongolian Airlines | Montenegro Airlines | Nesma Airlines |
| FlyNiki | Nouvelair | Oman Air |
| Pegasus Airlines | Qatar Airways | Royal Air Maroc |
| Royal Jordanian | Ryanair | SAS Scandinavian Airlines |
| Saudia | Singapore Airlines | Small Planet Airlines |
| Somon Air | South African Airways | Sunexpress |
| Sun Express Deutschland | Swiss | TAP Portugal |
| Tarom | Thai Airways International | TUIfly |
| Tunis Air | Turkish Airlines | Turkmenistan Airlines |
| Ukraine International Airlines | United Airlines | Uzbekistan Airways |
| Vietnam Airlines | Wizz Air | WOW air |
Frankfurt airport or the Rhein-Main-Flughafen is massive in scale, making it far more confusing and tiring to navigate through the airport. So, passengers can avail of the various services to ease the pain of air travel at this airport. Here are the 23 services and features available at Frankfurt airport, you didn't know about.
1) Storage:
Walk around freely and leave your luggage at the airport storage. Discover the essence of Frankfurt.
2) Walking Time Display:
Timing is important and walking through the large Frankfurt airport towards the boarding gate it is important to know, how long it will take. Check out the walking time displayed at the airport to decide the time you will take.
3) App:
No doubt, the Frankfurt airport is massive, but to make sense of it, they have an app. It provides the information you need to locate restaurants, lounges, terminals, exit points, etc.
4) FraCare
No matter the disability, FraCare will offer assistances that follow the EU regulations.
5) Kids
When kids are bored they get fidgety and annoying. However, at the Frankfurt airport there are plenty of things for kids to pass their time. They include:
Creative activities: Contact the information desk; they are stocked with coloring books and puzzles.
Visitor's Terrace: Get into the action on the Visitor's Terrace. Located in Terminal 2, enjoy a fascinating view and activity on the apron. Watch the aircraft taking off and landing on the airfield.
Playground: If your kid needs to burn some energy head towards, Terminal 1 and 2. The activities are fun, interesting, and it will keep them engaged.
6) Stroller Service
Check in your baby stroller at Frankfurt airport. Parents are offered free strollers to use at the airport.
7) Showers
On arrival, use the shower service to freshen up after a long flight.
8) Repair Your Suitcase
It is a common concern that your suitcase will be mishandled. So, Frankfurt airport provides a unique service to fix your bags.
9) Prayer Rooms
The Frankfurt airport is dotted with several religious prayer rooms: Christian chapel, Jewish, Muslim and Christian Orthodox prayer rooms.
10) Quiet Room
Step away from the hustle and bustle of passenger and step into an Oasis of stillness and peacefulness. Yes, Frankfurt airport has a quiet room. Silence please!
11) Silent Chairs
Want to grab a quick alone time as you wait for your flight? Head to the silent chairs. It creates a vacuum of silence, it has built in speakers, and USB socket to get on with your work.
12) Leisure Zones
Kick back and relax at the zone. Lay back on a lounge chair as you wait to board.
13) Free Gaming
There's a lot of time to spare at the airport. So, unwind with some interactive gaming. There are games for different age groups. It ranges from classic tile-matching puzzle video game to dancing games.
14) Workbenches
At all gates, there at bistro-style workbenches with power outlets, USB ports, power stations to charge smartphones and other electronic devices.
15) Yoga Room
Another way to unwind, yoga room. Get in touch with your inner self and stretch your muscles. Release your mind and body from negativity.
16) Smoking Lounge
Yes, smokers get a chic lounge to release some steam.
17) Parking
Frankfurt airport offers a variety of parking packages and rates. It is broken down as follows:
Terminal parking
Early bird online rate
Park, sleep, and fly
Weekend tariff
Holiday parking
18) Airport Tours
Yes, Frankfurt airport is so massive that they provide tours to experience and discover the airport like never before. Select from any of the 10 tours that are organized.
19) "Airport Fascination" Coupons
You can gift a Frankfurt airport experience with this coupon, which can be used for the airport tour, visitor's terrace, and airport shop.
20) Dining Options
The Frankfurt is dotted with the finest restaurants, chic cafés, bars, and take away. Indulge in global brands and local delicacies.
21) Personal Shopper
There's a lot to explore at the Duty Free, however language is a barrier. Get a personal shopper to guide you to the best deals, best prices, and best products, but to explain it in a language you are comfortable with.
22) VAT Refunds
For the purchases, you can get a refund on the Value Added Tax (VAT) only if you do not live in the EU.
23) Business Services At Frankfurt Airport
These services embody exclusiveness, privacy, and customization for all celebrities, businessmen and women, sportspersons, diplomats, and VIPs.
a) VIP Concierge
The representative will meet you the moment to step off the plane or at the curb for VIPs. The care includes meet and greet, assist, privacy and escort you through a separate route that avoids public terminal areas.
b) Luxury Fleet
You can select from a fleet of luxury cars, limousines and other vehicles to get from the hotel to the airport and vice versa.
c) Exclusive Lounges
The Frankfurt airport has six types of lounges to accommodate an individual, small group, or a large group of business executives. Book any of the following to meet your needs:
Club Lounge
Red and Grand Suites
Superior Suites
Panorama Suites
Cigar Lounge
Grand Conference Lounge
d) VIP Packages
The Frankfurt airport offers Carat VIP services for VIP and business people. It includes:
Detouring the public terminal areas and getting travel process done.
Personal Concierge
Access to lounge and transfer in a luxury limousine.
However, for additional VIP services, there are three packages. These services are available for Arrival, Transit, and Departure.
Color

Clarity

Cut

Get to or from the airport in a limousine, but within a 20-kilometer radius.
Detouring the public terminal areas and getting travel process done.
Personal Concierge
Access to lounge and transfer in a luxury limousine.
Access to the Panorama Suite.

You can bring a plus one.
Get to or from the airport in a limousine, but within a 40-kilometer radius.
Detouring the public terminal areas and getting travel process done.
Personal Concierge
Access to lounge and transfer in a luxury limousine.
Access to the Superior Suite.
Visits by up to five non-traveling guests

Shopping assistant
Visits by up to six non-traveling guests
Access to the Royal Suite.
Access to lounge and transfer in a luxury limousine.
Personal Concierge
Detouring the public terminal areas and getting travel process done.
Get to or from the airport in a limousine, but within a 80-kilometer radius.
You can bring a plus two.
Get export or import clearance.
Deployment of a second luxury limousine during the service.
e) Free Wi-Fi
The business services also includes 24 hours free wi-fi.
f) Fast Track
At arrival or departure, head straight to your vehicles. Fast track gives to priority services at immigration, security, customs, and check in.
g) Meet and Assist
The agent will greet you at the meeting place and usher you through the travel process and care for your needs till the boarding gate. This works the other way round too, at arrival.
h) Transit Service
If you are lost with all the signs and the language barrier, and racing against time to catch your connecting flight? The representative will breeze you through the terminal to the boarding area, comfortably.
i) Personal Concierge
The agent personally guides first time flier, mom traveling alone with kids, and business executives through the travel processes at the Frankfurt airport. They skillfully navigates you through the terminal too.
j) Conference Center
Meet your team for events, conferences, meetings, or presentations at the airport conference center. You have an option of 35 meeting rooms.
k) Lounges
At the Frankfurt, there are 26 lounges for business class and passengers. Few are open to all, while others are based on the airline.
Frankfurt airport or the Rhein-Main-Flughafen has customized services for business people and VIPs, but they have kept in mind the needs of every type of passenger. When at Frankfurt airport, book any of these services with MUrgency Airport Assistance. We take care of airport services in 195 countries, so you know you are in good hands. Get the finest and professional services when passing through the airport.
For quick service, download the Airport Assist app and book airport facilities and services on your phone.
Liked the article? We would love to know your comments/feedback. Drop in a message, in the comments box below or feel free to get in touch with us at MUAirportAssist@MUrgency.com.
---
---