---
20 Best Tips To Travel Through Johannesburg Airport, Stress Free
---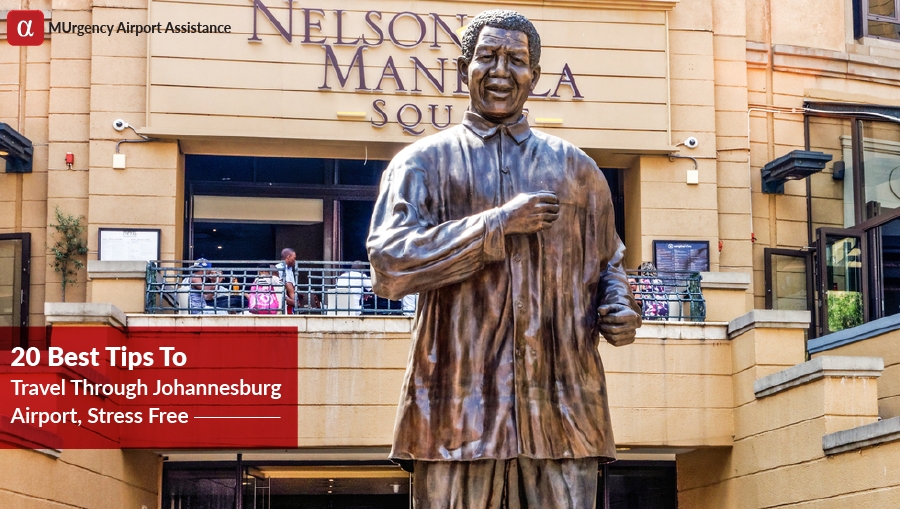 ---
Johannesburg is on the top of the list for South African and popular with travel enthusiasts. However, the Johannesburg airport or the O. R. Tambo International Airport can be chaotic at peak hours and seasons. When at Johannesburg airport, language can be hurdle for non-English speakers; long lines, time consuming travel process, no access to lounge and lack of direction at the airport are factors that will increase your blood pressure. These factors are enough to stress you out.
Well, it is Africa's biggest and busiest airport. It serves more than 19 million passengers a year, but has the capacity for 28 million. It accommodates more than 50 percent of South Africa's passengers.
Johannesburg is followed by Cape Town International Airport (Cape Town) that facilitates 8.4 million passengers a year, and King Shaka International Airport (Durban) facilitates 4.75 million passengers a year.
R. Tambo International Airport serves Johannesburg and Pretoria. It is the hub to seven airlines:
Airlink
Comair
FlySafair
South African Airways
South African Express
Mango
Kulula
Airlines Operating At Johannesburg Airport:
| | | |
| --- | --- | --- |
| South African Airways | South African Express | Air France |
| KLM | Emirates | CemAir |
| Afriqiyah Airways | Air Austral | Air Botswana |
| Air Mauritius | Air Madagascar | Air Malawi |
| Air Namibia | Air Seychelles | Air Zimbabwe |
| Airlink | Arik Air | British Airways |
| Cathay Pacific | Delta Air Lines | EgyptAir |
| El Al | Fly Congo | Ethiopian Airlines |
| Etihad Airways | Federal Air | Korongo Airlines |
| Interair South Africa | Martinair Holland | Kenya Airways |
| Kulula | LAM Mozambique Airlines | Lufthansa |
| Qatar Airways | Mango | Solenta Aviation |
| Qantas | Qatar Airways | Saudi Arabian Airlines |
| Singapore Airlines | Swiss International | TAAG Angola Airlines |
| Thai Airways International | Turkish Airlines | RwandAir Express |
| Virgin Atlantic Airways | Fly Blue Crane | Air Mauritius |
However, there are 20 services available at the Johannesburg airport that are designed to ease the pain of air travel.
1) Fast Track: Getting from the gate to the exit can take you at least an hour or more. Passing through security, immigration, and customs is time consuming. Get the fast track service and exit the airport within minutes. With this service, you do not have to wait in line, and you get first priority at all the important points at the Johannesburg airport.
2) Lounges: The Johannesburg airport has nine luxury and comfortable lounges. British Airways Lounge, Bidvest Premier Lounge, Menzies Shongololo Lounge, SAA Arrival Lounge, SAA Boabab Lounge, SAA Cycad Lounge, Emirates Lounge, Air France Lounge, and Virgin Atlantic Clubhouse. Some are open to passengers flying on a certain airline, but other are open to all. You can pay and enjoy the amenities at the airport lounge.
3) VIP Concierge: Travel in style or welcome your guest with a royal treatment. The VIP concierge service is an end-to-end facility. The passenger is escorted from the boarding gate, through the airport procedures, to the waiting vehicle. To protect the identity of the VIP, the agent will guide him or her through a discreet route. It also includes VIP lounge access at Johannesburg airport. This service can be customized to meet the VIP's requests.
4) Meet & Assist: This service is great for elderly, first time flier, or mom traveling alone with kids. The agent will meet you at the curb and escort you through all the airport processes, till the boarding gate; sees your send off.
5) Porter Service: Johannesburg airport is equipped with trolley and porter services. It is recommended to offer a tip of R10 (Ten South African Rand) per bag.
6) Check-in Assistance: O. R. Tambo International Airport has installed self-service check-in kiosks called Flightcheck. If you are new or a first time flier, get check in assistance. The agent will dutifully help you with seat assignment, baggage handling, and check-in process.
7) Special Needs: The airport has disabled parking, special lifts, ramps, wheelchairs and toilets for the differently disabled. The other special needs services include:
Mobility and health-related service
Safety Assistance
Special Meals
Traveling With Infants
Traveling With Pets
Unaccompanied Minor
8) Terminal Transfer: Rushing between domestic and international terminals is exhausting. Worse so if you are new to the airport or if you have a short window to make the transfer. Be on time for flight comfortably and conveniently with terminal transfer service. The agent will efficiently escort you through all the processes, and get you to the boarding gate on time to catch your flight.
9) Cart Transport: Walking or rushing through the airport is tiring. Why go through it, when you can hire a cart to transport you inside the airport.
10) Wi-Fi Access: Internet and wi-fi access is available to general public present in the shopping area and available to passengers, from the security point to the boarding gate. At the international departure terminal, passengers have a wireless option. It allows laptop users with wireless cards to connect to the Internet.
11) Viewing Deck: At the O.R. Tambo International Airport (ORTIA), the domestic terminal has a large viewing deck with a 180 degree view of airside. The international terminal has a viewing deck, but to find it, follow the signs.
12) VAT Refunds: To get the VAT refund, ensure the customs officials stamps the invoices (in the public concourse of the same terminal) then proceed to the VAT refund outlet.
13) Medical-Related Services: The 24x7 medical services that are available are:
Quick care and casualties
General practitioners
Travel vaccinations
Malaria prophylaxis
Aviation medicals
Obesity treatment
Botox treatments
Acupuncture
Dentist
Optician
Gynaecologist
Physiotherapist
Executive and employment medicals
Counselling to combat stress and to stop smoking
ECGs
Hearing, pregnancy and cholesterol tests
14) Christian Prayer Room: It is open 24x7 and prayer services are help on Tuesday, Wednesday and Sunday at 13h00. On every second Wednesday, an evening service is help at 19h00.
15) Muslim Prayer Room: It is open 24x7 and on Fridays, a prayer service is held in the afternoon. Male and female facility is available.
16) Conference Center: The Premier Conference Centre is located at the domestic terminal, which is available for business meetings, conferences and seminars. It has three 10-seater rooms, a 12-seater room, and a 14-seater room. The seminar facility is ideal for groups of 25 or 50. The conference room for groups of 60 or 120.
17) ATM & Banking: The branches for the major South African banks are located at O.R. Tambo International Airport.
18) Currency Exchange: Bidvest bank, Master Currency and Travelex are situated at the arrivals area of Terminal A.
19) Hotels: There are several hotels near the airport. It is recommended to look up the City of Johannesburg's official website, www.joburg.org.za to make the best pick.
20) Dining: The O.R. Tambo International Airport is dotted with restaurants and pubs. If you are hungry during your layover head to any of the international and local brands situated in the airport.
21) Ground Transportation: The Johannesburg airport is connected by road and rail. For the road, you have cab or shuttle service. Watch out for touts, and only book cabs with the help of Airports Company South Africa. These cabs run on meter and transports you to major towns and suburbs. As for the rail service, hop on the Gautrain, which is a rapid rail system. It is accessible daily from 05h15 to 22h00 approximately every 12 minutes.
22) Limousine & Car Rental: For a comfortable and luxurious airport transfer, book a limousine to pick up and down you at the airport. It is a perfect way to ensure you are on time for your flight. The Johannesburg airport also offers car rental services for a convenient transport in the city.
Johannesburg has a rich heritage and strong culture. It is evident across the city in its food, events, festivals, pubs, dance and music. It is one of the top destinations for the South Africans and travel junkies. When you are passing through the airport, book the above services at Airport Assistance by MUrgency. We customize and personalize the airport services for elderly, VIP, celebrities, sportspeople, first time flier, business traveler, families, unaccompanied minor, and moms traveling alone with kids.
Liked the article? We would love to know your comments/feedback. Drop in a message, in the comments box below or feel free to get in touch with us at MUAirportAssist@MUrgency.com.
---
---