---
Bypass Umrah Airport Rush With These 5 Airport Assistance Services
---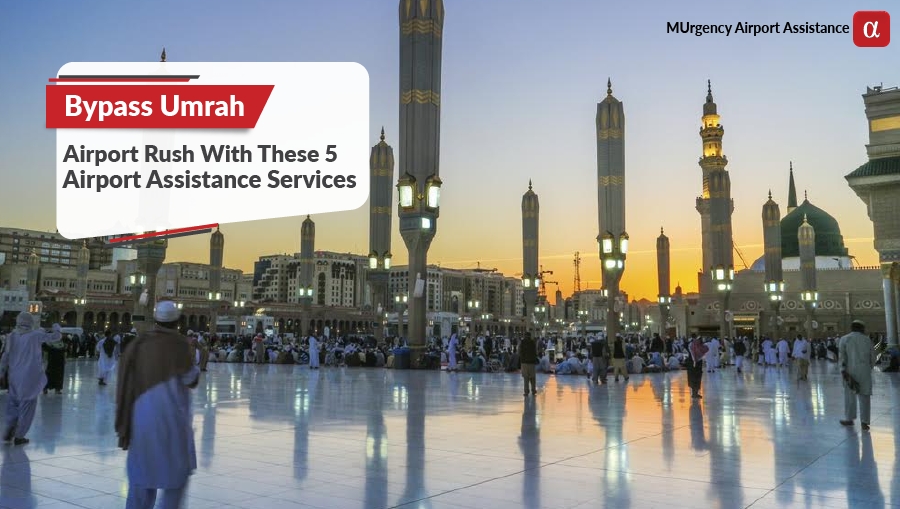 ---
The next few months are going to see a surge in air traffic and air passengers at Medina and Jeddah airports. This is an important time of the year for Umrah pilgrims. You can expect to bump into pilgrims, stand in long lines, and make sense of the chaos, if you are a first-time flier. When an airport is bustling, it gets stressful for passengers. It is worse so for senior and differently abled passengers.
However, your trip through the airport can be a pleasant, comfortable, and stress-free. These are the airport assistance services to help you get from the curb to the boarding gate and vice versa, without breaking into sweat.
Personal Escort:
The representative will meet and greet you at the curb and guide you through the various airport procedures. It includes assistance with check-in, security, immigration, lounge access, and customs on arrival. They ensure you have a comfortable journey at the airport. They will see you off at the boarding gate. It is a great service for seniors, first-time flier, families, and VIP. The personal escort service is your ticket to bypass the Umrah rush.
Porter Service:
You do not have to lug around your luggage, when you have the option of porter service. The representative will professionally handle your baggage as you make your way through Jeddah and Medina airports. This service is apt for moms traveling with kids, elderly traveling alone, and for VIPs.
Safety Assistance:
Can you travel for Umrah if you need assistance to the lavatory or with feeding? Yes, you can. Airlines do not offer assistance, but you can arrange for a safety assistant to help you with your requirements. The primary role of the personal safety assistant is to aid disabled customer exiting the aircraft in case of an emergency evacuation, establish communication for the required safety briefing, and assist with the medical, feeding and lavatory needs of a disabled customer.
First-Time Flier:
Umrah witnesses a lot of first-time fliers, who are also not familiar with the workings of the airport procedures. Meet and greet, fast track, lounge access, and limousine service are some of the amenities available at Jeddah and Medina airports. These are the other services to book for a smooth air travel experience.
Elderly Assistance:
Wheelchair assistance, meet and greet, porter service, fast track, and lounge access are few of the airport assistance services available for the elderly. Check-in assistance and escort to the aircraft ensures you travel hassle free for Umrah.
Special Needs:
Airport assistance company takes into consideration the needs of differently abled and medically aided passengers. They offer medical oxygen, seating accommodations, cognitive and developmental assistance, and assistance for deaf or hard of hearing and blind or low vision passengers.
When you are traveling for Umrah, request for these airport assistance services and more here. Umrah is a unique experience, so embody it and leave the airport bustle to airport assistance company. It will guarantee a pleasant, satisfying, and comfortable Umrah trip.
Liked the article? We would love to know your comments/feedback. Drop in a message, in the comments box below or feel free to get in touch with us at MUAirportAssist@MUrgency.com.
---
---