---
Holiday Season: 6 Airport Services For Elderly & Differently-abled Passengers
---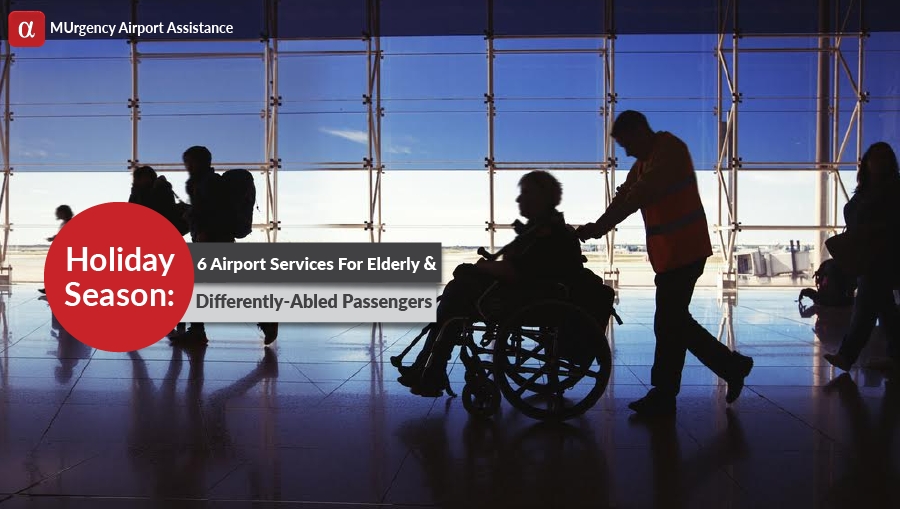 ---
This is the busiest time of the year for airports and air travelers. Tempers will flare and patience runs low. Speeding trolleys, air travelers running to catch their flights, and chaos prevail at the airport. Not the perfect scenario for elderly and differently-abled passengers flying in the holiday season. What you need is airport assistance. Customize the services to suit your special needs and request for professional care. These are the most requested airport services for elderly and differently-abled passengers.
1) Special Meals: The right food+happy customer=customer satisfaction. Airport assistance ensures you get a healthy meal that is in line with your dietary needs. This service extends to meals on the flight and at the airport. We arrange for vegan, diabetes, non-lactose, less salt, gluten free, peanut free, and low or high fiber meals.
2) Escort To Aircraft: Airport assistant will meet and greet you at the gate, handle your baggage, and escort you through check-in and security. If you need to relax and freshen up at the lounge, the airport staff will arrange for access. When it is time to board, the attendant will usher you to the departure gate. There's no worry about missing the flight.
3) Cart Transport: Some airports are mammoth, like the Dubai airport. Airport assistance arranges for cart transport inside the airport, so you don't have to trek through the airport. The attendant will meet you when you exit the plane and drive you through the airport. Relax and enjoy the comfortable service.
4) Mobility Service: Air travel is for all, and you can request for mobility services for any disability. Ask for wheelchair assistance or special wheelchair to meet your medical needs. Mobility is never an issue at the airport.
5) Health Service: Airport assistance extends to providing various health-related services. You can arrange for medical oxygen, assistance for cognitive and developmental concerns, and guidance for deaf and blind. If you need special seating arrangements, the staff will do the needful.
6) Safety Assistance: If you need assistance during the flight, the safety attendant will help you with medical services, help in the lavatory, and feeding passengers with disability. He or she will also assist you to evacuate the flight in an emergency.
Air travel is open to all, regardless of gender, age, disability, physical limitations, or health concerns. This holiday season experience a smooth, swift, and stress-free journey at the airport.
You can arrange for these services and more at MUrgency Airport Assistance. We cater to passengers across 626 airports anywhere in the world. You can ask for airport assistance discount, which is available only for the holiday season. For more details about the services, drop us a comment at MUAirportAssist@MUrgency.com and we will get back to you.
---
---