---
9 Ways Jeddah Airport Makes Air Traveling Comfortable
---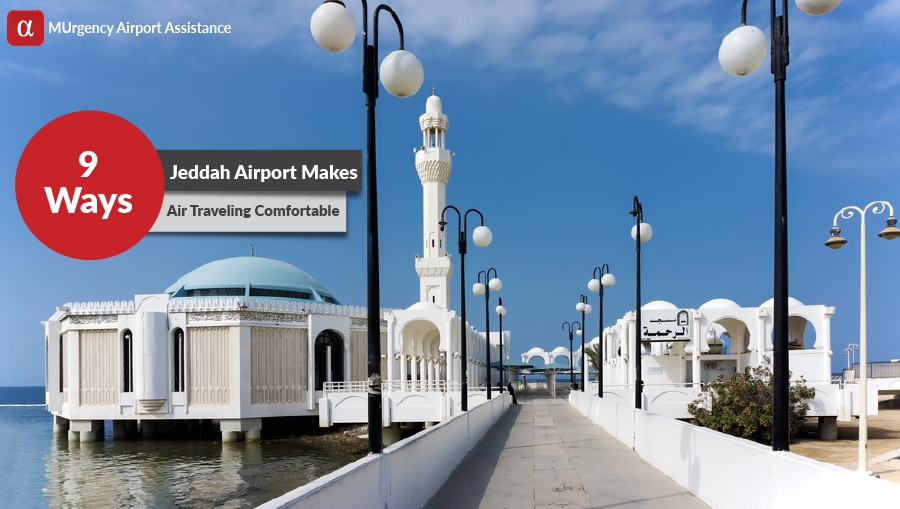 ---
Jeddah airport or as it is official named, King Abdulaziz International Airport is the hub for pilgrims arriving from all over the world. During the peak season of Hajj, the Jeddah airport is packed, which can stir up frustration and tiredness. Worst is waiting in long, never-ending lines for security, immigration, and customs. It is stressful for elderly, differently-abled, mothers, and those with disabilities. Imagine arriving jet lagged to Jeddah airport and then faced with crowded airport and tiring airport procedures.
These woes and several others of the passengers didn't go unnoticed by the Royals and the Saudi Arabia government. They have devised three-phase plan that will accommodate more than 100 million passengers. In the first phase, 90 percent of the airport is completed, and the estimated capacity is 30 million passengers.
According to Saudi Gazette, Deputy Minister of Transport, Saad Al-Khalab said, "This phase will follow the test run of the airport which is designed to serve about 100 million passengers every year."
Presently, there are four terminals at King Abdulaziz International Airport. When traveling the Jeddah or transiting at the airport, this is what is available and which services you can book in advance.
South Terminal at Jeddah Airport
The South Terminal serves all Saudi-based flights (domestic and international) and it is one of the better terminals. Architecturally, the South Terminal is remarkable and the unique feature is the curved roof over the main departure bay. The terminal can accommodate 2500 passengers per hour. Passengers can access two restaurants at the South Terminal and for weary air travelers a 60-room hotel is located east of the main entrance at Arrivals.
North Terminal at Jeddah Airport
The North Terminal at King Abdulaziz Airport Jeddah airport caters to all international airlines as well as other 20 international airlines that land at Jeddah during Hajj and Umrah season. This terminal is similar in architecture to the South Terminal. The North Terminal has 14 departure gates, a quaint cafeteria in the lounge, but a restaurant at the main entrance of the terminal.
Hajj Terminal at Jeddah Airport
This terminal at the Jeddah Airport was built to serve Hajj pilgrims. There are various services especially available to pilgrims, it includes:
prayer areas
rest areas
banks
currency exchanges
post office
telephone facilities
markets
restaurants
general information desks
airline information counters
medical clinic
first-aid services
VIP Terminal at Jeddah Airport
This is an exclusive terminal fit for royalty. As the name suggests, the VIP Terminal is reserved for kings, heads of state, official guests, and VIPs.
Airlines Operating at Jeddah Airport
When you are flying to Jeddah or the King Abdulaziz International Airport, these are the airlines that serve the airport.
| | | |
| --- | --- | --- |
| Air Afrique | Air Algerie | Air France |
| Air India | Alitalia | Air Mauritius |
| Bangladesh Biman | British Airways | Cameroon Airlines |
| Cyprus Airways | Dallo Air | Egypt Air |
| Emirates | Ethiopian Airlines | Garuda Indonesia |
| Gulf Air | Iran National Airlines | KLM Royal Dutch Airlines |
| Kuwait Airways | Kenya Airways | Libyan |
| Lufthansa | Malaysian Airlines | Middle East Airlines |
| Nigerian Airways | Olympic Airways | Oman Aviation |
| Pakistan International Airlines | Palestinian Airlines | Qatar Airways |
| Royal Air Maroc | Royal Brunei Airlines | Royal Jordanian |
| Saudi Arabian Airlines | Singapore Airlines | Somali Airlines |
| Sudan Airways | Swiss Air | Syrian Arab Airlines |
| Trans World Airlines | Tunis Air | Turkish Airlines |
| Uzbekistan Airlines | | |
Services Available At Jeddah Airport
Airport Lounge Access: In the North Terminal, you have the 24 hours First Class Lounge at the airside. The lounge is air conditioned and it is accessible to the disabled. The lounge has fax, internet, telephone, television, newspaper, magazines, and a flight information monitor. To buy airport lounge pass and access, click here. The South Terminal has the Al-Fursan Golden Lounge also at the airside.
Airport Meet and Greet Service: If you are traveling alone to Jeddah for pilgrimage or business, unfamiliar with the language, or if sending your elderly parents who are first time fliers, then you need to get meet and assist service. A personal concierge will meet and greet the passenger or business traveler at the boarding gate and escort them through the airport procedures to their vehicle. Book this service.
Airport Limo: This great service will pick you up from the airport and drop you off to your hotel or final destination, and vice versa. Your bag and baggage in tow. Get this service for Jeddah Airport here.
Airport Assistance for Elderly: Airports are tiring and stressful for elderly, especially if the airport is unfamiliar to them. However, Jeddah Airport offers elderly assistance from escorting them with their luggage to attending to any medical requirements. The representatives are trained to offer care and support any way possible. Book this service.
Disability Assistance: The King Abdulaziz International Airport is equipped to accommodate disabled and differently-abled passengers. You can book assistance for medical and cognitive disabilities.
VIP Airport Service: Special guests and VIPs are served with the finest, professional assistance at the Jeddah Airport. From the moment they alight the flight, they are ushered to their vehicle in the shortest amount of time. Their privacy is respected and they can relax at the lounge as the documentation is in process. Book VIP service.
Fast Track: Waiting in long lines at security, immigration, and customs is a waste of time. However, get fast track for Jeddah airport and get priority service in all these lines. Whether it is during peak Hajj and Umrah season or traveling to Jeddah for business, fast track is a great way to bypass the airport rush.
Ground Transportation: You have the limousine service, but you can also opt for bus or taxis service. The public bus service transfers pilgrims to Jeddah, Makkah, and Medina. As for cabs, the rates are fixed. The traveler has to enquire and confirm the fare before the journey.
Lockers: Luggage storage and lockers are available at Jeddah Airport too.
New King Abdulaziz International Airport
There's a lot you can expect when you are flying to the new Jeddah airport, early 2018.
According to the GulfBusiness.com, 'The new facility is spread across 105 square kilometres and features a 136m air traffic control tower, 3,000-person capacity mosque, 220 service counters 80 self-service counters and parking for 8,200 vehicles.'
The expansion comes a price, around $93.3 million or SAR 350 million. The design and the expanse will increase flights from 500 to 1000 per day. The vastness of the airport will ease the crowding and the rush, especially during peak season.
The King Abdulaziz International Airport stated that the number of passengers has increased by three percent from 2015 to 2016. That is 31 million passengers. To break it down further, the South Terminal served 15.9 million, North Terminal 6.7 million, and the Hajj Terminal received 8 million. However, these figures are expected to cross this year, as the Umrah passengers were 600,000.
What To See & Do In Jeddah
Jeddah is ancient city has a lot to offer for tourists. As it is situated on the Red Sea, the climate is favorable throughout the year. The city is also Saudi Arabia's commercial and entertainment capital. Believe it or not, it is home to several amusement parks. You can walk along the beach or learn about Saudi Arabia's rich history at one of the many museums. So, let's break it down on the fun things tourists can do in Jeddah:
1) Corniche
When in Jeddah head to the Red Sea. It is a bustling place for relaxing and partaking sea activities. It boasts of an over 60km Corniche that winds along the coast. An either ends of the Ccorniche-north and south- are two picturesque beaches. You can go scuba diving, deep sea diving or engage in water sports. You can explore the reefs and the amazing corals and unique fishes too.
2) Kings Fahad Fountain
At the Corniche, don't miss out on the King Fahad Water Spring, which is the world's largest water fountain. The best time to visit it is in the evening, where the fountain is at its best with the backdrop of the setting sun.
3) Floating Mosque
Another iconic monument at the Corniche is the Floating Mosque, which stands majestically at the north Corniche. The mosque is called the White Mosque as it is adorned with white marbel exterior, but step inside to experience the exquisite interiors.
4) Balad
If you like architecture, this place offer unique style that dates back 2,500 years and was home to fishermen. You cannot ignore the traditional coral stones and palm wood lattices that adorn these houses. Take a walk through the old district, you never know what you will find at the many souks doting the streets.
5) Amusement Parks
Enjoy your time with family and friends at one of the numerous amusement parks such as Attalah Happyland, Al Shallal Park or Fakieh Paultry Farms, Al Amwaj Amusement Park, Jungle Land Theme Park, or the indoor entertainment parks that opens in malls during warmer months.
6) Medina Gate
It is a known fact that Jeddah is the gateway to Mecca and Medina, but when at Jeddah visit the Bab Medina Gate. It is the only standing gate that's part of the old city wall, which surrounded Balad. It was built with limestone and embedded with corals.
Like in the past, Jeddah is still a gateway for pilgrims, tourists, and businessmen. Saudi Arabia has acknowledged this surge of passengers arriving at King Abdulaziz International Airport, which has brought about a mighty expansion. However, when at the airport, get Airport Assistance by MUrgency for a time saving experience and a comfortable one too. We offer fast track, VIP services, elderly assistance, meet and greet, and lounge access. You can also get these services with a tap on your mobile phone.You can book the services for a loved one or your guest and we will take complete care of them.
Liked the article? We would love to know your comments/feedback. Drop in a message, in the comments box below or feel free to get in touch with us at MUAirportAssist@MUrgency.com.
---
---