---
Online Travel Agent Vs Human Travel Agent-which Offers The Best Services?
---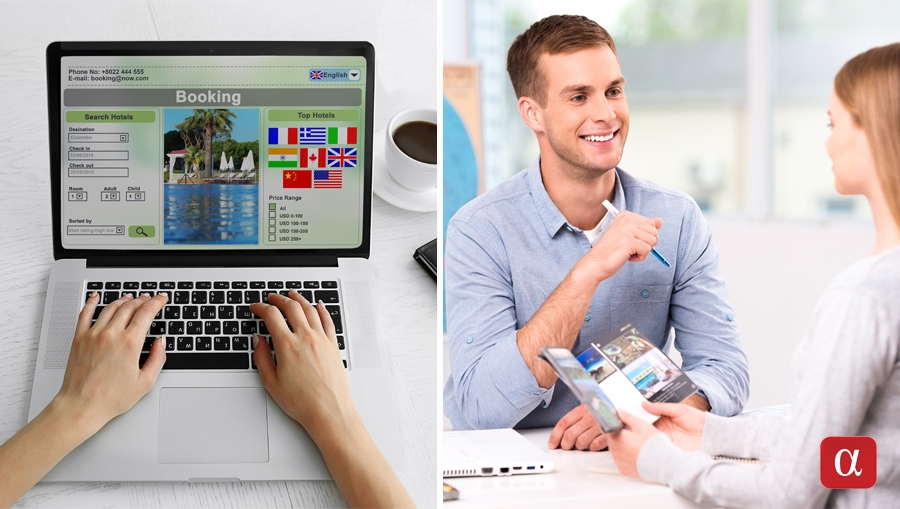 ---
Travel websites and apps took over the world. It gave travelers power to steer and plan their own trip—which meant you don't have to follow a tight schedule of sightseeing, eat where you want, and stay at a place that suits your budget. However, travelers found discrepancies with the system and needed a human travel agent to answer questions.
Traveling revives and de-stresses you, so for your next trip, who will be your travel agent—online portals or a human travel agent? We have the answer:
| | |
| --- | --- |
| Online Travel Agent | Human Travel Agent |
| Benefits: It is an easy way to book a trip from the convenience of your home and at any time-day or night. The traveler can base his or her judgment on reviews and feedback of the hotel and the service. You don't have to make lengthy calls or plan a visit to the travel agency, just click away. | Benefits: Human travel agents optimize your trip in more ways than one. They provide curated content and process the booking of flight, on ground transport, hotel, and restaurants. They are the ones that will meet you special requests, clear doubts, answer questions, and offer insights for your trip. If you plan to cancel your trip, they do it for you based on the policies of the hotel and flight. |
| Pricing: It is cost effective as they provide the best deals. You can compare different packages, hotel rates, and services offered on the trip. These agencies further lower the customer's travel cost and earns revenue from marketing and advertising. The traveler cuts cost on hidden fee. | Pricing: These agents do get their cut or commission, but they offer pre-planned and customized packages. |
| Disadvantages: If you want to cancel or reschedule the date, the online travel agents have restrictive terms and conditions. Researching and booking various services for the trip is time-consuming. If you have questions about the place or trip, you need to speak to a travel agent. You need round the clock internet. | Disadvantages: Human travel agents have inconvenient business hours—you have to adhere to the office timings, or you have to visit the office. They have allegiance to certain hotels and service providers. |
If you know what you are looking for online travel agents are the best. If you have a plan and it needs execution, human travel agents are the best. Those travelers that have tried online agencies face technical glitches and basing your yearly vacation or trip on technology is risky.
---
---