---
What You Didn't Know About Diwali & Places To Celebrate Diwali Besides India
---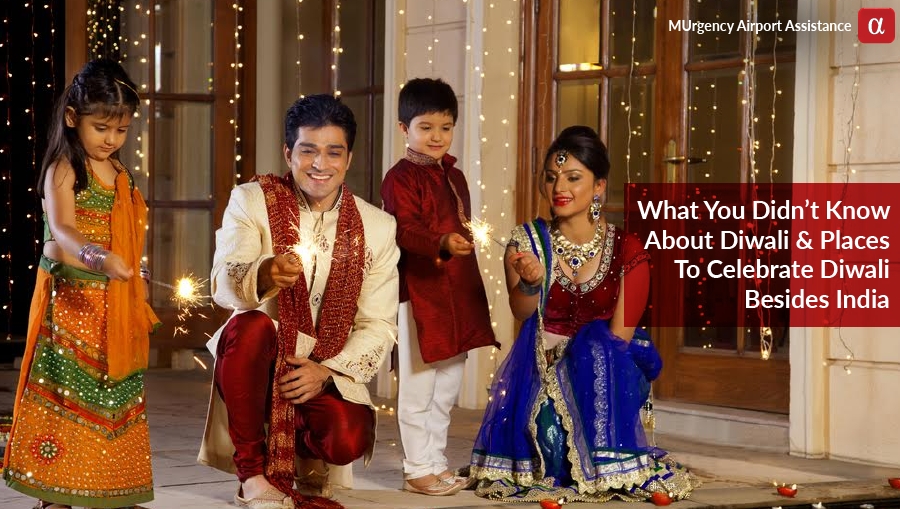 ---
Diwali is celebrated by all religions. It is not confined to a race, caste, gender, or social status. One festival that unities all. Diwali is good manifested in various forms. It is a celebration of light over darkness and knowledge over ignorance.
Why India Celebrates Diwali:
Diwali celebrates the return from exile of the Lord Rama, his wife, Sita, and brother, Lakshmana, as it is told in the Ramayana. Some believe it to be linked to the celebration of Lakshmi, who is the goddess of wealth and prosperity.
Interesting Facts About Diwali:
The festivity spans over five days.
The main festival is celebrated on new moon night of the Lunisolar month.
The first day begins with Lakshmi's birth, which symbolizes the war between good and evil.
On the fifth day, Lakshmi marries Vishnu.
Diwali preparation begins with cleaning and decorating the house.
The floors are decorated with rangoli, which are patterns on the floor of houses, usually near the doorways;
Lanterns and oil lamps brighten up the homes.
People buy gifts for friends and family or present sweets and seasonal goods.
These traditions and customs are traced back to ancient times. Today, Diwali is celebrated across continents. The festival of lights is the much-awaited time of the year for India, but this pomp and fervor is witnessed outside India is countries such as Sri Lanka and Mauritius.
Sri Lanka: This tropical country of pristine beaches, elephants, and rich culture goes all out to celebrate and usher in Diwali. There's a sizable Indian population in Sri Lanka, to be specific Tamilian Indians. Lamp and firecrackers are lit to ward off evil, and each home rings with festivity. Sweet and traditional dishes are prepared. In Sri Lanka, Diwali is celebrated to commemorate Lord Rama's victory over Ravana. The victory of good over evil.
Mauritius: It is a honeymoon destination that warms the hearts and rekindles romance all year round. When it is Diwali, Mauritius ignites the heart with happiness and brightness all around. It is one of the places outside India that celebrates Diwali is pomp and fervor. The island country flickers with luminescence from every home and resort. In Mauritius too, Diwali marks Rama's defeat over Ravana, but here it is also a celebration of the destruction of the demon Narakasuran by Krishna.
If you looking for a place to celebrate Diwali holidays outside India, head to such destinations. If you are flying to these tropical holidays, leave the nitty gritty of airport hassle to MUrgency Airport Assistance. The trained professionals will be there to meet & greet you at the airport and quickly escort you through the airport procedures so, you can enjoy the festival of lights with your loved ones.
Liked the article? We would love to know your comments/feedback. Drop in a message in the comments box below or feel free to get in touch with us at MUAirportAssist@MUrgency.com.
---
---