---
Mother's Day Gift Ideas For Traveling Moms
---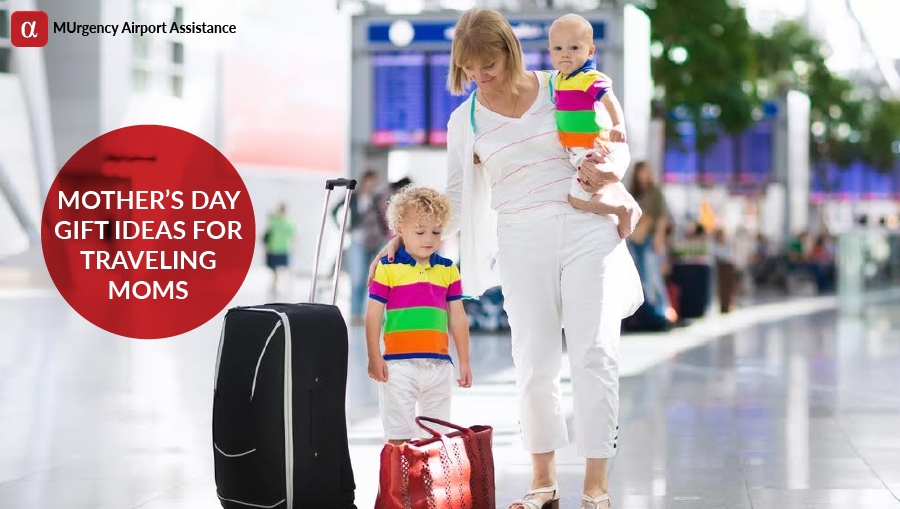 ---
Millennial mom have taken to travel like bread and butter. It is an integral way to traverse cross-country or to a different country in short span of time. Business trip, vacation with girlfriends, solo trip, flying to meet loved ones, and family holidays—the reasons to fly are many, but is it a pleasant flying experience? First time at the airport, traveling with kids, lugging around heavy baggage, upgrading, and lengthy lines are triggers of anxiety.
Moms don't need the hassle, they deserve a stress-free time at the airport. They need airport assistance services such as limousine pick up and drop, fast track, access to the lounge, and personal escort.
So, to make life easier for mommy dearest, here are some air travel gifting ideas for Mother's Day.
1) Mom Traveling With Kids
When you are traveling alone with kids, toddler or infants, you have your hands full. These strong moms need a personal escort or assistant trained in childcare. They guide moms through the various processes at the airport, while attending to the needs of the children and cheering them up. A nanny of sorts. Give these moms a gift card for personal escort.
2) Working Mom
Business meetings and conference can take moms around the globe, to different cities and countries. Career moms juggle many hats in an impressive, effortless way. To take the anxiety off her, get her a gift card that includes porter service, fast track and access to the VIP lounge. She doesn't have to push or carry her luggage and speed through check in, security, immigration and customs. She can unwind at the VIP lounge with some fresh juice, delicious delicacies, and catch up on work at the business center.
3) Expecting Mom
Pregnant women can travel till the completion of 27 weeks. However, air travel is stressful when you are expecting or traveling with children alone. Offer them an airport assistance gift card when they travel for the babymoon. You can get them limousine service, so they and the luggage is picked up and dropped to and from the airport. At the airport meet and greet with the airport assistant to usher them through the airport in the quickest way possible.
4) Grandma
Grandmums are the best, but airport travel is hectic and taxing. They need an escort to guide them from curb to the boarding gate. An airport assistant will take care of them and manage their baggage. The attendant will usher them with the various airport procedures from check-in to boarding. Get them a gift card so they have a new airport experience, like none other.
MUrgency Airport Assistance salute these moms for their positive influence to our lives and for being our everything. Life is not the same without moms. This Mother's Day we are giving out gift cards that you can gift your mom. You can get it in three easy steps.
Change the way she travels, so she can have a great trip. Get the gift card here.
Liked the article? We would love to know your comments/feedback. Drop in a message, in the comments box below or feel free to get in touch with us at MUAirportAssist@MUrgency.com.
---
---