---
17 Ways Kuwait Airport Makes Life Easier For Passengers
---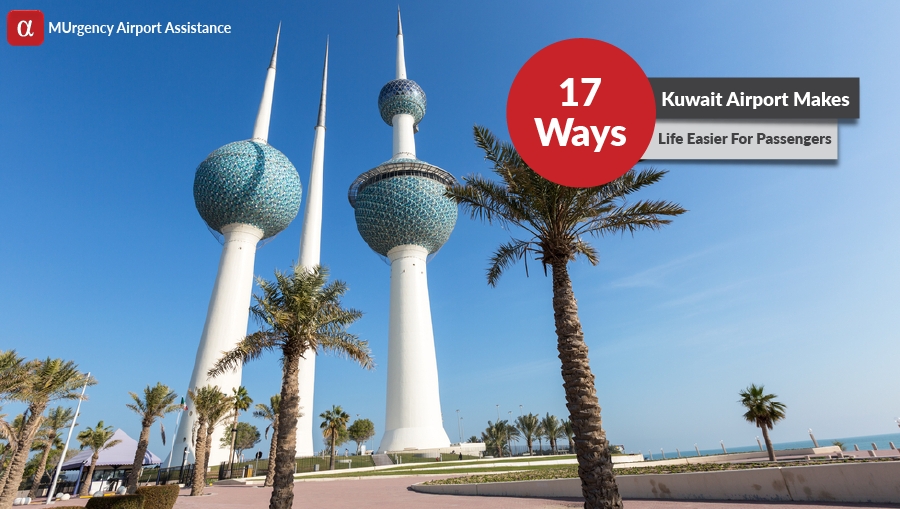 ---
Worried that Kuwait International Airport will be chaotic? The airport may not be on par with other International airports with language barrier, nervous first time fliers, lack of reliable transport to and from the airport and difficulty in getting around the Kuwait International Airport being few of the problems that passengers face. Thankfully, you can avail airport services that make the trip to the airport swift, convenient, and luxurious.
The Kuwait International Airport is home to three airlines:
Kuwait Airways
Jazeera Airways
Wataniya Airways
It is important to note that this is the only airport in Kuwait, so you can expect rush of passengers. However, there are two other airbases in Kuwait, but they are military air bases:
Ali Al Salem Air Base
Ahmed Al Jaber Air Base
Airlines Operating At Kuwait International Airport
| | | |
| --- | --- | --- |
| Air Arabia | Air Arabia Jordan | Air Arabia Egypt |
| Air Cairo | Air France | Air India |
| Air India Express | Airgo Airlines | Al Naser Airlines |
| Almasria Universal Airlines | Ariana Afghan Airlines | Ata Airlines |
| Bahrain Air | Biman Bangladesh Airlines | British Airways |
| Bulgaria Air | Bulgarian Air Charter | Cham Wings Airlines |
| Cairo Aviation | Cargolux Airlines | Cebu Pacific |
| Cham Wings Airlines | DHL Aviation Services | Egypt Air |
| Emirates | Ethiopian Airlines | Etihad Airways |
| Falcon Express | Fly Dubai | Freebirds Airlines |
| Georgian Airways | Gulf Air | Indian Airlines |
| Iran Air | Iran Aseman Airlines | Iraqi Airways |
| Jazeera Airways | Jet Airways | Jordan Aviation |
| Kinda Airlines | KLM Royal Dutch Airlines | Kuwait Airways |
| Lufthansa | Mahan Air | Martinair Holland N.V. |
| Meraj Air | Middle East Airlines | Mihin Lanka |
| Nas Air | National Air Cargo | Nile Airways |
| Oman Air | Pakistan International Airlines | Pegasus Airlines |
| Qatar Airways | Royal Jordanian | Safi Air |
| Saudi Arabian Airlines | Shaheen Air International | Singapore Airlines |
| Srilankan Airlines | Syrian Arab Airlines | Trans Mediterranean Airways |
| Travel Service | Tunis Air | Turkish Airlines |
| United Airlines | Wataniya Airways | Yemenia-Yemen Airways |
| Zagros Airlines | Rovos Air | Atlas Jet Airline |
So, getting back to the main topic. What are the airport services available at Kuwait International Airport for a time saving and VIP like experience? The airport offers important services, but it can be tailored to suit your requirements. These are all the airport services and facilities provided to passengers at arrival, departure, and transit:
Meet & Greet: Airports are massive and for a first time flier or first time at the Kuwait airport, the experience can be overwhelming. However, with the Meet & Greet service you travel with ease. This is a gate-to-gate service. Meet the agent at the curb or boarding gate. She or he will escort you through the all the travel process such as immigration, customs, and security. If you are in transit, they will quickly guide you to your boarding gate.
Fast Track: We spend a lot of time at the airport, especially patently waiting in the immigration, security, and customs lines. However, with the fast track service you cover these travel process within a few minutes. This is perfect for anyone who hates in lines and for business executives, celebrities, and VIPs.
Pearl Lounge: If you are waiting for your flight, the airport seating arrangement won't do. It is uncomfortable, but you can pay and get access to the Pearl Lounge. The facilities and services are what you need to unwind before the flight. They include:
Comfortable seating areas
Play area for children
Restrooms and showers
Device charging area
Business center with tablet PC usage
High-speed wireless internet
Delicious buffest
Smoking area
Limousine Service: This is an apt service for your guests or if you want to travel comfortably. The limousine service will pick up the passenger from the destination and drive them the airport, and vice versa. You can be assured of great service and safe driving.
Check-in Assistance: Get help with your check-in at arrival or transit. Your boarding pass will be kept at hand and re-booking arrangements can be made for the passenger.
VIP Concierge: Welcome and treat your guests, celebrities, diplomats, and VIPs with a personalized service. The VIP concierge service includes personal escort of the passenger from the flight gate to the vehicle. He or she is guided in and out of the airport in the quickest way possible and in complete discretion. This service includes access to the VIP lounge.
Dasman Lounge: This is an exclusive, luxurious lounge for first- and business class travelers. The features and facilities of the Dasman Lounge takes pride in the KASCO hallmark hospitality. This exclusive lounge provides access to unlimited high-speed internet, banking facilities, phone outlet, smoking room, and play area for children. Enjoy and relax with delicious and fresh food, and beverages. Rejuvenate under the shower and relax at the well-designed seating area.
Baggage Delivery: Heavy luggage is a burden to lug around. With this service, your luggage will be delivered to your destination, with the uttermost care.
Baggage Wrapping Service: Worried of your bags ripping in transport, get it secured with the baggage wrapping, which is available at arrival.
Visa Service: No problem, if you do not have a visa to enter Kuwait. The Kuwait airports provides visa on arrival for citizen of certain countries such as:
The United States of America, The United Kingdom, France, Italy, Germany, Canada, Australia, New Zealand, Japan, Netherlands, Belgium, Luxembourg, Switzerland, Austria, Sweden, Norway, Denmark, Portugal, Greece, Ireland, Finland, Spain, Monaco, Vatican, Iceland, Andorra, San Marino, Liechtenstein, Brunei, Singapore, Malaysia, Hong Kong, South Korea, Bhutan, Poland, Georgia, Vietnam, Slovenia, Estonia, Czech, Turkey, Bulgaria, Romania, Cyprus, Swaziland, Slovakia, Cambodia, Latvia, Laos, Lithuania, Malta, and Hungary.
Ground Transport: There are three options for ground transport:
Book a private car.
The airport is connected well by buses.
Or hail a cab.
Airport Hotel: For long layovers, stay at the Safir Airport Hotel. It is situated inside the Kuwait International Airport and it is accessible from the runway. Relax in the lap of comfortable and enjoy the perks of staying at the airport.
The Safir Airport Hotel offers express laundry, dry cleaning, money exchange, steam room, a fitness center, a games room, temperature- controlled swimming pool, and sundeck.
Currency Exchange: The kiosks offer the exchange of currency of different nationalities.
Airport Mall: Commercial Center or the Airport Mall is the 32,000m2 and is located adjacent to the main terminal building. It seamlessly connects the Departure and Arrival halls.
The Airport Mall offers perfumeries, watch stores, sportswear stores, travel goods, music stores, bookshops, banks, money exchanges, ATM cash points, car rental firms, pharmacy, full service clinic, an insurance kiosk, a barbershop, mobile phone stores and hotel reservation desks.
Dining: The Kuwait Airport is cosmopolitan, which is evident in the international and local brands dotting the airport. It has Starbucks, Pinkberry, Cinnabon, KFC, Chilis or munch on local food such as Heil wa zaafaran and Naif.
Wheelchair Assistance: Airports are bug in scale and tiring to walk. Get wheelchair assistance from gate to exit and vice versa. It is offered to all, disabled, injured, and elderly.
Special Assistance: The airport offers 24x7 hours services for passengers with special health-related needs and requirements.
Kuwait is small country, but the Kuwait International Airport is well-equipped to assist the passengers. To book these services, contact MUrgency Airport Assistance, which is available at the Kuwait airport. We provide fast track, VIP services, and meet and greet for all passengers passing through Kuwait airport.
These airport services can be customized for VIPs, diplomats, celebrities, sportspersons, and business executives. Moms traveling alone with kids, unaccompanied minors, elderly, and first time fliers can book the services for a stress free and comfortable trip.
Liked the article? We would love to know your comments/feedback. Drop in a message, in the comments box below or feel free to get in touch with us at MUAirportAssist@MUrgency.com.
---
---