---
20 Facilities That Make Traveling Through Athens Airport Tension Free
---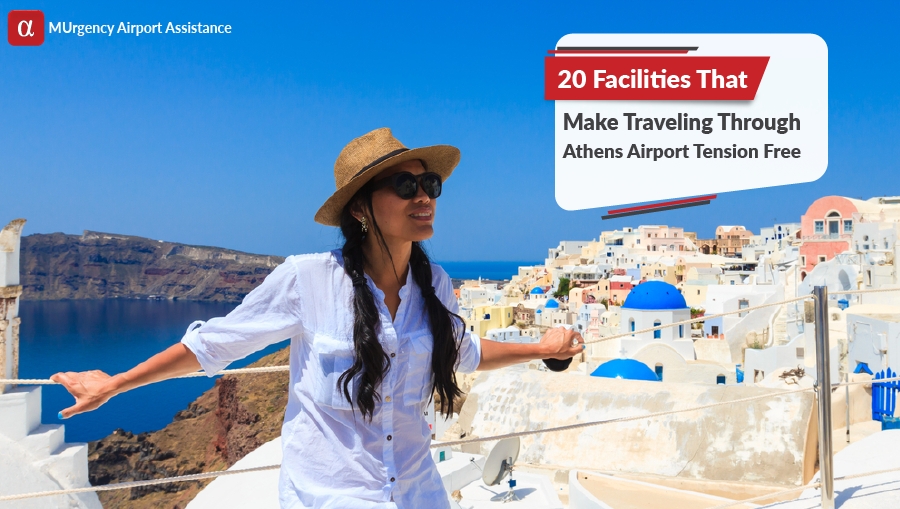 ---
Greece is the top summer destination of all times. It is a hot favorite with Europeans, Americans, and Asians. This surge of tourists arriving and departing from Athens International Airport and other airports in Greece makes it a harrowing experience. You land up spend hours in the airport. There are various travel procedures that you have to pass through, but with the increase in tourists you end up frustrated. The trick to getting around it is to make use of the airport facilities to the maximum and also, gets you in and out the airport in minutes.
The Athens International Airport or Eleftherios Venizelos is the main hub for business travelers entering and leaving Greece. The airport caters to direct flights from major central European airports. Also, it is an important airport for transit passengers from around the world and those traveling to other parts for exotic and beautiful Greece.
Hence, the other busiest airports in Greece are:
Rhodos Airport (RHO) with around 1 million passengers
Thessaloniki Airport (SKG) with 759,196 passengers
Kerkyra Airport (CFU) on the island of Corfu with 619,452 passengers
Which are the airlines operating at Athens International Airport?
| | | |
| --- | --- | --- |
| Astra Airlines | American Airlines Inc. | Aegean Airlines S.A. |
| Aer Lingus PLC | Aeroflot Russian International | Air China International Corp. |
| Air Moldova | Air Baltic Corp. Sia | Air Canada |
| Air France | Air Transat | Alitalia |
| Austrian Airlines | Air Serbia | Blue Air |
| British Airways | Brussels Airlines | Bulgaria Air |
| Croatia Airlines | Cobalt | Dart Airlines |
| Delta Air Lines Inc. | Eurowings | El Al Israel Airlines |
| Ellinair | Easy Jet Airline | Egypt Air |
| Emirates | Etihad | Gulf Air Company |
| Germanwings | Iberia Lineas Aereas De Espana S | Tui Fly Belgium |
| KLM | Lufthansa | MEA |
| Norwegian Air Shuttle | Olympic Air | Pegasus Airlines |
| Qatar Airways | Ryanair | Royal Jordanian |
| Scoot PTE LTD | Scandinavian Airlines | Sky Express S.A. |
| Swiss Intl Air Lines | Tarom Romania | Tus Airways |
| Turkish Airlines | Transavia Airlines | Ukraine International Airlines |
| United Airlines Inc. | Volotea Airlines | Vueling Airlines |

Escape the crowd at Eleftherios Venizelos or Athens airport with these 20 easily available facilities and services that make air travel quick, comfortable and tension free.
1) Business Lounges: There are different lounges at departure, which is broken down to:
Departures - Area A (Non-Schengen)
Skyserv Handling Services – Aristotelis Onasis
Swissport Executive Lounge
Goldair Handling
Departures - Area B (Schengen)
Aegean Airlines - Club
Goldair Handling
Lufthansa - Business Lounge
Skyserv Handling Services – Melina Mercouri
2) Play Area: It is free for children in the age group of 1-7 years old and is located on the 2nd floor of the Main Terminal Building. The parent should accompany the child or children and present their traveling documents. It is open from 09:00-21:00, but for health and safety reasons children with flu or flu-like symptoms will not be allowed.
3) Baby Rooms: To meet the needs of families, parents and moms can easily access equipped baby rooms for feeding and changing babies. These rooms are situated at ideal location in public and passenger areas. Follow the baby care symbol or ask at the information desk.
4) Health Facilities: The services and facilities are available to passengers, visitors and the airport staff and are divided into three functions:
First Aid Station: It is open 24x7 and is manned by personnel of the National Centre for Emergency Care. It is completely equipped to administer immediate medical aid in any emergency situation.
Pharmacy: It is open 06:00 - 24:00
Automated External Defibrillators (AED): In case of emergency, defibrillators are stocked in special cabinets in the Terminal areas.
5) Fast Track: Escape the long lines at immigration, security, and customs and get priority service at these points. It is a great way to avoid waiting in lengthy queues and walk out the airport in minutes.
6) VIP Concierge: Business executives, celebrities, VIPs, diplomats, and sportspeople can pass through the airport in privacy, comfort, and swiftly. The agent will escort the passenger privately through the airport procedures, assist with luggage, and get access to the lounge. It is the ultimate airport service that can be tailored to meet your requirements.
7) Meet & Assist: This service is ideal for elderly, first time fliers, or families. The agent ushers you through the travel procedures and is an expert in navigating you through the airport. They know the Athens airport inside and out, hence they can assist you with any request.
8) Special Assistance: Disabled passengers and passengers with reduced mobility can request for ground assistance, which is for free. Additional services are covered in special assistance such as special care, help with check-in process, and attend to passengers with special needs. The agent also guides those who are not familiar with the local language or the language of the country they are traveling to.
9) Unaccompanied Minors: This service is available and is trustworthy, but you the parent or legal guardian should be present to handover the child to agent. The necessary documentation returning responsibility to the parent is completed.
10) Airport Hotel: Need a comfortable place to stay during your long layover at Athens International airport? Get an accommodation at Sofitel Airport Hotel, which is opposite the airport and enjoy the perks of the gym, indoor pool, sauna, and two restaurants—Mesoghaia and Karavi
11) Car Rental: Need a ride to your destination or to tour Athens? There are five car rental agencies at Athens International Airport that offer these services—Avis, Enterprise, Budget, Sixt, and Hertz. These agencies offer vehicles on rent on different budgets. For an ultra-luxurious ride, the airport provides limousine service too. It will pick you up from the destination and drop you off at the airport on time, and vice versa.
12) Athenspotlighted Programme: Eleftherios Venizelos welcomes you with amazing offers starting at the airport. On arrival, validate your free city card at the designated areas. The cards offers special discounts at various cultural sites, museums, art galleries, restaurants, nightclubs and a number of stores in Athens. Make the most of these benefits in Athens.
13) Tourism Services: It can take a lifetime to explore and enjoy Greece and its mesmerizing islands. So, the Aktina Travel Group and Greek National Tourism Organization (GNTO) at the airport offer assistance with information, booking cruise, tours, air travel, and excursions.
14) VAT Refund: If you are applicable to VAT refund, head to Departures Passport Control, which in a public access area. Get you the customs to stamp you Tax Refund form before Check-in.
15) Site Tour Programme: Go behind the scenes at the airport. The airport offers a free, two-hour guided tour at least twice a week for Primary & Secondary Education students and also to University students. The tour includes the Main Terminal Building, Baggage Handling System, Museum area, Fire Brigade Station, etc.
16) Airport Parking: It is annoying if you parking away from the airport and walk the long road ahead. Book a spot via e-parking and get discounts. The Eleftherios Venizelos has four times of parking services: short term, long term, executive valet parking, and for motorcycles. Choose a spot before heading to the airport and avoid the hassle of searching for a parking spot.
17) Recreational Facilities: The Athens Airport has a number of stores, bars, fast food outlets, and restaurants. Sample European, Mediterranean and Greek delicacies and make the most of the offers and discounts at the stores.
18) Ground Transportation: The public transport is well connected with the Athens International Airport. There are four options:
Suburban Rail
Metro
Bus Services
Regional Buses—Ktel Express Service
The airport has a planned system of public transport that is connected to three ports—Piraeus, Rafina, and Lavrio.
19) Free Wi-Fi: Get on the ATH Free Wi-Fi portal to access internet for free, 24 hours. Connect to the Internet banner to get free unlimited access to the Internet for 45 minute sessions. After the expiry, log-in to the service again for free or you can try the ATH Premium Wi-Fi service for a fee.
Also, there are 22 Internet Access Points for travelers and visitors at the airport.
20) Ground Handling: Greece is a hot spot for rich and famous and to cater to the clientele, the Athens Airport has top notch ground handling services and facilities. They can accommodate the requests and needs of different charters, catering, and the crews.
These 20 services and facilities at the Athens International Airport is what you need to escape the rush and crowd. Travel comfortably, without losing your cool, with luxury services that treats you like a VIP. To receive prompt booking of the services, connect with Airport Assistance by MUrgency at Athens. Get customized services for VIP, celebrities, elderly, mom's traveling with children, families, first time flier, and unaccompanied minors.
Travel to Athens and other parts of Greece with airport services such as fast track, VIP concierge, and meet and assist. This way, you travel at your pace, privacy, comfort, and convenience.
Liked the article? We would love to know your comments/feedback. Drop in a message, in the comments box below or feel free to get in touch with us at MUAirportAssist@MUrgency.com.
---
---