---
3 Safe Destinations For Solo Travelers
---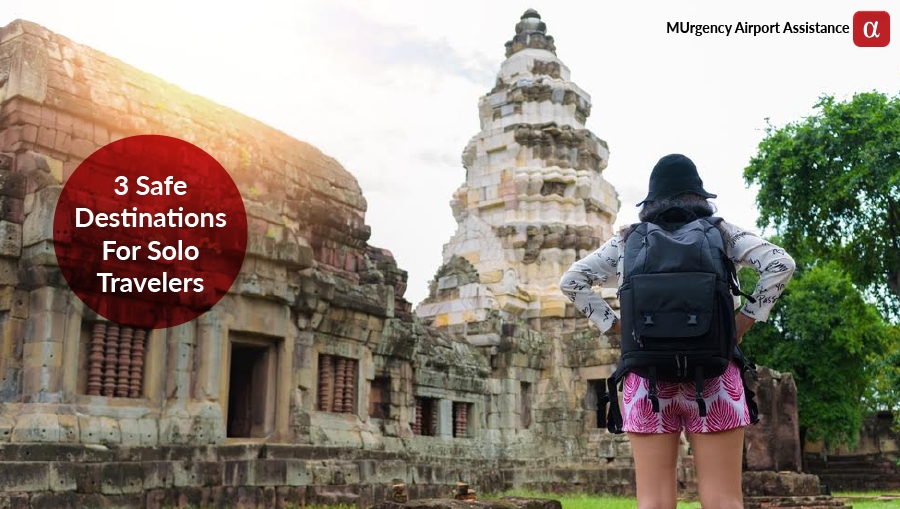 ---
Solo travel is a universal trend irrespective of gender. BookYogaRetreats.com surveyed more than 300 travelers and concurred that 51 percent plan on a solo trip for their next vacation. German top the survey, with 80 percent, followed by UK at 69 percent, and Canadians at 67 percent.
This travel trend has spread to other countries, but which countries are safe for both female and male solo travelers? Channel your adventurous side and strap on back pack as MUrgency Airport Assistance lists out the best, safest, and travel-friendly places for solo travelers.
Japan: The country is one of the safest in the world and Japanese take hospitality seriously. Japan offers a unique culture, food, and architecture. It is a place where the old and new co-exist is perfect harmony. Japan is the best place to experience the magna culture and distinct nightlife. During the day, enjoy the sprawling gardens, Imperial Palaces, Buddhist shrines, and classical arts. When in Japan, solo travelers will experience food like never before, streets lined with cherry blossoms, and night sky illuminated with neon-lit skyscrapers. The cities are well connected, so traveling is not a hassle. Save up and experience the future in Japan.
Ireland: They have the finest beer and spirits in the world, but it is also a place with age-old traditions, mysterious stories, land of legends, and castles. Ireland is a destination for outdoor lovers as it is known for its cobblestone streets, windswept countryside, and chilling coastal cliffs. Ireland is a safe country for solo travelers, but it is advised to use caution to outsmart opportunistic thieves. The country has also given the world rich literature, folklores, and St. Patrick's Day. Ireland is an absolute charm that entices you to return.
New Zealand: The country offers a wide range of adventures with different intensities such as skiing, boating, rafting, bungee jumping, biking, hiking, and sky diving. New Zealand has a diverse terrain and some of the most dramatic sceneries. This country is also a melting pot of cultures and is reminiscent in the food and life. New Zealand is a safe place for solo travelers and you can rent a vehicle to travel on the well-maintained roads. When in New Zealand, get a sturdy pair of shoes and a backpack.
Experience life, culture, and food on your own terms. Channel the solo traveler in you and live life to the fullest.

Liked the article? We would love to know your comments/feedback. Drop in a message in the comments box below or feel free to get in touch with us at MUAirportAssist@MUrgency.com.
---
---