---
25 Ways To Comfortably Travel Through Fiumicino Airport
---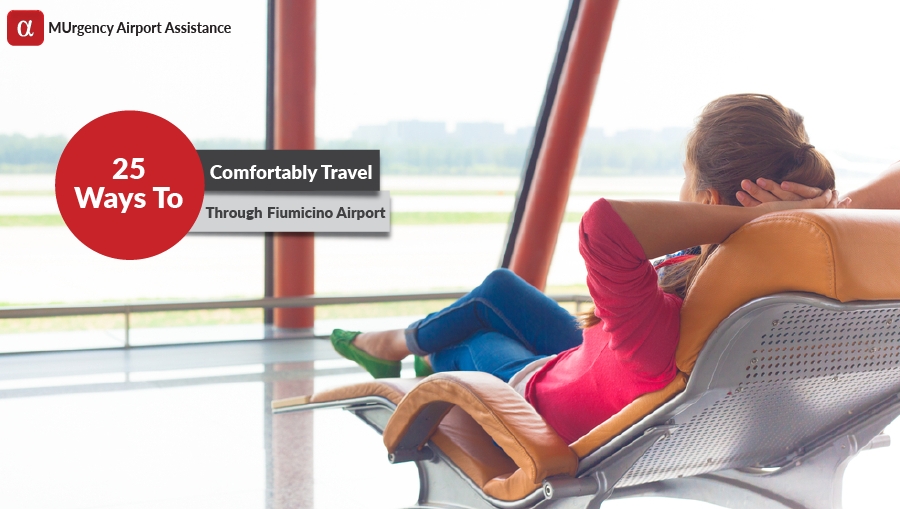 ---
As much as we love the Italian culture, life, art, and food, the passage through Italian airports are the hardest. It is chaos and the rush of passengers especially during summer vacation is at its highest. According to Statista, in 2016, after combining the passenger traffic from all Italian airports, it reached approximately 165 million. It is clear which airport serves the highest traffic, when this number is broken down:
Rome Fiumicino airport served over 41 million.
Milan Malpensa airport served more than 19 million.
Bergamo Orio al Serio airport served more than 11 millions.
The capital, Rome has two bustling airports that serves different types of passengers:
Ciampino handles low-cost carriers mostly.
Leonardo da Vinci-Fiumicino handles regular flights, but the airlines are pricier.
However, Fiumicino is Rome's main airport and Italy's busiest airport.
Airlines Operating At Fiumicino Airport
| | | |
| --- | --- | --- |
| AEGEAN AIRLINES | AER LINGUS | AEROFLOT RUSSIAN AIRLINES |
| AEROLINEAS ARGENTINAS | AIR ALGERIE | AIR ARABIA MAROC |
| AIR BALTIC CORPORATION | AIR BERLIN | AIR CANADA |
| AIR CHINA | AIR EUROPA | AIR FRANCE |
| AIR INDIA | AIR MALTA | AIR MOLDOVA |
| AIR SERBIA | AIR TRANSAT | ALBA STAR |
| ALITALIA | AMERICAN AIRLINES | ASIANA AIRLINES |
| ATLASJET AIRLINES | AUSTRIAN AIRLINES | AZERBAIJAN AIRLINES |
| BELAVIA | BLUE AIR | BLUE PANORAMA AIRLINES |
| BRITISH AIRWAYS | BRUSSELS AIRLINES | BULGARIA AIR |
| CATHAY PACIFIC AIRWAYS | CHINA AIRLINES | CHINA EASTERN AIRLINES |
| CHINA SOUTHERN AIRLINES | COMPAGNIE AÉRIENNE CORSE MÉDITERRANÉE S.A.E.M | CROATIA AIRLINES |
| CSA CZECH AIRLINES | DELTA AIRLINES | EASYJET AIRLINES LIMITED |
| EASYJET SWIZERLAND | EGYPTAIR | EL AL |
| EMIRATES | ETHIOPIAN AIRLINES ENTERPRISE | ETIHAD |
| ETIHAD REGIONAL - DARWIN AIRLINE | FINNAIR | FLYBE |
| FLYEGYPT | FLYONE | FREEBIRD AIRLINES |
| GERMANWINGS - EUROWINGS | HAINAN AIRLINES COMPANY LIMITED | HOP! |
| IBERIA | IRAN AIR | ISRAIR AIRLINES AND TOURISM LTD. |
| JET2.COM | KLM | KOREAN AIR |
| KUWAIT AIRWAYS | LUFTHANSA | LUXAIR |
| MEA | MERIDIANA | MISTRAL AIR |
| MONARCH AIRLINES | MONTENEGRO AIRLINES | NEOS S.P.A. |
| NIKI | NORWEGIAN AIR SHUTTLE | NOUVELAIR TUNISIE |
| ONUR AIR | PEGASUS HAVA TASIMACILIGI ANONIM SIRKETI | QATAR AIRWAYS |
| ROYAL AIR MAROC | ROYAL JORDANIAN | RYANAIR |
| SAS SCANDINAVIAN AIRLINES | SAUDI ARABIAN AIRLINES | SINGAPORE AIRLINES |
| SUNEXPRESS | SWISS INTERNATIONAL AIRLINES | TAP PORTUGAL |
| TAROM | TASSILI AIRLINES | THAI AIRWAYS INTERNATIONAL |
| TITAN AIRWAYS LTD. | TRANSAVIA AIRLINES | TRANSAVIA FRANCE |
| TRAVEL SERVICE CZECH | TUNIS AIR | TURKISH AIRLINES |
| UKRAINE INTERNATIONAL AIRLINES | UNITED AIRLINES | URAL AIRLINES |
| UZBEKISTAN AIRWAYS | VUELING | WIZZAIR |
| WOW AIR | YEMENIA - YEMEN AIRWAYS | |
Known the Four Terminals at Leonardo da Vinci di Roma - Fiumicino Airport:
Terminal 1: Domestic Flights, Schengen Area and Alitalia Medium-Haul Flights. Domestic and Schengen Area flights operated by KLM, Air France Hop!, Air Europa, Luxair, Compagnie Aérienne Corse Méditerranée S.A.E.M., Etihad Regional-Darwin Airlines, Air Berlin, Niki and Air Serbia.
Terminal 2: Domestic flights, Schengen and non-Schengen by Ryanair, Wizzair, Blue Air, Air Moldova, Sun Express and Meridiana, except for long haul flights and flights to Olbia operating from T3.
Terminal 3: Domestic flights, Schengen and Non-Schengen
Terminal 5: Direct flights to the United States and Israel operated by American and Israeli airline companies.
Facilities & Services Available For Passengers
1) The airport has 48 modernized toilets following the avant-garde concept.
2) Energy saving airport: LED lighting devices are fitted to save energy.
3) Check out the sleeperettes for better comfort and the new seats.
4) Terminal 3 has self-service check-in.
5) Use Wi-Fi without a time limit.
6) The infrastructure is designed for passengers with mobility difficulties. You can easily access different airport procedures and amenities from security to customs.
7) The Fiumicino airport has a Terminal Manager to help travelers.
8) Fiumicino airport has an app.
9) Airport Lounge:
Terminal 3 has four lounges which is accessible to all passengers. You can choose I Mosaici at Schengen Area, Le Anfore Business Class Lounge at the Non-Schengen Flights area, Avia Lounge near Gates C and D, and Alitalia Lounges. There five Alitalia lounges—three in Terminal 1 and two in Terminal 3. This lounge is free for Ulisse members, but MilleMiglia members have to pay.
10) Food & Drink:
Fiumicino airport has several restaurants, pizzeria, and cafes, but also has amazing 24 hours places such as Bagel Factory, Ciao Ristorante, Rosso Intenso food and wine, and Vacanze Romane Italian Bar Restaurant. The airport also has vending machines dotting it for some nibbles.
11) Hotel:
The Fiumicino airport may not have hotel accommodation in the airport, but there are six hotels of various price ranges located minutes away from the airport. You are spoilt for choice with Hilton Rome Airport, Hilton Garden Inn Rome Airport, Sleep and Fly Rome Airport B&B, Best Western, BB Fly & Beach, and Al Porticciolo Hotel all near the airport. The airport provides shuttles to all these hotels.
12) Ground Transportation:
The Fiumicino airport is well connected and accessible. The airport provides various options:
Bus: You have the Cotral buses, Terravision buses, Sit Bus Shuttle buses, T.A.M. buses, and Atral-Schiaffini buses.
Shuttles: The airport offers free shuttle bus service that travels between the terminals and also shuttle service for free or for a fee to neighboring hotels.
Car Rentals: There are several car rental agencies that serve you such as Auto Europa, Avis/Budget, Europcar, Hertz, Locauto Rent, Maggiore, Sixt and Rent4U.
Cabs: Official taxis service operates from the airport.
Trains: There are three Trenitalia rail services that connect the airport with central Rome—Leonardo Express, FL1 regional trains, and Frecciargento trains.
13) All the terminals are dotted with ATMs or Cash Machines.
14) Baby Care Rooms: Fiumicino airport provide cots and changing mats at all the baby changing stations.
15) You can avail of the Catholic chapel at Terminal 3. There's also a multi-faith prayer room.
16) Play Area: Let your children burn energy before the flight at either of the two children's play area.
17) Showers: It is available at all the lounges at a nominal fee.
18) Lockers: Lockers and luggage storage is available for 24 hours.
19) First Aid Clinic: There are seven branches throughout the airport. You can approach the information desk for assistance.
20) Luggage Wrapping: You can wrap your luggage, SecureBag at the Departure area at all three terminals.
21) Fast Track: Fiumicino airport is one of the craziest and chaotic airports as it is one of the busiest in Europe especially during summer. Fast track services ensures you a time saving and hassle free time at the Fiumicino airport. Get the service here.
22) Lounge Access: This is the perfect place to unwind at the airport, freshen up, and continue with your journey. Get lounge access at Fiumicino airport.
23) VIP Concierge: Feel comfortable and travel in style and privacy with a VIP concierge service. It is a package that gets you comfortably and on top priority out of the airport. Service provided here.
24) Elderly Assistance: Air travel is for every age group. There are services to assist you through all the process. For an easy journey, you can book fast track, medical assistance, safety assistance, wheelchair assistant, and porter service. Book here.
25) First Time Flier: The air travel industry is growing every year. If you are new to air travel, no problem, we offer services to guide you along the way and ensure you safely reach your destination. Get the service here.
When at Fiumicino airport or Rome's main airport, book MUrgency Airport Assistance services for a time saving, swift, and comfortable experience. No more stressful journey when you have us.
We offer fast track, lounge access, VIP concierge, meet & assist, porter, medical assistance, check-in assistance, personal escort, and much more. We cater to business executives, VIPs, diplomats, celebrities, elderly, first time fliers, mom traveling with kids, unaccompanied minor, solo travelers, women travelers, passengers with disabilities, and regular passengers too.
You can log on to the website or download the app or call us for any of these services at Rome airport and we also offer these services to more than 626 airports in 195 countries.
Liked the article? We would love to know your comments/feedback. Drop in a message, in the comments box below or feel free to get in touch with us at MUAirportAssist@MUrgency.com.
---
---