---
Dos & Don'ts When Flying With Pets
---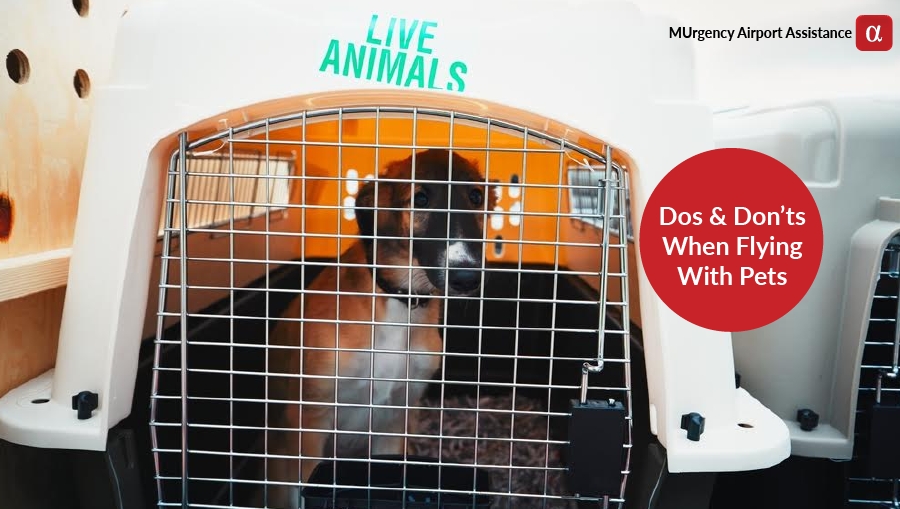 ---
Checking in your own luggage can be frustrating enough when you fly, imagine if you have to fly with a pet or service animal. It's a whole different ball game and some airlines can be a pain about it, unless you fly in a charter flight. Check the pet policies of the airlines you are flying with.

• Does your airline allow pets to fly in the cabin with you?
• Are there any limitations?
• How does the pet travel—in cargo hold?
The best way to travel with pet or pets is to hire a private jet, and fly across the sky in luxury. It may not work out for all of us, simply because it will cost an arm and a foot. So, there are three ways to fly with your pet or service animal.

• In-cabin: Pets must fly in an airline compliant carrier stowed under the seat and accompanied by an adult passenger.
• Checked baggage: Transported as checked baggage in the cargo hold. Some airline may impose a special fee or "excess baggage" charge for this service.
• Manifest cargo: Unaccompanied or large pets will fly as manifest cargo in the hold, which is pressurized.

Dos And Don'ts For The Owner
1. Flying is not unnerving just for humans, but also for animals. As an owner, ensure you pet is safe and at ease when flying with these few simple tips.
2. The pet is mostly to be shipped in a kennel or a confine space, so start the training your dog way beforehand, to stay in a kennel. Make sure the latch is firmly in place.
3. It is advised not to give your pet solid food six hours before the flight. You may offer moderate amount of water and walk the pet, before and after the flight.
4. This is important—sedation. It is not recommended to sedate the pet, unless the veterinarian approves it. Do a test before the trip to check the responsive and reaction of the dose.
5. Travel in a non-stop flight and avoid peak hours such as weekends and holidays.
6. When flying overseas, inquire about any special health requirements such as quarantine.
7. Tag your pet with all the information when you travel by air. Clearly mention your name, address and phone number on the kennel. Make sure your pet is wearing a tag too with the same details. And carry a picture of your pet, in case it is misplaced.
You can make life easier if you connect with MUrgency Airport Assistance to ensure the welfare of your pet. Our staff will get you the right flight, ensure your pet is comfortable, and both of you reach the destination happily.
---
---