---
Popular Restaurants At Airports Worldwide
---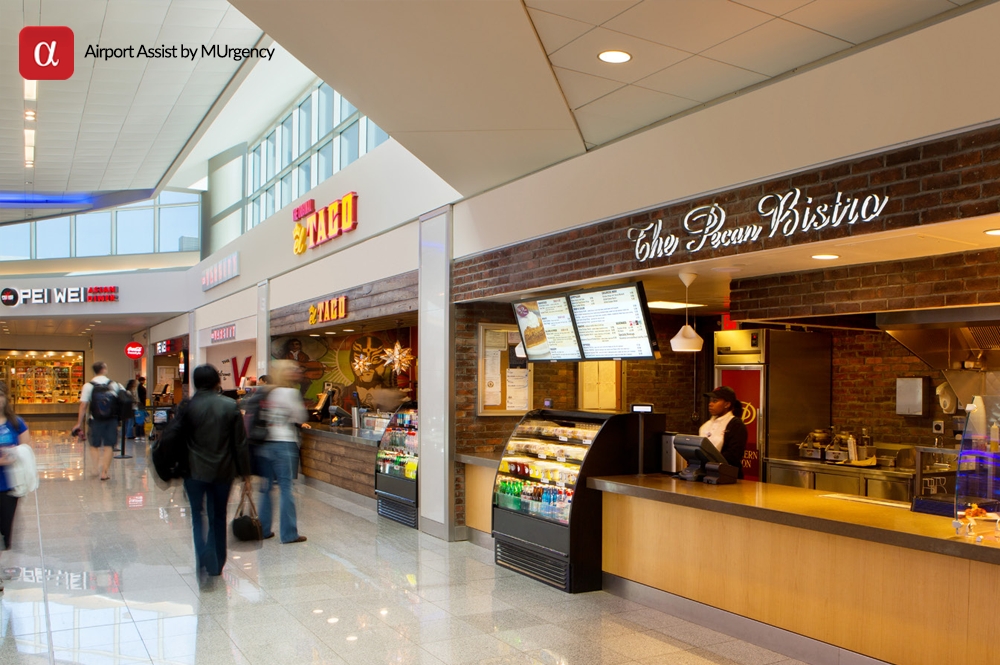 ---
Gone are the days when arriving early at #Airport meant long waiting hours with nothing to do while awaiting the boarding call. Airports have evolved a lot since then where passengers can buy a slice of the culture of the city by visiting the souvenir stores at the airport. Add to it, duty free shopping of apparels, electronics & restaurants that take you on a gastronomic journey, you would just wish you have a few more hours at the airport.
In this article, we try to cover to a few of the best restaurants across the airports in the world which have become popular over a period of time due to their exquisite taste & rich history. Let's continue reading this article to get accustomed to some of the most popular restaurants across the World Airports.
PIQUILLO – John F Kennedy International Airport
This one is regarded as one of the very first Tapas serving restaurant to start in the airport in America. One can have a taste of several items of food in a single meal while taking Tapas. To get the full out of it try Tapas with a glass of wine. Some of our suggestions for you are Embutidos platter which consists of Spanish meat, Almejas Marineras along with white wine and Calamares A La Plancha which has crispy calamari.
ONE FLEW SOUTH – Hartsfield Jackson Atlanta International Airport
This restaurant is the busiest one in the New York-based airport. The airport was established in 1998 and it is estimated that it handles 260,000 travelers every day. The restaurant is popular to serve tourists with foods famous in South Asian countries. This dazzling restaurant is beautified by Georgia pinewood, white leather and marbles. Every tired explorer can sit back into the restaurant and relax by trying some of the best-mixed drinks with a plate of pork belly sliders. Some of our recommendations are burger from Concourse 'e', Kobe beef with goat cheddar and shitake mushrooms. If you are not comfortable with burgers and sandwiches then don't worry, the restaurant consists of a good bar serving sushi. Enjoy your time here.
HUNG'S DELICACIES – Hong Kong International Airport
If you belong to the group of foodies then you would be well accustomed with the word – Michelin star. This title is given to restaurants which are outstanding in every way. Hung's delicacies were established by Chef Lai Wai-Hung in 2003. It didn't take much to get popular among the people of Hong Kong. Chef Hung was known for his outstanding skills with marinades. But due to some rental issues he needed to shut down his restaurant in 2014. A second restaurant with the same name serving Chinese foods like marinated duck tongues, five spied beef shanks, braised goose, etc. was opened in the Honk Kong's airport. Till now it is the most popular one among the tourists at the airport.
PLANE FOOD – London's Heathrow Airport
Gordon Ramsey is one of the most popular chefs in the world. He is also a holder of the Michelin star. This British chef has over thirty restaurants present across the world. One of them is present at Heathrow airport. Those days of grabbing a sack of McDonald's before sitting at the entryway are gone. Rather, you can pull up a chair at this amazing open kitchen restaurant and permit your taste buds one final culinary outing. Some of the best recommendations of this restaurant are wine sauce with roasted Atlantic cod, Hereford steak as well as English sticky toffee pudding as a sweet dish. If you have a flight in the morning then the restaurant serves the breakfast menu as well. It includes ricotta pancakes, eggs benedicts or snack of fresh fruits. This restaurant provides free food to children on selected days. The restaurant is very much popular and one needs to make a reservation to dine at it.
BUBBLES SEAFOOD and WINE BAR – Schiphol Amsterdam Airport
The Schiphol Amsterdam Airport is the 3rd busiest airport of Europe. Unlike other airports, this one uses the same terminal for domestic and international flights. You will get several bars, café and restaurants in the airport but the most famous one is the Bubble Seafood and Wine bar. We guess that it is clear from the name that it is a seafood bar. One can enjoy diverse recipes of sushi and sashimi rolls. The bar is also rich in top quality wines. It is quite sure that you will be finding a glass that goes well with your zesty tuna roll here. If you need to give an attempt to some local Dutch foods, request for a raw herring presented with crispbread and onions.
LA CHEF – Geneva Airport
The Geneva Airport consists of one of the amazing airport, popular with the name La Chef. This restaurant was made in the replacement of an old one, the Altitude. La Chef provides a contemporary menu that is featured with universal flavors. Some of its popular dishes are like saffron lobster bisque, beef tartar, taglierini with giant prawns, etc. Some of the best known sweet dishes of these restaurants are mandarin puree, pear pie with pink berries, melted with salted caramel, caramel frozen yogurt and cocoa. One need not travel the whole country to get the taste of it. You will get all in this restaurant.
The article has made you drool right. No worries even we are drooling while making this for you. If you are planning some trip in the near future then you can opt for the services from the MUrgency Airport Assistance for a comfortable travel. Happy Journey.
How To Book Airport Assistance:
Service Booking Form: https://www.murgencyairportassistance.com/service
Email Us: MUAirportAssist@MUrgency.com
WhatsApp: +1 650 308 9964
Call: +971 50 462 7611
Liked the article? We would love to know your comments/feedback. Drop-in a message, in the comments box below or feel free to get in touch with us at MUAirportAssist@MUrgency.com.
---
---