---
Airport Assistance & other Tips for a comfortable Hajj Travel
---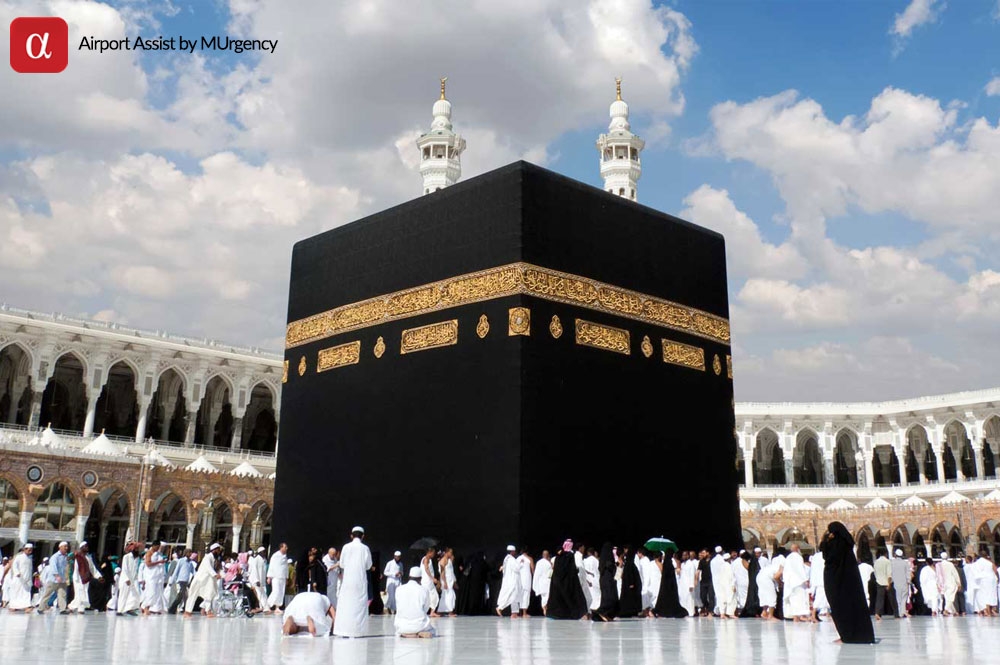 ---
Hajj is a holy journey of Muslims to the blessed city of Makkah located in Saudi Arabia, during Islamic Calender's last month, Dhul Hijjah. It is regarded as one of the five pillars of Islam which if possible then every Muslims should follow. It is viewed as the world's biggest gathering of Muslim people, recording practically 2.4 million travelers in 2018. This year, Hajj starts on August 9 and it goes on for four to six days.
Since the occasion sees a people influx from all over the world especially Middle East Countries, it is imperative to be prepared for the upcoming travel, be it booking the right airport assistance services or carrying the right accessories for a comfortable travel. Luckily, this article does exactly that for you so read on.
Preparation for Hajj
Since Hajj is an ideal encounter for the vast majority, the significance of satisfactory and early planning can't be over-accentuated. One needs some investment of time, money and physical effort for the journey. The information about Hajj must be gathered, schedules must be worked out, and reports must be prepared. The reason for these arrangements isn't just to limit physical distress, monetary expenses, and emotional aggravation, yet in addition to empowering you to perform Hajj with peace of mind and heart. Hence, one should be ready for the journey of self-revelation, self-evaluation and spiritual enlightenment.
Travel Rule with Documentation
According to the government of Saudi Arabia, the passport needs to be valid for at least a half year past the date of your takeoff. Check it right now and if it is not then either apply for a new one or get the validity of your passport extended.
If you are a "green card" holder from the U.S. then also the above rules apply to you.
You will require a round-trip ticket to Saudi Arabia to get a Hajj visa.
Have an extra four to five duplicates of the photographs made and carry them along with you to Saudi Arabia. They might be required for ID cards issued by your muallim and for other Saudi records and systems. Having extra pictures close by will spare you the time, irritation and cost associated with having them made in a remote land.
If you were born and brought up in the U.S.A., you might be required to have an authentication issued by a proficient specialist (The Imam) expressing that you are a Muslim. Since non-Muslims are not permitted in the blessed urban communities of Mecca and Medina, such a record is of critical significance, particularly if you lack a typical Muslim name.
Set up a Last Will and Testament and have it appropriately authenticated. Counsel a lawyer if it is a complex will, or if you are worried about your property and assets in case something unexpected occurs during Hajj. Leave the original documents in a security box available to an individual from your family. The agent/executrix of your will ought to likewise be given a duplicate, and your lawyer should also hold a duplicate too.
Medication and Vaccination
Medication:
Infection related to respiration and digestion is way too much common during Hajj. Individuals from everywhere throughout the world carry with them a wide range of diseases and the unavoidable closeness of a huge number of travelers encourages the simple spread of these sicknesses. Weariness and absence of rest from the physically requesting routine of Hajj bring down one's resistance and immunity, subsequently making one progressively defenseless against these diseases. Take early precaution to avoid potential risk & limit your chances of ending up sick. Getting and remaining fit as a fiddle by ordinary exercise preceding your flight is a decent initial step. You can likewise carry certain medications with you for utilizing later.
Refer to your family doctor and tell him to prescribe a broad-spectrum antibiotic for your journey to Saudi Arabia. Generally, it is seen that the doctors prescribe CIPRO antibiotics be taken 250mg per day. Some people also carry AMOXICILLIN to the country.
List of some of the most important emergency drug one should have with them are:
TYLENOL PM (for sleeping-aid)
ASPIRIN, ADVIL, TYLENOL or ALEVE (for pain)
ASPERCREME, BENGAY (for muscular pain)
EMETROL (for nausea)
IMMODIUM, PEPTOBISMOL (for diarrhea)
MULTI-VITAMINS, COUGH DROPS, BAND-AIDS, ANTI-BACTERIAL CREAM (for cuts)
Vaccination:
One requires certain vaccination to be eligible for a Hajj visa. The World Health Organization (WHO) issues yearly rules and prerequisites about vaccination for movement to different nations including Saudi Arabia. You can have a check at their website. Your doctor will have the essential data or will most likely access it promptly.
Make certain to get an official Vaccination Record Book (the "Yellow Book") from your County or State Health Department. Have your doctor to fill, stamp and sign on it. Anything less might be inadmissible to the authorities providing Saudi visa, and you don't need your visa application rejected for a little reason like this. Keep the "Yellow Book" with your other significant documents which you are going to take to Saudi Arabia. No one can tell when you may require it.
Things to have with you
Below is the list of some of the most important thing one requires for a convenient, safe and care-free journey in Saudi Arabia:
Ihram – It is a two-piece cloth which is unsewn, plain and white made up of 100 percent cotton. Saudi Arabia is a warm country and during Hajj you will perspire a lot. This is a cool cloth and will keep your body airy.
Fanny Pouch – This is a small waist pouch which you can put around your waist to keep valuable items during the hajj.
Money – As Saudi Arabia is a rich country you will face a lot of expenses. Keep heavy amount with you to cover them.
Hope that the above article will be useful to you for your Hajj journey. As it is the Hajj month, the airports & flights leading to Jeddah are going to be really packed up. For any assistance, you can contact at the MUrgency Airport Assistance. We are here to provide you with smooth and speedy custom and security checkups by our fast track services along with staff assistance for further queries. Apart from that if you are exhausted after reaching the airport then we can assemble some good lounge and hotels for you and your family. Other services that can also be a boon are the gate to gate transfer where you can catch up any other domestic or international flight after reaching Jeddah without any delay. We also provide ease in finding best transport that connect you to the city. So now you can leave all your worries to us and just enjoy your journey with your loved ones.
How To Book Airport Assistance:
Service Booking Form: https://www.murgencyairportassistance.com/service
Email Us: MUAirportAssist@MUrgency.com
WhatsApp: +1 650 308 9964
Call: +971 50 462 7611
Liked the article? We would love to know your comments/feedback. Drop-in a message, in the comments box below or feel free to get in touch with us at MUAirportAssist@MUrgency.com.
---
---