---
7 tips to keep in mind while traveling in monsoon
---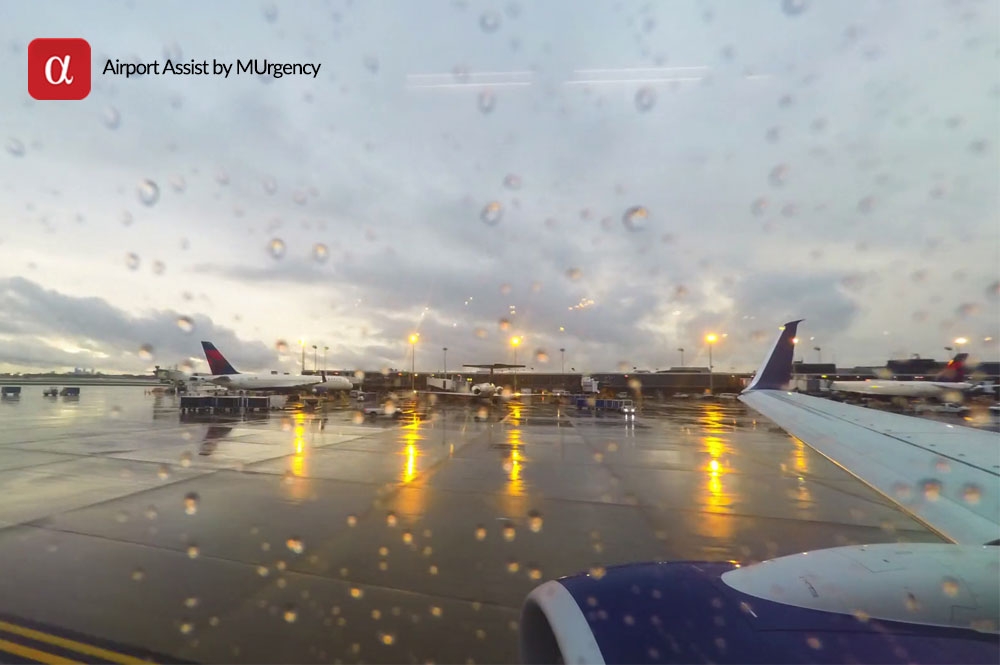 ---
It's time to say goodbye to the scorching heat & welcome the pleasant & cool monsoon showers. But as life is not a bed of roses, Monsoon too brings its own set of challenges. While you can choose to have a cup of coffee or hot tea on your window and enjoy the view of rain drops falling by, sometimes taking up journeys, official or personal, are unavoidable. Travelling in this season can really get slow & uncomfortable & that's where this article comes in.
If you are planning to go somewhere this monsoon, we have brought you some tips that you should follow before you setting out on the upcoming journey.
Pick the right airplane seat: It is proved statistically that driving is much more dangerous than flying in the monsoon months. But if, on a flight, you are surrounded by thunderous and dark clouds you are going to worry a lot about yourself. You will be facing a lot of thuds, bumps, sudden lifts and drops by the airplane. But believe us; it's very normal to face that on a flight. But still, if you want to avoid those then select a seat that is much closer to the airplane's centre of gravity. There are two spots you can choose from. Either in the emergency exit row or right above the aircraft's wing. We guarantee it that you will have a much comfortable ride.
Obey the guidelines of your flight attendant: Though this tip seems to be the most common one it is the most important one. It is reported that during a turbulent flight one of the major reason for peoples getting hurt is not buckling themselves by the seat belt. Make sure that you follow all the guidelines given by your flight attendant. They have got a much better experience than you about a thunder flight. Follow each of their demonstrated steps accordingly and be safe.
Carry a First – Aid kit: As the monsoon season is a moisty season, there is a high chance of a bacterial infection. The diseases travel through water and air and the infection spread is really rapid. Keep bandages, antiseptic creams and disinfectant scrubs with you. Monsoon is a time when mosquitoes and bugs breed. In case, you experience any cuts or get hurt during the flight, do not hesitate to get in touch with the crew as a flight is always equipped with a first-aid kit & the crew is trained for basic medical aid. Always remember that precaution is the best doctor.
Don't forget some entertaining stuff: As it is the monsoon season then it is quite obvious that there will be delays in flight. This will lead you to sit back at the airport for quite a long time. To kill your boredom it is advisable that you should carry some board games or digital games in your laptop or smartphone. You can also get a novel for yourself or some short story books if you are a book worm. If you are interested in watching movies or hearing songs then don't forget to download your favorites on your your laptop. But if you have forgotten to have them then don't worry. You can access the lounge services in the airport and take a shower, rest or even visit a spa for some enjoyment. For any further help, you can contact the MUrgency Airport Assistance.
Leave Early for the journey: Monsoon sometimes gets very much destructive and erratic. Because of it, there will definitely be certain interruptions in your journey. The roads may get blocked due to water or traffic jams may occur because of rain. Suppose you have got to reach the airport and if you get caught in the traffic then you may miss your flight. It is advisable to leave your home early. Take at least 3 hours in hand. Ensure your lodging and airplane terminal exchanges are solid and steady for postponements. For any kind of assistance, you can contact the MUrgency Airport Assistance. So Keep calm, plan in advance & enjoy your journey.
Keep snacks with you: As said earlier that the monsoon season is the time for the growth of bacterial infections. It is advisable that you should prevent streets foods as much as you can. Keep healthy and nutritious foods like dry fruits, fruits, etc. to eat. Be away from raw foods as well. If you are at the airport then you can go for tasty delicacies provided at the restaurants there. They are absolutely bacterial free. Lastly, don't forget your water bottle. Have surplus water with you.
Have the right attire: Last but not the least, have some perfect sets of clothes if you are traveling in the monsoon season. Do not keep whites and pastels in your backpack. Instead, you should go with pants which are dark in color and long sleeves clothes. Don't forget to wear rain-proof shoes. Load your backpack with raincoat and umbrella. Keep extra inner wears and most importantly have a waterproof bag.
How To Book Airport Assistance:
Service Booking Form: https://www.murgencyairportassistance.com/service
Email Us: MUAirportAssist@MUrgency.com
WhatsApp: +1 650 308 9964
Call: +971 50 462 7611
Liked the article? We would love to know your comments/feedback. Drop in a message, in the comments box below or feel free to get in touch with us at MUAirportAssist@MUrgency.com.
---
---