---
5 Top Places To Celebrate Holi In India
---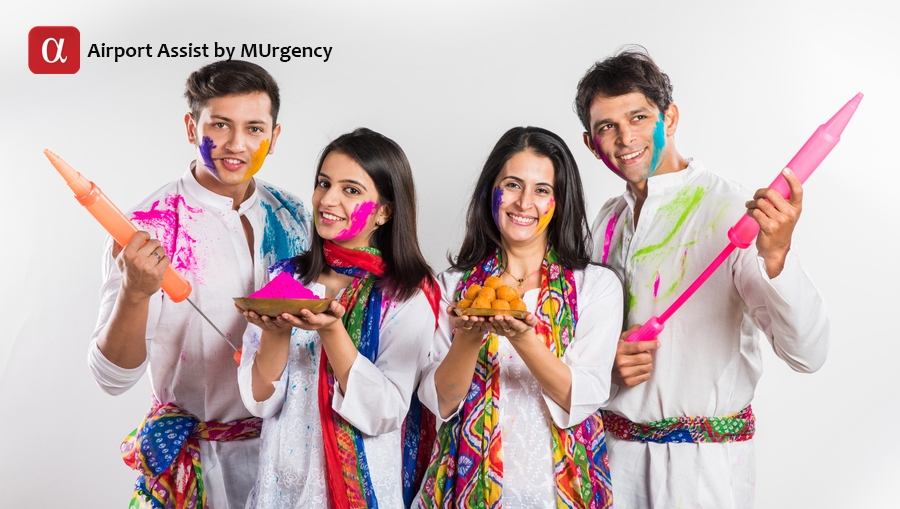 ---
The festival of colors—Holi is celebrated on 21st March 2019, however, there are variations in celebration. These five places are known for their Holi festivity, so head to these Indian cities for the true experience of Holi—Barsana, Mathura, Shantiniketan, Anandpur Sahib, and Udaipur. Here is what you can expect at these beautiful, enchanting, and unexplored Indian cities.
Barsana: When traveling to this city, don't forget your stick especially women. Here the festival is called Lathmar Holi—a day women beat up men with sticks. However, solo female travelers should avoid this festival as there is a high rate of molestation.
The celebrations continue in this town with Laddoo Holi, where mithai and laddoos are thrown around. Doesn't it remind you of Spain's Tomatina Festival. To get to this town, the closest airport is Agra Airport (AGR). For an effortless transfer to the town book limousine or car transfer service here.
Mathura: This is one of the oldest towns in India and Holi is celebrate with pomp. This is a temple town that is steeped in history as it is the birthplace of Lord Krishna. This is the place to be to experience Holi is all its glory with traditions dating back centuries. It promises color, special drink, and amazing food. In this town, the festivities begin 40 days before the main day. The best way to get to Mathura is to fly down to Delhi Airport (DEL) and to have a seamless air travel, get fast track at this busy airport or lounge access or even meet & assist. Book airport assistance services for Delhi Airport here.
Shantiniketan: For a unique celebration, head to this town in West Bengal. The festivity was started by the Indian Nobel Laureate Rabindranath Tagore and is known as Basanta Utsav or Spring Festival. Dress up in bright, spring colors and dance, sing and throw colors to the poet's songs. The nearest airport is Kolkata Airport (CCU) and they offer amazing airport assistance services for elderly, foreigners, and families such as check-in assistance, arrival and departure services, and more. Book the services here.
Anandpur Sahib: The festival if Holi is celebrated by Sikhs too and this is the best place to witness the celebrations. It dates back to 1701, when Sikh Guru Gobind Singh organized it, but here expect to see a demonstration of physical agility such as wrestling, martial arts, mock sword fights, acrobatic military exercises, and turban tying. The town does not have an airport, but you can fly to Chandigarh International Airport (IXC). For an effortless air travel experience book airport assistance services such as car transfer to Anandpur Sahib or priority service at the airport.
Udaipur: For something, traditional and royal visit this majestic town in Rajasthan. The celebration starts with holika dahan—lighting of the bonfire to ward off evil. However, join the Udaipur's Mewar royal family as they organize a magnificent palace procession from the royal residence to Manek Chowk at the City Palace. Fly directly to Udaipur to enjoy the festivities.
Note that airport assistance is available at all these Indian airports for passengers flying during Holi.
How To Book Airport Assistance:
Service Booking Form: https://www.murgencyairportassistance.com/service
Email Us: MUAirportAssist@MUrgency.com
WhatsApp: +1 650 308 9964
Call: +971 50 462 7611
Liked the article? We would love to know your comments/feedback. Drop in a message, in the comments box below or feel free to get in touch with us at MUAirportAssist@MUrgency.com.
---
---