---
5 Relaxing Cancun Airport Services: Meet & Assist, VIP Service, Fast Track, & More
---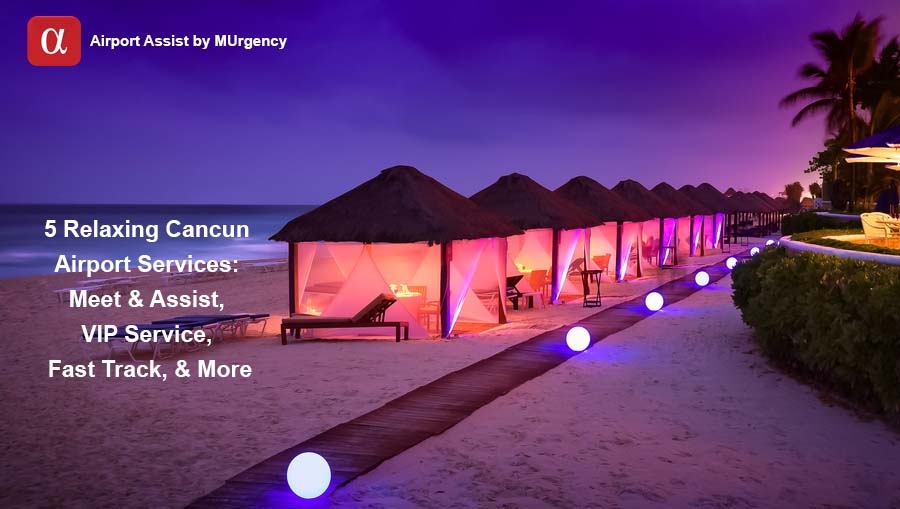 ---
Take a winter break and head to the beaches of Mexico. The most popular of the lot is Cancun, and why not, Cancun is visited for its beaches, numerous resorts and nightlife. When flying in to Cancun International Airport get airport services to ease your way through the crowd visiting this winter destination. Cancun Airport Assist by MUrgency offers fast track, VIP service, meet & assist, limousine service, personal concierge, baggage handler, and more for passengers arriving at Cancun Airport (CUN).
According ASUR, this destination has seen a widespread growth. From January to October 2018, the total number of passengers was 7,262,254, which is 12.3 percent more than the same period last year. Reports suggests that Cancun Airport sees 11 percent growth every year. The airport accommodates 47 different airlines in four terminals. So, which are these airlines to book for a flight into Cancun?
Airline Operating at Cancun International Airport:
| | | |
| --- | --- | --- |
| Aeromexico | Aerocaribe / AeroCozumel | Aviacsa |
| Interjet | Volaris | Click de Mexicana de Aviación |
| Mexicana de Aviación | AeroTucan (shuttle Cancun-Cozumel-Cancun) | Air Canada |
| Aircomet | Air Europa | Air Tran Airways |
| Air Transat | Aladia Airlines | Alaska Airlines |
| Allegiant Air | American Airlines | American West |
| Amerijet | Atlantic Airlines | Austrian Airlines |
| Belair Airline | Blue Panorama Airline | Canjet Airlines |
| Condor Airlines | Continental Airlines | Copa Airlines |
| Corsair Airlines | Cubana de Aviacion | Delta Airlines |
| Edelweiss Airlines | Euro Atlantic Airways | Eurofly |
| First Choice | Frontier Airlines | Global Air |
| Iberia Airlines | Iberworld Airlines | Jetblue |
| KLM Northwest Airlines | LAB Lloyd Aereo Boliviano | Lan Chile |
| LTU Lufttransport-Unternehmen GmbH | Magnicharters | Martin Air Holland |
| Miami Air | Monarch Airways | MyTravel |
| North American Airlines | Northwest Airlines | Novair |
| Pace Airlines | Primaris Airlines | Pullmantur Airlines |
| Ryan International Airlines | SkyService Airlines | Spirit Airlines |
| Sun Country Airlines | Tam Airlines | Tikal Jets |
| United Airlines | U.S. Airways | USA3000 |
| Varig | VivaAerobus | Westjet Airlines |
| Aero California | | |
When the biting cold winter is more than you can handle, the sun kissed beaches of Mexico is set to welcome you. When flying to Cancun, include these following airport services to avoid long line, travel in comfort, privacy, and overcome the challenges of flying, especially at the airport.
1) Fast Track
In order to avoid lines at passport control and custom clearance (where applicable), our professional representative will walk you through the fast track process. Each airport varies depending on the specific rules of airports, airlines and countries.
2) Meet & Assist
Our representative will wait with the name board to meet you at the curb, at the meeting point decided within the terminal building or at the passenger bridge if in transfer.
3) Escort to Aircraft
Once you have successfully checked-in and completed all of your luggage and security transactions, you will be personally escorted to the departure gate to board your flight. Pre boarding help where eligible and allowed.
4) Cart Transport in the Airport
Once you deplane, our greeter will transport you in an electric cart from the flight gate to passport control. Please note: Our representative's access to the gates vary at airports around the world on the basis of the airport security regulations.
5) Special Needs
Wheelchair assistance
Medical oxygen
Seating accommodations
Cognitive and developmental assistance
Assistance for deaf or hard of hearing
Assistance for blind or low vision
These services are ideal for families, friends, unaccompanied minors, VIPs, celebrities, diplomats, and air travelers who cherish comfort.
How To Book Cancun Airport Assistance Services:
Service Booking Form: https://www.murgencyairportassistance.com/service
Email Us: MUAirportAssist@MUrgency.com
WhatsApp: +1 650 308 9964
Call: +971 50 462 7611
Liked the article? We would love to know your comments/feedback. Drop in a message, in the comments box below or feel free to get in touch with us at MUAirportAssist@MUrgency.com.
---
---