---
10 Airport Services For Las Vegas Passengers—Fast Track, VIP Service Including
---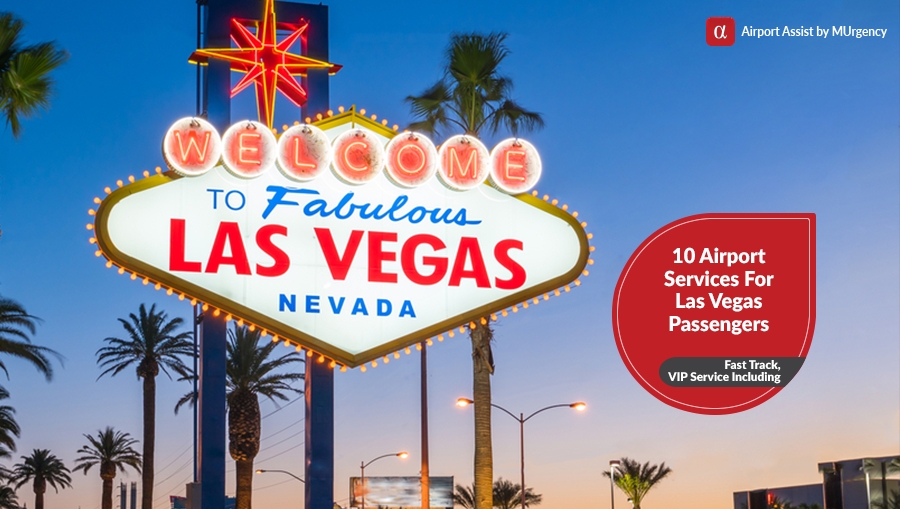 ---
Las Vegas, a land of glitz, entertainment, money, gratification, and luck. It is a trip that is filled with memories and to complement this trip, you need to start and end it on an exciting note. The best way to Las Vegas is via McCarran International Airport (LAS) and the best way to keep the exciting going is with quick and relaxing facilities to usher you through the airport. These services and facilities include fast track, meet & assist, limousine transfer, or much more.
In 2017, the Las Vegas Airport served 48,500, 194 passengers from commercial (national and international) and charter flights, compared to 2016, which catered to 47,435,640 passengers. The passengers arriving and departing Las Vegas by flight is increasing every year. So, on your next visit to this city, these are the services that promises quick journey through the airport, privacy, luxuries, and ease at the airport.
However, when booking your flight to Las Vegas these are the flights that operate at the airport.
Airlines Operating at the McCarran International Airport (LAS):
Terminal 1

American Airlines

Allegiant Air

Delta Air Lines

Southwest Airlines

Spirit

Terminal 2

Condor Airlines

Copa Airlines

Alaska Air

Edelweiss Air

Eurowings

Frontier Airlines

Hainan Airlines

Hawaiian Airlines

Interjet

Jet Blue

Korean Air

LATAM

Norwegian Air Shuttle

Omni Air International

Air Canada

British Airways

Sun Country Airlines

Thomas Cook Airlines

United Airlines

Virgin Atlantic

VivaAerobús Airline

Volaris

West Jet

Aeroméxico
Terminal Information:
There are 110 aircraft gates at two separate terminal buildings T1 - Terminal 1 and T3 - Terminal 3.
The terminals have their own parking garage, ticketing/check-in area, baggage claim, and shopping and dining options.
Note: Since both the terminals are not connected, it is important that you know which airline operates at which terminal.
While at the McCarran International Airport these are the services and facilities available for a comfortable and luxury experience.
Get the VIP treatment when you arrive and depart from Las Vegas airport. Our representative will wait with the name board to meet you at the curb, at the meeting point decided within the terminal building or at the passenger bridge if in transfer.
In order to avoid lines at passport control and custom clearance (where applicable), our professional representative will walk you through the fast track process. Each airport varies depending on the specific rules of airports, airlines and countries.
Our representative will escort you or your guests to the airport lounge so you can relax before your flight and enjoy complimentary snacks and drinks. They will then accompany you to the departure gate when it's time to board the flight.
Travel to and from the airport in comfort with the limousine services. The chauffeur-driven car will handle your baggage and drive you efficiently.
Time to spare at the airport? Hit the gym, ZEROlevel Fitness & Wellness at the airport and burn the excess calories. Book a day pass and gain access to cardio equipment, free weights, lockers, showers, and saunas. Personal trainer, health coach, massage therapy and restorative mobility therapy are available too, but at an additional cost.
Las Vegas Airport caters to international flights carrying passengers to the city of sin. If passengers are unfamiliar with English, a translator is present at the airport to assist you at the airport.
If you're over 21, enjoy at one of the many slot machines located throughout the airport.
The aviation-themed area features an interactive mini control tower and mock jet engine. Five art murals designed by students with the Inner City Games add a permanent splash of color.
Aviation lover or not, this museum can be visited by passengers and visitors to the airport. A great way to spend time and soak in the history. The main exhibit is on Level 2 above baggage claim at Terminal 1 at McCarran International Airport.
A private space for breastfeeding or pumping. It suites are equipped with Bluetooth enabled SmartLocks, with access gained through the Mamava locater app. The suites offers bench seating, a side table for placing pumps and interior outlets with USB ports for plugging in pumps and charging devices.
Las Vegas Airport Assist by MUrgency arranges the above services for passengers at arrival, departure and transit. You can book the services for yourself, elderly parents, moms traveling alone, VIPs, celebrities, business executive, corporate.
Liked the article? We would love to know your comments/feedback. Drop in a message, in the comments box below or feel free to get in touch with us at MUAirportAssist@MUrgency.com.
---
---