---
Go Green With These Passenger Friendly Airport Services At San Diego Airport
---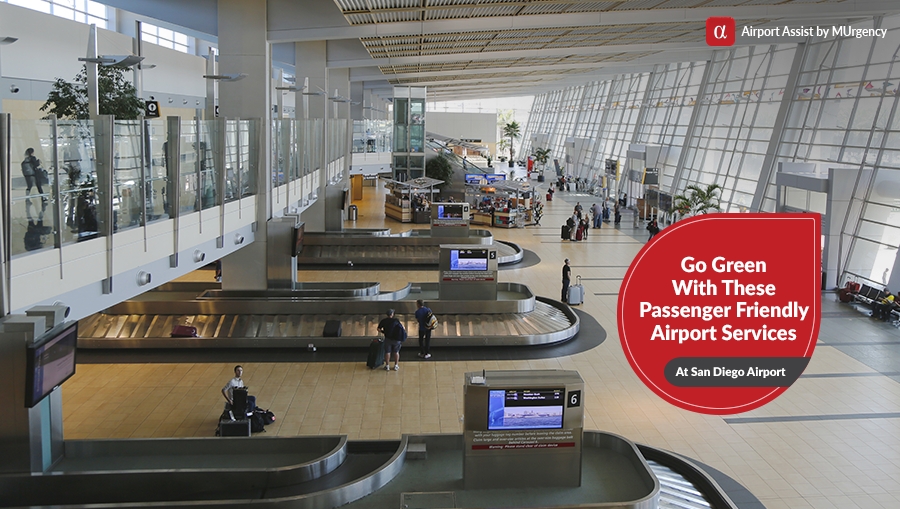 ---
San Diego Airport (SAN) is pulling all the stops to save the environment. It is conscious of the environmental and green sustainability. The green efforts also extends to passengers, where they can go green at the places labeled Green Concessions. So, this is where you should head at the airport make a positive impact to our surroundings.
Firstly, let us recognize the overall efforts and goals:
Help reduce airport water and energy usage
Minimize waste
Help educate consumers on sustainability
Adopt green business practices
Secondly, these are some of the Green Business Practices:
Limit use of Styrofoam containers and plastic ware
Limit use of plastic bags
Follow proper recycling practices
Green Concessionnaire in Terminal 1:
10 News
Bay Books od Coronado
Ciao Gourmet Market
Craft Brews on 30th St.
Einstein Bros. Bagels
Hudson News
KUSI News
Pacifica Breeze Cafe
Ryan Bros. Coffee
Stellar News Express
Tech on the Go
The Beach House
Where Traveler
Green Concessionnaire in Terminal 2:
Be Relax Spa
Brighton Collectibles - Sunset Cove
Camden Food Co.
CNBC Express
CNBC News San Diego
Einstein Bros. Bagels
Gaslamp Quarter News
Hudson News
Lindberg Field News
Old Town News & Market
Pannikin Coffee & Tea
PGA TOUR Grill
PGA TOUR Shop
Prado at the Airport
Ryan Bros. Coffee
Saffron Thai
SANd News
Stellar News
Stone Brewing
United Club
Warwick's of La Jolla
When at the terminals, these are the restaurants, cafés, pubs, and shops to patronize for a greener, cleaner future.
High Point: The Airport Authority is proud that in 2011, SAN was the first airport in the U.S.A. to issue a sustainability report based on the internationally recognized criteria of the Global Reporting Initiative.
What are the other green programs at SAN?
The Environmental Affairs Department at the airport manages Environmental stewardship programs such as airport planning and environmental review, regulatory compliance, water and air quality, site remediation, hazardous material handling and natural resources protection.
SAN Green Achievements:
It received Leadership in Energy and Environmental Design (LEED) Platinum certification for The Green Build terminal expansion from the U.S. Green Building Council (USGBC) in 2014.
Interesting Facts on SAN:
The employee E-waste Collection Events collected approximately 20,000 lbs. of electronic waste throughout the year.
There are 9 Big Belly Solar-Powered Trash and Recycling Compactors in front of the terminals for the public.
In 2013, the Green Build Terminal Expansion Project produced approximately 1,985 tons of Construction and Demolition debris waste and 78 percent of that was diverted from landfills.
SAN's Water Stewardship Plan (WSP) addresses issues of water conservation, water quality, and flood risk considerations.
SAN has used a single stream-recycling program since 2003. However, the sustainability goals is to increase recycling and reduce our solid waste disposal needs.
San Diego Airport is making rapid changes to save the environment from the business perspective. However, it offers passengers alternative green options too. It is up to us to switch and to greener options.
Liked the article? We would love to know your comments/feedback. Drop in a message, in the comments box below or feel free to get in touch with us at MUAirportAssist@MUrgency.com.
---
---