---
10 Best Countries That Double Up As Top Food Destinations
---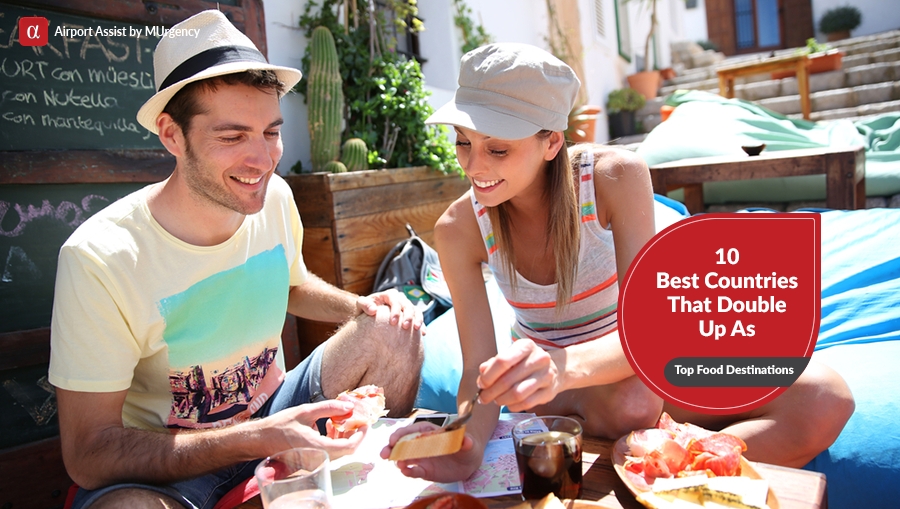 ---
Travel shows and YouTubers have teased our palates for years. This has brought about a travel trend—culinary or food tourism. A vacation for the brave; where local, exotic food leads you cities and regions that is generally off the tourist grid. You may have visited the following countries, but food tourism opens you to a different experience. Read till the end for services that will ease your travel woes to these top food destinations.
What Is Food Tourism?
Traveling across the world to eat or drink—participating in a food or beverage experience other than dining out. It includes visiting a cooking school, signing up for food tour, or shopping in a local grocery or gourmet store. Like any travel package, food tourism packages offer itineraries to suit your budget.
Traveling chefs, travel shows, cooking competition, and multitude of YouTubers traveling the world in search of local flavors, food tourism is garnering steam especially is these countries. Satiate your appetite, witness unique cooking techniques, and indulge in local cuisines at these top food tourism destinations.
Vietnam
Vietnamese cuisine is simple, but fresh ingredients used bring out a burst of flavors. The dishes feature elements of fermented fish sauce, fresh herbs, cane sugar, the juice of kalamansi citrus fruit or tamarind and chilli peppers. When in Vietnam these are some of the must-have among a variety of dishes available across the country:
Com tam
Nom hua chuoi
Mi quang
Cha ca
Cao lau
Pho
Bun cha
Banh xeo
Banh mi
Goi cuon
China
China is one of the biggest countries, so each region has its own version of the popular foods. However, to experience the true essence of the dishes, Chinese culinary scene can be divided into:
Western: halal food
Northern: wheat-based noodles and dumplings
Central: spicy
Eastern: sweet and simple
Southern: sour and spicy
When in China, you can experience authentic dishes such as:
Char siu bao
Peking duck
Zongzi
Chicken feet
Mapo doufu
Congee
Jian bing
Lanzhou la mian
Rou jia mo
Sichuan hot pot
Xia long bao
India
Indian food is as diverse of the traditions, people, and terrain. Indian food is available across the globe, but the flavors do not match up with the dishes available in the South Asia country. Spices are the core ingredients, but fresh vegetables, lentils, and legumes (pulses) is integral in India, making it predominately-vegetarian country. However, India has a fair share of succulent meaty dishes that ignite your taste buds like never before.
Briyani
Vindaloo
Dosa
Alo ghobi
Paratha
Palak paneer
Butter chicken
Lassi
Rajma
Sambar
Chole
Greece
Greek food is one of the most influential cuisine in Europe, but traders from the east also influenced it. It is inspired and aspired over the centuries, especially during the height of Greek power. It is predominately a Mediterranean cuisine that incorporates olives, olive oil, herbs, fish, vegetables, and simple cooking techniques that bring out the zest of the ingredients in every bite. So, include these dishes on your culinary expedition:
Amygdalota
Baklava
Bougatsa
Courgette balls
Santorini tomato fritters
Greek coffee
Galaktoboureko
Moussaka
Spanikopita
Tiropita
Yemista
Philippines
Filipino dishes have few essential ingredients—it is either sweet or sour, pork is a favorite, and Chinese, Malaysian, Spanish, Indian and Western cuisines influence it. Meat and seafood dominate Filipino food, so it is the perfect place for carnivores. Through Filipino food you discover the culture and traditions adopted from trader and colonials. When in Philippines indulge in:
Sisig
Lechon
Kare-kare
Longaniza
Buco pie
Adobo
Tapsilog
Halo halo
Bagnet
Bicol express
Korea
Kimchi and hot pot are the few things that pop in your mind when you think of Korean food. However, there are numerous Korean dishes waiting to be discovered. Most of the dishes comprise red chili paste, ginger, garlic, sesame oil, and red chili flakes. Owning to Korea's drinking nature, several foods cater to it, but there are several authentic and traditional dishes you need to try:
Tteokbokki
Army stew
Gopchang
Bibimbap
Gamjatang
Sundae
Ox Bone Soup
Doenjang jjigae
Galbi
Bossam
Japchae
Montenegro
This small Balkan country is diverse in terrain and cuisine. Garlic, meats, and grains are integral to the dishes on Montenegro. Come for the food tourism, but stay for the picturesque beaches, lush mountains, and relive history in the medieval villages. The dishes you need to include on your food trail should be:
Burek
Kacamak
Cevapi
Montenegrin Lamb in Milk
Black Risotto
Ispod Saca
Buzara
Njeguski Steak
Njegusi Proscuitto
Sweden
IKEA and meatballs are synonymous with Sweden. Besides indulging in meat, Sweden loves seafood. Discover the marriage of herbs and fish only in Sweden as they take it to a new level. While meandering through the streets, palaces, and churches, gorge on these delectable dishes:
Cinnamon buns
Raggmunk & Lingonberries
Marinated Salmon with Dill Potatoes
Crayfish August
Crisp Bread
Chives and Sour Cream
Smörgåsbord
Gubbröra
Toast Skagen
Yellow Pea Soup
Princess Cake
Mexico
Tequila and tacos is what Mexico gave the world, but there is more to it that yet to be explored. When in Mexico, tourists thrive along the Pacific and Gulf of Mexico beaches, but like its diverse landscape of mountains, deserts and jungles, Mexican food is an amalgam of tradition dishes with Spanish influence. Explore some of the unheard of foods in Mexico such as:
Cabrito
Carne en su jugo
Taco envenenados
Escamoles
Pambazos
Pay de elote
Mole poblano
Pan de muerto
Mollete
Pozole
Japan
Sushi is one of the biggest exports from Japan, however, food tourism takes you beyond this global favorite. Besides the amazing hospitality, culture, and architecture, Japan serves an array of dishes that include pork, beef, seafood, rice, and vegetables. Using minimal ingredients, Japanese cuisine is a must-try, especially these dishes:
Tempura
Wagashi
Unagi
Soba and udon
Tonkatsu
Kare raisu
Ramen
Okonomiyaki
Miso soup
Gyudon
Yakitori
Food tourism is the latest travel trend to see the world and explore the local flavors. What you also need for a hassle-free flight to any of these countries is airport assistance. We offer translator, car transfer, fast track, meet & assist, baggage handler and much more. These airport services ensure you have a comfortable journey as you explore different cuisines.
Website: AirportAssistbyMUrgency.com
Service Booking Form: https://www.murgencyairportassistance.com/service
Email Us: MUAirportAssist@MUrgency.com
Call: +971 50 462 7611
Whatsapp: +1 650 308 9964
Liked the article? We would love to know your comments/feedback. Drop in a message, in the comments box below or feel free to get in touch with us at MUAirportAssist@MUrgency.com.
---
---