---
5 Airport Services For Senior Parents Including Fast Track, Concierge
---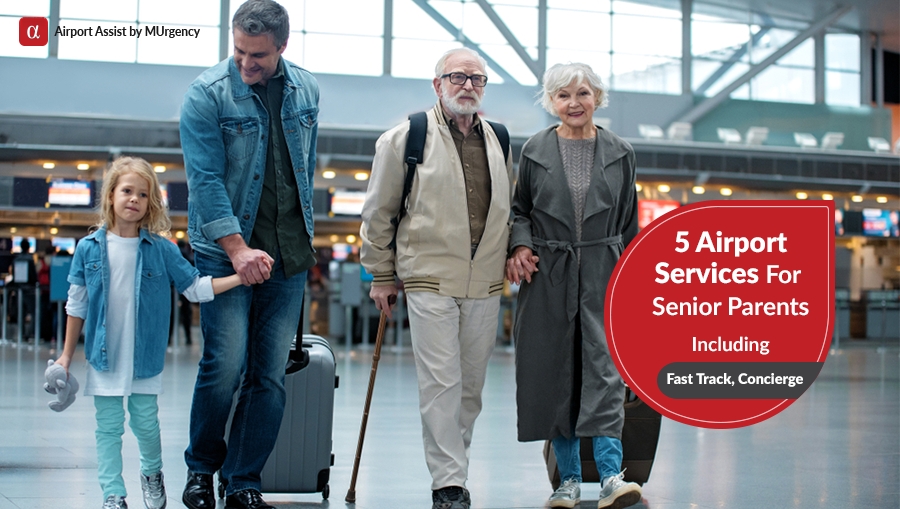 ---
Air travel has no age limit, but it has limitations for senior travelers. The ever-expanding airports, long lines, multiple airport procedures, and peak hour rush are some of the hurdles that can drive anyone up the wall, especially at a certain age. Elderly passengers travel for two main reasons: to meet the family or go on a planned vacation. However, their physical and health challenges adds to the woes of are traveling. Airports across the world have set up elderly assistance services to take away the anxiety. The services are designed so that seniors can travel leisurely. So, what are they?
There are five services mainly to assist the elderly:
Fast Track
Disability, mobility limitations, and medical conditions along with long lines at check-in, security, passport control, and customs can drain you out. These formalities can take hours, especially at a major airport and during peak hours. The fast track service gives you top priority at all these airport formalities, so you reach your boarding gate within minutes.
Meet & Assist
If you are a first-time flier, new to an airport, or age setting you back, then a personal concierge is what you need. The meet and assist service adheres to your request. The representative will wait with the name board to meet you at the curb, at the meeting point decided within the terminal building or at the passenger bridge if in transfer.
Special Needs
These are some of the facilities available at the airports:
Wheelchair assistance
Medical oxygen
Seating accommodations
Cognitive and developmental assistance
Assistance for deaf or hard of hearing
Assistance for blind or low vision
However, a safety assistant can be booked. Safety assistant takes care of any medical needs, assistance inside the lavatory, or in actual feeding for passengers with disability. The personal safety assistant's role is to assist a disabled customer exiting the aircraft in case of an emergency evacuation or establish communication for the required safety briefing.
Transport
Travel to and from the airport with breaking a sweat. A chauffeur driven vehicle will pick you up from the designated location, assist you with the luggage, and do the same at arrival. It is an ideal way for seniors to travel and have an easy, smooth journey.
To enhance your airport experience, cart transport is available in the terminal. It is the best way to pass through a huge airport.
Departure Formalities
Airport formalities are tweaked and modified every now and then for security reasons. For a hassle free passage through these formalities, airports offer check-in assistance to the elderly. Besides, seniors are offered baggage handling, lounge access, flight monitoring, upgrade or re-booking flight tickets, and escort to the aircraft. At transit, airport hotel accommodation can be arranged to relax leisurely.
These services can be booked from one place for any airport in the world, that is, at Airport Assistance for Elderly. They cater to more than 626 airports in the world – international and domestic. What is great is that you can book the services on behalf of your elderly parents or grandparents. You can offer them an airport experience like never before.
Click here to Book Services
Email your queries: MUAirportAssist@Murgency.com
Contact: +971 50 462 7611
WhatsApp: +1 650 308 9964
Liked the article? We would love to know your comments/feedback. Drop in a message, in the comments box below or feel free to get in touch with us at MUAirportAssist@MUrgency.com.
---
---