---
Hajj Special: Who Can Avail Of Fast Track, Meet & Assist At Jeddah & Madinah Airports
---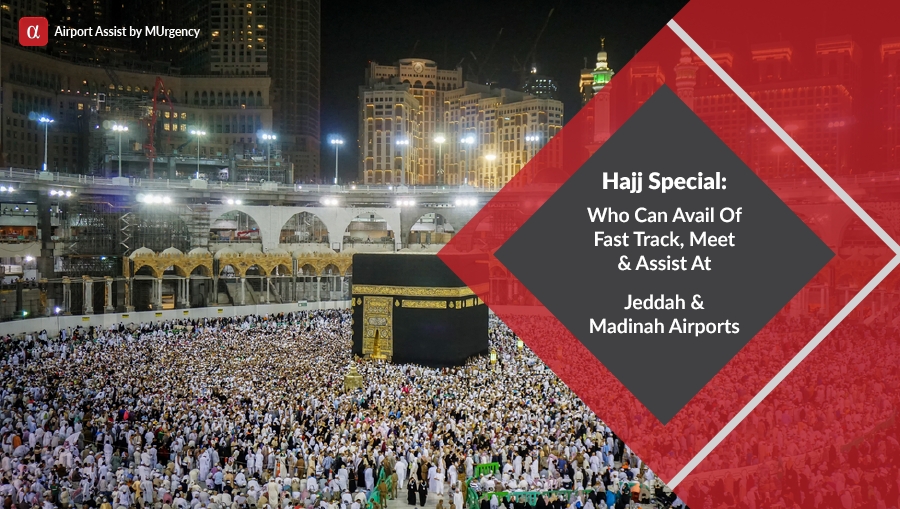 ---
A hajj pilgrimage is one of the most anticipated experience for everyone. It fills you with joy and reverence, but during Hajj, the Jeddah airport (JED) and Madinah airport (MED) are bustling with chaos. Long lines at every airport procedure and the convergence of people arriving from different continents are overwhelming. It drains you and leaves you with an exhausting, bad airport experience. However, you can avoid this taxing situation with fast track, meet & assist, check-in assistance, access to the lounge and more.
So, who can book these services? There are mainly four categories of passengers arriving and departing from these Saudi Arabia-based airports. We list which services are ideal for them.
Family-Oriented Services:
Traveling with children in a crowded airport is difficult. Once they are bored, they get frustrated, and long haul flight adds to changing moods. So, one of the best way to avoid these situations is to speed through the airport procedures with fast track—you are in and out the airport within minutes. However, at departure, a personal assistant will guide you to the play area or lounge, so you can unwind as a family while you wait for your flight.
Elderly Assistance:
Airports are stressful for elderly, especially if they are first-time fliers. The long walk through the airport, waiting in lines, and lack of knowledge of airport layout is unnerving. Hence, meet & assist is the service to book to avoid these circumstances. The representative will meet the passengers with their name at the end of the air bridge and assist them with all the airport processes, efficiently. Baggage handlers, lounge access, check-in assistance, flight monitoring, transport in the terminal, and escort to aircraft are the other services available to the elderly.
VIP Services:
This is the ultimate treatment offered to celebrities, diplomats, corporate, and whoever wishes to travel in luxury. The VIP service takes away the harrows at the airport and ensures privacy, comfort, and timely service. The VIP is treated with these services:
Meeting you at the aircraft
Private transportation is provided in case of remote parking
All passport control formalities are conducted inside the VIP Lounge
Porter Assistance
Escort to the car
Large Groups:
Most pilgrims travel in large groups for Hajj, which can be disorderly when people traverse the length of the airport at their own pace. To prevent any such scenarios, book airport assistance services such as meet & assist, fast track, lounge access, or escort to and from the aircraft. The services guarantee everyone travels together, completing all the airport processes as a group.
Jeddah Airport Assist and Madinah Airport Assist offer these services to Hajj pilgrims. You can book these services for a relative, friend, associate, or customer too. It can easily be booked via the following means:
Email for Enquiries: MUAirportAssist@Murgency.com
Contact: +971 50 462 7611
WhatsApp: +1 650 308 9964
Liked the article? We would love to know your comments/feedback. Drop in a message, in the comments box below or feel free to get in touch with us at MUAirportAssist@MUrgency.com.
---
---