---
Travel Guide To Russian Airports For FIFA World Cup Fans
---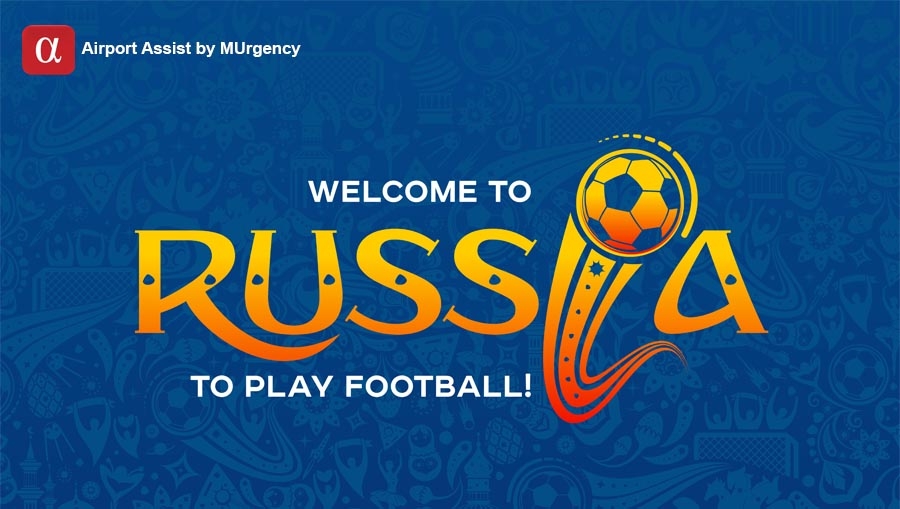 ---
The biggest international football tournament is set to undertake in Russia. The 21st FIFA World Cup 2018 is once again bringing together countries for the love of football. The gateway to the World Cup is the Russian airports, which welcomes you to the various match destinations—Moscow, Saint Petersburg, Samara, Saransk, Sochi, Volgograd, Rostov-On-Don, Nizhny Novgorod, Kazan, Kaliningrad, and Ekaterinburg. The ultimate way to navigate through the Russian airports is with airport assistance. Fast track, meet & assist, translator, limousine, porter, and other airport assist services ensure you have a hassle-free time at the Russian airports.
Following are Russian airports catering to the football World Cup fans and the services and facilities that are available at the airports to meet your requirements.
Sheremetyevo International Airport (SVO)
This is the busiest airport in Russia serving Moscow. It has a massive capacity; it can serve up to 35 million passengers, hence this is the airport you are mostly likely to visit for the FIFA World Cup 2018. The Sheremetyevo International Airport is geared to welcome football fans with its meet & assist, VIP service, fast track, translator, pick up & drop, shower stalls, rent a car, bank, and VIP and business lounges. These services guarantees you feel at home in Russia, avoid the crowd at the populous airport, and pass through the airport comfortably. Also, the airport houses a private terminal.
Domodedovo International Airport (DME)
It is one of the airports serving Moscow and is popular as an alternative airport to Moscow. In January 2018, it catered to 2 million passengers and for the World Cup that number is estimated to spike. One interesting fact about Domodedovo International Airport is that it is a privately owned airport. When traveling to this Moscow airport, book meet & greet, VIP service, priority service and more. However, the airport offers baggage storage and wrapping, lounges for VIP and business, children's playroom, hotels, telecoms, rent a car, transit service, and assistance for people with disabilities.
Pulkovo International Airport (LED)
Saint Petersburg is one of the most beautiful cities in Russia with rich historical and cultural backgrounds. This summer is will host the FIFA World Cup matches, hence it is important to know everything about Pulkovo Airport, which is your entrance to the tournaments. This international airport offers arrival, departure, and transit services such as fast track, personal escort, translator, limousine, car rental, VIP services, VIP and business lounge access, baggage facilities, special needs requests, and much more.
Sochi International Airport (AER)
The city of Sochi is hosting several football World Cup games and the Alder International Airport, as it is also called, is set to welcome football fans with a number of services. Hotel booking, VIP services, lounge access, personal escort, fast track, limousine, translator, and much more.
Rostov-on-Don International Airport (RVI)
It is the largest airport in south-west Russia and the Rostov-on-Don International Airport is charged to welcome global football fans. It is offering VIP terminal, business lounge, VIP services, comfort-DON service, fast track, meet & assist, limousine, public transport, porter, nursery rooms, hotel reservation, and other services at arrival, departure, and transit.
Kazan International Airport (KZN)
It is the best regional airport in Russia and is set to welcome football fans from around the world. The Kazan International Airport is offering airport assistance such as translators, porters, fast track, VIP service, meet & assist, VIP and business lounges, and more.
Football is like music, it brings to together people from different backgrounds. It's the love for football that unites countries. So, Airport Assist by MUrgency is offering airport assistance services for football fans, no matter the language, we got the service to ensure you have an effortless travel in Russia.
How to Book these Service: https://www.murgencyairportassistance.com/service
Contact: +1 650 308 9964
Liked the article? We would love to know your comments/feedback. Drop in a message, in the comments box below or feel free to get in touch with us at MUAirportAssist@MUrgency.com.
---
---