---
IGI Airport Serves Passengers Comfort With Airport Assist Like Fast Track, Meet & Assist
---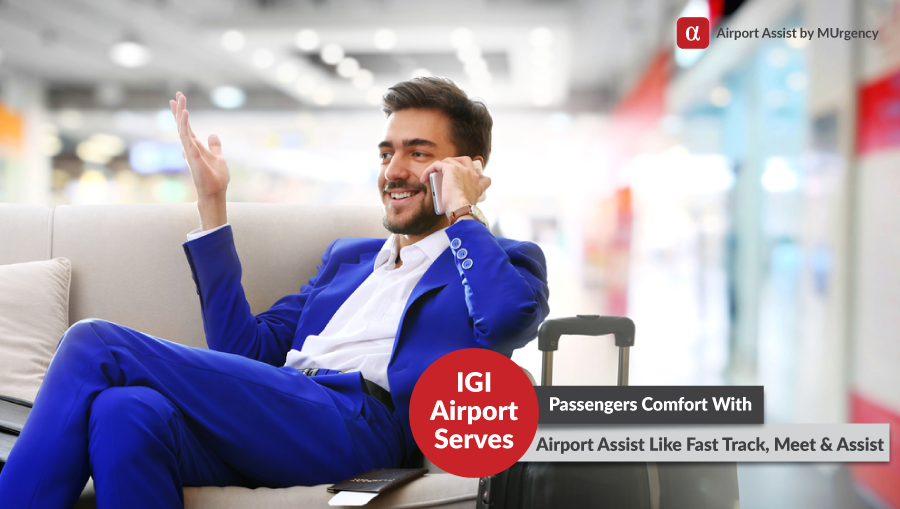 ---
The Delhi International Airport or the Indira Gandhi International Airport (DEL) is the gateway to the country of rich history, wealth, ancient medicine, beautiful landscapes, and unbelievable monuments. This is evident as the Delhi Airport is the first airport in South Asia to cater to over 60 million passengers in 2017. Hence, the Delhi Airport is the busiest airport in India and hot on its heel is the Mumbai airport. So, to serve the surge of passengers arriving and departing from the Indira Gandhi International Airport (IGI), the airport provides a hosts of services to ease the stress of traveling. Relax, rejuvenate, and travel in comfort to and from the IGI airport. Fast track, meet & assist, spa, sleeping pods, etc. are airport services that makes life easier for passengers.
The IGI airport welcomes a plethora of airlines from across the seven continents. To usher is this surge of airlines and passenger the Delhi airport is expanding. By 2024-25, the airport will be able to cater to 110 million air passengers. Following are the airlines presently operating at the Delhi Airport.
Airlines Operating At Indira Gandhi International Airport
| | | |
| --- | --- | --- |
| Aeroflot | Air Arabia | Air Astana |
| Air Canada | Air China Limited | Air France |
| Air Manas | Air Mauritius | AirAsia X |
| Alitalia | All Nippon Airways | Ariana Afghan Airlines |
| Asiana Airlines | Bhutan Airlines | British Airways |
| Cathay Pacific Airways | China Airlines | China Eastern Airlines |
| China Southern Airlines | Druk Air | Emirates |
| Ethiopian Airlines | Etihad Airways | Finnair |
| Flydubai | Gulf Air | Iraqi Airways |
| Japan Airlines | Kam Air | KLM Royal Dutch Airlines |
| Korean Airline | Kuwait Airways | Lufthansa |
| Mahan Airlines | Malaysian Airlines | Malindo Air |
| Nepal Airlines | Oman Air | Pakistan International Airlines |
| Qatar Airways | Safi Airways | Saudi Arabian Airlines |
| Shandong Airlines | Singapore Airlines | SriLankan Airlines |
| SWISS | Tajik Air | Thai Airways International |
| Turkish Airlines | Turkmenistan Airlines | United Airlines |
| Uzbekistan Airways | Virgin Atlantic Airways | Air India Limited |
| AirAsia – India | Air-India Express | Alliance Air |
| Indigo | Jet Airways | Jet Lite |
| SpiceJet | Vistara | Zoom Air |
Airport Assistance Services Available At IGI Airport:
1) Fast Track Service
The ultimate service at gives you top priority at all the airport procedures such as passport control, security, customs, and check-in. The fast track service is ideal for anyone, but apt for VIPs, corporate, business executive, elderly, or family.
2) Meet & Assist At The Airport
If you are new to the IGI airport or a first-time flier at the Delhi airport, it can be an overwhelming experience. It massive and the distance to cover is daunting. So, the Delhi Airport offers Meet & Assist service, which is an end-to-end service. The representative will greet you at the terminal entrance and personal escort you through the various airport processes. He or she will assist you to your flight, ensuring a comfortable way to travel through the airport. This airport assistance service is ideal for first-time fliers, elderly, VIPs, and large groups.
3) Limousine Service
A sure shot way to head to the airport on time is the limousine service. It is a pick up and drop service that takes away the hassle of hustling for a taxi, fuss of the local transport, and sets the right time to beat the city traffic.
4) Access To The Lounge
The best way to unwind while waiting for your flight is unwinding at the airport lounges. The IGI airport houses six lounges:
Maharaja Lounge: It is an exclusive lounge for Air India Business Class passengers.
Allways VIP Guest Service: Their expert will recommend restaurants, hotels and places to visit, or even a full travel itinerary for your trip.
ITC Lounge: It is an eco-responsible sustainable facility using eco responsible materials and energy efficient equipment.
Plaza Nap & Shower: This lounge provides tranquil and serene surroundings for you to relax and rejuvenate after the tiring flight journey.
Plaza Premium: The lounge offers shower rooms, napping rooms, spa treatment rooms, business centre, and to wine and dine.
The AMEX Platinum Lounge: Special breakfast, day/evening menus and gourmet freshly brewed coffees are special offerings in this spread of luxury.
5) Special Needs Assistance
The Delhi airport is equipped with 24 hours medical facility, mobility assistance, and handling of pets for the flight. The service includes facility for childcare and unaccompanied minor.
The above airport assistance services can be booked easily at DelhiAirportAssistByMurgency.com. They arrange for sleep pods, spa treatments, cart transport in the airport, upgrades or re-bookings, connecting flight accommodation, and baggage handling. The services can be customized to meet your needs and requirements. They provide simple booking process and easy payment. You can book these services on behalf of a family member, friend, corporate, or clients.
How to book: Click Here
Liked the article? We would love to know your comments/feedback. Drop in a message, in the comments box below or feel free to get in touch with us at MUAirportAssist@MUrgency.com.
---
---