---
6 Mobility Assistance Services Air Travelers Can Request For
---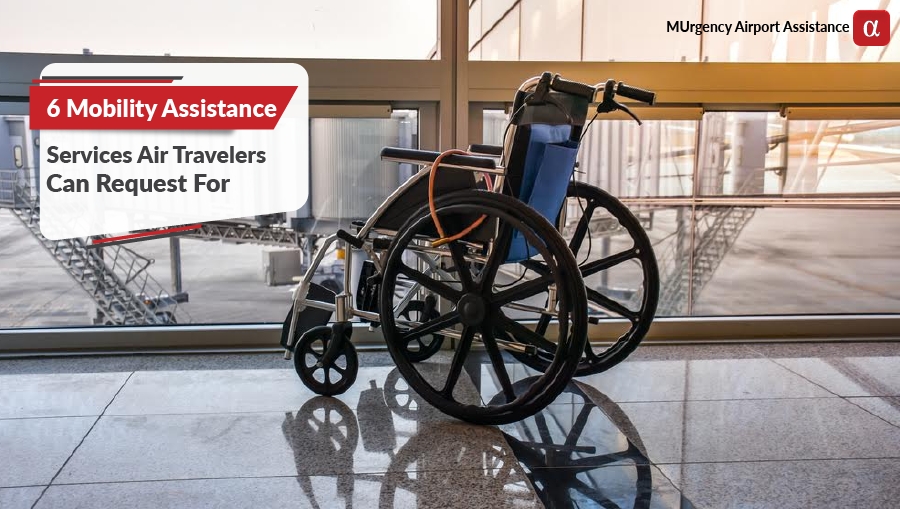 ---
You can have a stressful experience at the airport—from lengthy check-in lines to embarrassing security line. Plus, traversing through large airports can be tiring. We at MUrgency Airport Assistance offers a smooth, efficient, and quick passage at the airport especially for elderly, disabled or differently-abled passengers, and travelers with injuries. Following are the various mobility assistances for assisted travelers.
Mobility Assistance Includes Wheelchair Assistance:
MUrgency Airport Assistance provides wheelchair assistance on request from the terminal gate to your vehicle and vice versa. It is a great way to cover the airport if your mobility is reduced.
Mobility Assistance Includes Special Wheelchairs:
If an air traveler needs a special wheelchair for special disability, MUrgency Airport Assistance offers it and ensures the wheelchair adheres to your medical needs. We also administer medical oxygen if need be and cognitive and developmental assistance too.
Mobility Assistance Includes Handicap Assistance:
Traveling alone can be harrowing time for handicapped passengers, especially with the lengthy procedures. MUrgency Airport Assistance provides assisted travel for passengers with reduced mobility. We also provide mobility assistance to those hard of hearing and have low vision.
Mobility Assistance Includes Assistance For Disabled:
Some sections of the airport are not disabled-friendly, but we escort and assist you throughout the airport. Our attendants are trained to help passengers, so that the passage at the airport is smooth.
Mobility Assistance Includes Assisted Travel For Elderly:
MUrgency Airport Attendants assist and usher elderly traveling alone or simply need assistance from the gate to the vehicle. We provide wheelchair assistance, efficiently handle your baggage, and help you with special needs.
Mobility Assistance Includes Gate Assistance:
Our services start when you reach the airport gate. MUrgency Airport Assistance will meet and greet you, with a floral bouquet at the gate, and escort and assist you through the airport procedures.
Mobility assistance is a helpful option for seniors, pregnancy women, disabled and handicapped passengers, and those with special needs. Sign up for these services and more at MUrgency Airport Assistance.
Liked the article? We would love to know your comments/feedback. Drop in a message in the comments box below or feel free to get in touch with us at MUAirportAssist@MUrgency.com.
---
---