---
Best Airport Assistance Services At Top 5 Canadian Airports
---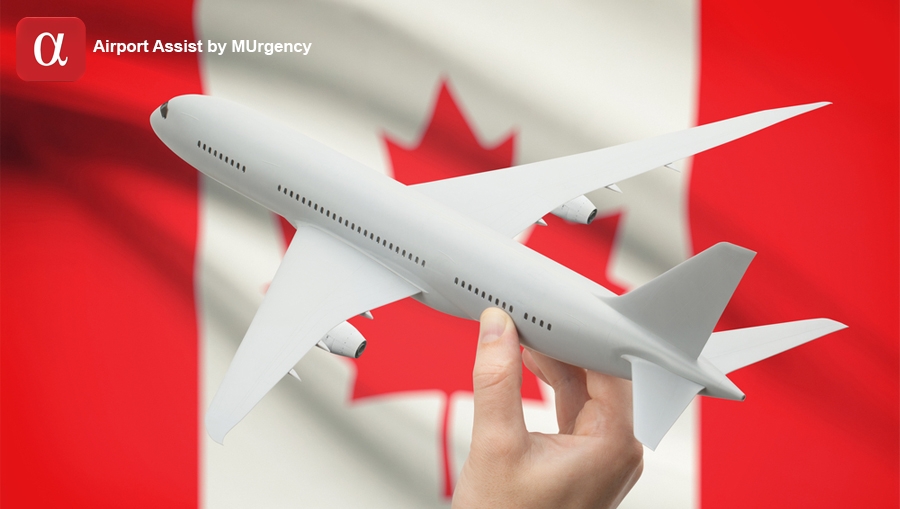 ---
Canada is simply beautiful in summer and it is a testament to a number of tourists visiting its picturesque cities. It may be one of the furthest countries to visit, but it is worth the long haul flight. The gateway to Canada are the well-designed airports, customized to give you an efficient, relaxing, and entertaining airport experience. We look at the best features and hidden secrets of the busiest and top Canadian airports—Vancouver International Airport (YVR), Toronto Pearson International Airport (YYZ), Calgary International Airport (YYC), Montréal-Pierre Elliott Trudeau International Airport (YUL) and Billy Bishop Toronto City Airport (YTZ). Also, let us find out the most requested airport assistance services available at these airports.
Vancouver International Airport
In 2017, Vancouver International Airport recorded 24.2 million passengers directly arriving from 127 destinations across the globe. One of the major initiatives of the airport is to reduce emissions, waste and potable water consumption while protecting ecosystem health.
When at the airport indulge at the Globe, which offers Pacific Northwest cuisine, however, dishes out sustainable seafood and has a great view of the mountains. Another unique feature of the Vancouver Airport is the aquarium. It houses more than 850 species of marine life in an 114,000-liter tank.
Meet and assist is a great way for VIPs, first-time fliers, elderly, and large groups to efficient pass through all the airport procedures without any worry.
Toronto Pearson International Airport
It is the busiest airport in Canada and Toronto Pearson International Airport is the second-largest airport in North America that serves international traffic. Every year, the airport welcomes 47.1 million passengers; however, that number is estimated to jump to 65-70 million by mid-2030s. Also, it is focused on Noise and Environment Management.
When at Toronto Airport, opt for the Airside Tour—behind the scenes of the airport operations. Each tour is unique depending on the day. Catch a glimpse of Terminal 1, Terminal 3, the Firehalls, the Infield, the Central Deicing Facility, Airfield Maintenance or the two control towers. Every day there are different planes on our airfield so you never know which ones you will get to see during your tour.
As it is the busiest airport in Canada, it is worth booking fast track airport service for a timesaving passage through the airport.
Calgary International Airport
In 2017, the Calgary International Airport served 16.3 million passengers. It caters to flights arriving from North America, Central America, the Caribbean, Europe, and East Asia.
When at the airport, visit Montana's Cook House Saloon for some great food—smokehouse ribs, rotisserie grilled chicken, and mile-high mud pies. However, the star attraction is the SpacePort, which is free. It is a 550-square-meter interactive space that allows kids to simulate space flight, touch a moon rock, and check out other interesting artifacts on loan from NASA and the Canadian Space Agency.
The other airport assistance services include fast track, meet & greet, limousine, baggage handler, and VIP service.
Montréal-Pierre Elliott Trudeau International Airport
Also, known as Montréal–Trudeau or Montréal–Dorval International Airport. It is one of the fastest growing airport in terms of passenger traffic. The first quarter of 2018, had an increase 7 percent compared to the same period in 2017.
For some exquisite food head to Boulangerie de Montréal, which serves gourmet sandwiches, paninis, and muffins. However, the YUL spa is popular with passengers. You can book a pre-flight de-stressing massages, body wraps, facials, and pedicures.
Most of the flights arriving at the airport are long haul flights, so the best way to get through the airport procedures is the personal escort airport service. Also, the other airport services are available such as fast track, VIP service, elderly assistance, and much more.
Billy Bishop Toronto City Airport
It is a small international airport located on the Toronto Islands, but serves 2.8 million passengers each year. Billy Bishop Toronto City Airport connects with more than 80 international destinations and is one of the best airports globally in the under 5 million category.
As it is situated on the island, airport assistance will arrange a pick up and drop service. Check-in assistance is available too.
When passing through Canadian airports, book airport assist for a smooth, comfortable, and time saving experience. Airport Assist by MUrgency offer airport assistance services at all airports in Canada.
How to book: http://www.murgencyairportassistance.com/service
List of airport assistance services: http://www.murgencyairportassistance.com/ourservices
Liked the article? We would love to know your comments/feedback. Drop in a message, in the comments box below or feel free to get in touch with us at MUAirportAssist@MUrgency.com.
---
---