---
5 Tips For Business Travelers At Beijing Airport - Fast Track, Meet And Assist & More
---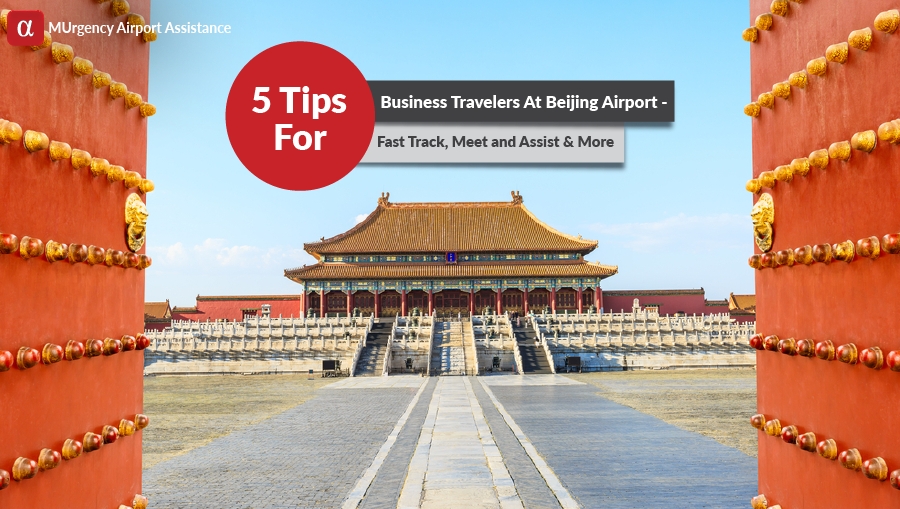 ---
China is a major business hub for foreign investors and manufacturing companies. When you fly to Beijing, you are overwhelmed with the language and airport rush. For a first time flier or a frequent business traveler to China, Beijing Capital International Airport is overbearing. To calm your nerves and travel comfortably, Beijing airport offer five services that are apt for business travelers to China.
There are four major airports in China that caters to international flights. In the past several years the airline industry is growing, which has seen a rise in air traffic and passengers.
Beijing Capital International Airport served over 94.3 million passengers in 2016.
Shanghai Pudong International Airport served over 66 million passengers in 2016.
Guangzhou Baiyun International Airport served about 59.8 million passengers in 2016.
Chengdu Shuangliu International Airport served over 46 million passengers in 2016.
The busiest airport in China, Beijing Capital International Airport serves the capital, Beijing. This airport is the base for Air China, China Eastern Airlines, China Southern Airlines, and Hainan Airlines.
This rise in air traffic numbers has introduced new airlines to the industry. Many of these airlines flying to Beijing Capital International Airport are as follows.
Airlines Operating At Beijing Capital International Airport
| | | |
| --- | --- | --- |
| Cambodia Angkor Air | Air Leisure | Capital Airlines International Flights |
| Nordwind Airlines, LLC | Alitalia | Sky Angkor Airlines |
| VIM Airlines | Tajik Air | Donghai Airlines |
| Fuzhou Airlines | Kunming Airlines Co., Ltd. | Ukraine International Airlines |
| Jeju Air | Mahan Air | Zhejiang Loong Airlines Co., Ltd. |
| Hebei Airelines | Qingdao Airlines | Dynamic Airways LLC |
| Hawaiian Airlines Inc. | Tibet Airlines Corporation Limited | Globus Airlines |
| Azerbaijan Airlines CJSC | Air Mauritius Limited | JSC Airline Taimyr |
| Yukutia Airlines | Asia Airlines | LOT Polish Airlines |
| Air China | Swiss international Airlines Ltd. | Da Lian Airlines |
| Shandong Airlines | Sichuan Airlines | Austrian Airlines |
| Scandinavian Airlines | Deutsche Lufthansa Airlines | Asiana Airlines |
| Air Canada | United Airlines | ANA Airlines |
| Turkish Airlines | Egypt Airlines | Thai Airways International |
| Singapore Airlines | Finnair | Cathay Pacific |
| Qantas Airways Limited | British Airways | Japan Airlines |
| Dragonair | Emirates Airlines | Israel Airlines |
| Qatar Airlines | S7 Airlines | Air Macau |
| China Airlines | Etihad Airways | BR Eva Air |
| Shenzhen Airlines | Mongolia Airlines | Ural Airlines |
| American Airlines Inc. | Transaero Airlines | JSC Aurora Airlines |
| Cebu Pacific Air | Shanghai Airlines | Delta Air Lines |
| China Southern Airlines | Chongqing Airlines | Hainan Airlines International |
| China Eastern Airlines | Xiamen Airlines | Korean Airlines |
| Airfrance | Russian International Airlines | Uzbekistan Airlines |
| KLM Royal Dutch Airlines | Air Astana | Air Koryo |
| PIA | Ethiopian Airlines Share Co. | Philippine Airlines |
| Garuda Indonesia Airlines | Iran National Airlines | Malaysia Airlines |
| Sri Lanka Airlines | Turkmenistan Airlines | Vietnam Airlines |
| TAAG | Air Algerie | Hongkong Airlines |
| Mega Global Air Services (Maldives) Pvt. Ltd. | Shanghai Juneyao Airlines Co., Ltd. | Grand China Airlines Domestic |
| Capital Airlines | Hainan Airlines Domestic | Tianjin Airlines |
| Spring Airlines Co., Ltd | Lucky Air Company Limited | |
With some many flights arriving and departing Beijing, bringing together millions of people at the airport, you are bound to bump into passengers and have the patience to stand in long lines. But why waste time when you have services that facilitates and expedites airport procedures. Following are services you need to book for a time saving, convenient, and luxury air travel at Beijing Airport.
1) Fast Track
When you are pressed for time, get fast track service. Get from the Terminal Gate to the boarding gate within in minutes. It is your ticket to bypass the long lines at check in, immigration, security, and customs. This is services is ideal if you hate waiting in long lines. With fast track you get priority service, so you are ahead of the line and you can head directly to the lounge to unwind. Book it here.
2) Meet & Assist
First time fliers to China can avail of meet and assist service at Beijing Airport. The agent will meet and greet you on arrival and escort you through the airport procedures and assist you with any requirements. If your Mandarin or Cantonese is limited, then we will provide you with a translator. The Meet & Assist is great service as it allows you to custom it to meet your needs. Send a request for the service here.
3) Lounge Access
The Beijing airport offers various types for lounges depending on your requirement, duration, and price range. These are the lounges available:
Rest room for honorable guests (the public region of the hall-red carpet)
Rest room for honorable guest
BGS Rest room for the first business class
Rest room for mother and infant
Gotone club of China Mobile
Honorable guest room of China Unicom of airport
Time rest room
Phoenix rest room
It is advisable to book the lounge prior to your arrival. Contact this 24 hours hotline for lounge access.
4) VIP Assistance
Beijing is a place that attracts business travelers, and now Victoria Secret Fashion Show. For business executives, celebrities, Victoria Secret angels and VIPs, the Beijing Airport provides premium services that include VIP lounge access, red carpet treatment, and privacy. The VIP is escorted briskly and swiftly out the airport away from the public gaze to the waiting limousine. Book the service today for a VIP treatment.
5) Non-Mandarin or Cantonese Speaking
These are unique languages that are overwhelming for foreign business travelers. However, no matter which country you are coming from, we can arrange for a translator to assist you at the airport. Get a translator here.
The Beijing Capital International Airport also caters to elderly, unaccompanied minor, students, passengers with disabilities, and mothers with infants. There are different services to suit the needs, to know more about the services contact Airport Assistance by MUrgency.
Besides business travelers and VIPs, the Beijing airport is designed to entertain children. It has a special area for children to burn their energy before the flight. It houses a secret garden, underwater world, royal garden, dream garden, rainbow over the fountain, starry corridor, and water-drop mini oasis landscape. Children and adults can spend their time at any of these picturesque set up.
Get in touch with us to make your travel a unique experience of comfort and luxury.
Liked the article? We would love to know your comments/feedback. Drop in a message, in the comments box below or feel free to get in touch with us at MUAirportAssist@MUrgency.com.
---
---