---
Book Meet & Assist, Fast Track, & Other Airport Services Available At Shanghai Airport For Easy Commute
---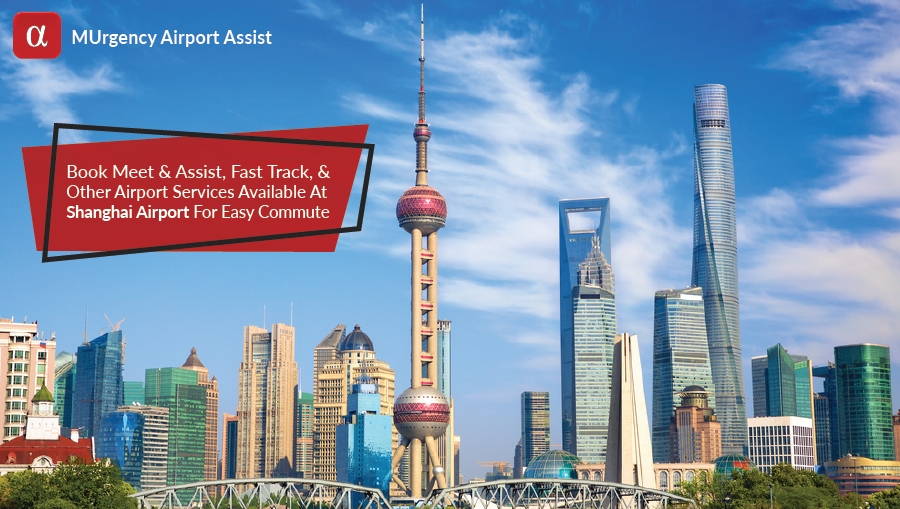 ---
Business people, executives, VIPs, and celebrities are making a beeline to China's major financial hub, Shanghai. In the past decade or so, it has attracted a number of investors, entrepreneurs, international companies, and start-ups. This has reflected in the growth of passengers at the Shanghai Pudong International Airport, which is the second busiest airport in China. Until 2015, the Shanghai airport has served 99 million passengers and joined the league with Atlanta, London, New York and Tokyo. However, with a populous airport comes in challenges for the passengers. With increase in number of air traffic at Shanghai airport, you will definitely need fast track, meet & assist, limousine services, VIP services, airport concierge, and other airport services to easily, smoothly pass through the airport.
These services guarantee a sure shot way to avoid long lines at check in, passport control, security, and customs. Elderly and travelers with disabilities can travel without hassle. Traveling the expanse of the airport never felt easier and light on the feet with these airport services. First time fliers or new comes to the Shanghai airport will be escorted through the airport, so there's no sense of loneliness or anxiety over getting lost at this international airport.
If you are traveling to or from Shanghai Pudong International Airport, this is what you need to know in advance to have a pleasant passage at the airport.
Airlines Operating From Shanghai Pudong International Airport
| | | |
| --- | --- | --- |
| Korean Air | Royal Dutch Airlines | Air France |
| China Airlines | Japan Airlines | China Eastern Airlines |
| Air Asia ZEST | Jin Air | Shanghai Airlines |
| Royal Brunei Airlines | Delta | Emirates Airlines |
| TransAsia Airways | Dragonair | Qatar Airways |
| Swiss Air | Turkish Airlines | Garuda Indonesia |
| Air Macau | Finnair | Air China |
| Uni Air | United Airlines | Shandong Air |
| Philippine Airlines | Cathay Pacific | Malaysia Airlines |
| Aero Mexico | Singapore Air | Virgin Atlantic |
| Eva Air | Aeroflot | Asiana Airlines |
| China Southern Airlines | Cebu Pacific Air | Air New Zealand |
| Chongqing Airlines | Lufthansa | Air Canada |
| American Airlines | All Nippon Airways | Thai Airways |
| Air India Express | Hong Kong Airlines | Shenzhen Air |
| Etihad Airways | Scandinavian Airlines | Chengdu Airlines |
| South East Asian Airlines | Philippine Airlines | Eastar Jet |
| Juneyao Airlines | Angkor Air | Air Mauritius |
| Mega Maldives Airlines | Sichuan Airlines | Tianjin Airlines |
| Air Asia X | Mahan Air | Lucky Air |
| Spring Airlines | Hainan Airlines | Xiamen Air |
Airport Services & Facilities Available At Shanghai Pudong International Airport:
1) Meet & Assist
This is a versatile service, which is ideal for VIPs, elderly, first time fliers, families, or mom traveling with kids. You can customize the meet & assist service to meet your needs whether it is acquire lounge access or guidance to any facility such as play area, pharmacy, medical aid, or particular restaurant.
The attendant will meet you at the curb or parking area and escort you through the various airport procedures, and drop you off at the boarding gate. It is a complete end-to-end service for passengers at arrival, departure, or transit. To book the meet & greet service at Shanghai airport, click here.
2) Fast Track
When you are running late for your flight, you are bursting with anxiety and blood pressure surges. What you need is fast track service at Shanghai airport. It is a pass that gives you top priority at all the airport procedures—check in, passport control, security, and customs.
It is ideal for passenger, who hate to wait in line or time is of the essence to waste it at the airport. Elderly, business executives, and VIPs love the fast track airport services to breeze through airport processes. Book fast track for Shanghai airport here.
3) Limousine Service
Make a quick getaway from and to the Shanghai airport in style and comfort. A chauffer driven car will handle your baggage and safely drive to your destination from the airport. Likewise, pick you up from the hotel or desired location and drive you to the airport in sufficient time. Get the service here.
4) VIP Concierge Service
The crème de la crème of the airport service—VIP Concierge. High profile clients passing through Shanghai airport will receive the best care and treatment. Access to the ultra-private lounge, privacy at the airport, best beverages and food, and spa treatments to relieve the stress from flying. Privacy, swiftness, and comfort are the features of the VIP Concierge Service at Shanghai Airport. Book now.
5) Airport Private Transfer
If Shanghai is your transit destination, this airport service got you covered. If it is a transfer from international to domestic or international-to-international, you and your luggage will be transferred safely and efficiently to the boarding gate. You can get this service by clicking the link.
Shanghai Pudong International Airport sees the growth in passengers every year. This has resulted in the expansion of the airport and increase in the quality of facilities available to the passengers. However, passengers traveling through Shanghai airport are not familiar with the airport services that takes the pressure out of flying, especially long haul flights.
For further details on the services and pricing, contact Shanghai Airport Assist by Murgency services by clicking here. The best part is that you can also book airport services for the destination you are heading or from the place, you are arriving. If you have difficulty with the language, we will arrange for a translator to assist you along the way. If you need help with car rental, we got you covered. All your airport-related requirements will be attended, so you can have a pleasant time at Shanghai.
Liked the article? We would love to know your comments/feedback. Drop in a message, in the comments box below or feel free to get in touch with us at MUAirportAssist@MUrgency.com.
---
---