---
Get Meet & Assist, Transit Service & More At Istanbul Airport For An Enjoyable Trip
---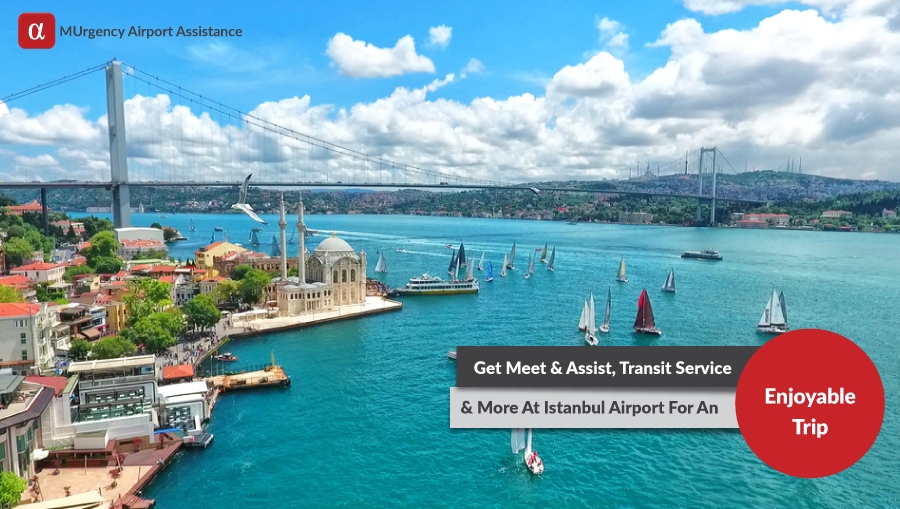 ---
Turkey's capital, Istanbul is a bustling airport as it connects the East with Western countries. In April 2017, the Istanbul Ataturk Airport has seen an increase in passengers by more than five percent. The best way to pass through the airport quickly and hassle free is with time saving airport services.
The Istanbul airport served 1.6 million passengers at the domestic airport and
3.8 million at the International terminal in April 2017. However, in 2016 it is estimated to cater to 60,119,215 passengers. Though the Istanbul airport is the busiest in Turkey, the country has several airports such as:
Ankara (Esenboga) Airport (ESB)

Antalya (AYT)

Dalaman (Mugla) (DLM)

Izmir (Adnan Menderes) (ADB)

Milas-Bodrum (BJV)
Airlines Operating From Istanbul Ataturk Airport (Istanbul International Airport)
| | | | | |
| --- | --- | --- | --- | --- |
| ADRIA AIRWAYS | AEGEAN AIRLINES | AEROFLOT RUSSIAN AIRLINES | AFRIQIYAH AIRWAYS | AIR ALGERIE |
| AIR ASTANA | AIR CANADA | AIR FRANCE | AIR MOLDOVA | AIR SERBIA |
| ALITALIA(C.A.I COMPAGNIA AEREA ITALIANA S.P.A) | ARIANA AFGHAN AIRLINES | ASIANA AIRLINES | ATA AIRLINES (IRAN) | ATLAS JET INTERNATIONAL AIRLINES |
| AZERBAIJAN AIRLINES | BELAVIA | BRITISH AIRWAYS | BURAQ AIR | CHINA SOUTHERN AIRLINES |
| DELTA AIRLINES | DEUTSCHE LUFTHANSA AG | DNIPROAVIA AVIATION COMPANY | DONAVIA | EGYPT AIR |
| EMIRATES | ETIHAD AIRWAYS | GHADAMES AIR TRANSPORT | GULF AIR COMPANY | IBERIA |
| IRAN AIR | IRAN ASEMAN AIRLINES | IRAQI AIRWAYS | JAZEERA AIRWAYS | KLM ROYAL DUTCH AIRLINES |
| KOREAN AIR | LIBYAN ARAB AIRLINES | LOT - POLSKIE LINIE LOTNICZE (POLISH AIRLINES) | MAHAN AIR | MALAYSIA AIRLINES SYSTEM |
| MERAJ AIRLINES | MIDDLE EAST AIRLINES - AIRLIBAN | ONUR AIR | | QATAR AIRWAYS |
| QESHM AIR | ROSSIYA AIRLINES | ROYAL AIR MAROC | ROYAL JORDANIAN AIRLINES | SAUDI ARABIAN AIRLINES |
| SCAT AIR COMPANY | SINGAPORE AIRLINES LIMITED | SOMON AIR | SWISS INTERNATIONAL AIR | TABAN AIR LINES |
| TAJIKISTAN AIR | TAROM ROMANIAN AIRLINES | TRANSAERO AIRLINES | TUNIS AIR | TURKISH AIRLINES |
| TURKMENISTAN AIRLINES | UKRAINE INTERNATIONAL AIRLINE | UZBEKISTAN AIRWAYS | ZAGROS AIRLINES | ZAGROSJET |
When flying to Istanbul airport you can bypass the rush of passengers and save time at the airport. The following services are tailored to offer quick service so you can have a relaxed and enjoyable trip at the airport. Airport assistance services are the way to travel. It promises great service and comfortable travel. Here are the services available at Istanbul airport:
1)
Meet and Assist
:
This service is great for first timers, elderly, families, large groups, and VIPs. An agent will escort you from the boarding gate to the exit of the terminal or vice versa. If you have to catch a connecting flight, the agent will dutifully usher you to the boarding area. You can request the agent to guide you to the lounge, play area, duty free, or help you with any other requirements. Book the meet & greet service for hassle free airport experience.
2)
Fast Track At Istanbul Airport
:
During rush hour, peak season, holiday season or any other regular day, you still have to wait in long lines to pass through immigration, security and customs. So, why not get fast track service at Istanbul airport and avoid the long lines. This service allows you to complete the airport procedures within minutes, which would take an hour. Book the fast track for Istanbul airport for a stress free journey.
3)
Lounges At Istanbul Airport:
Tired and exhausted with the travelling? Need a place to unwind and freshen up? Get access to the Istanbul airport lounge and allow them to pamper you with food, spas, and fresh beverages. Relax on the comfortable chairs or take a nap, away from the bustling of the crowd at the airport.
Istanbul airport has some of the best lounges that suits various budgets. There are nine lounges to choose from, seven at the international terminal and two at the domestic terminal, they include:
International Lounges
"primeclass" Lounge

Turkish Airlines Lounge Istanbul Departure

Turkish Airlines Lounge Istanbul Arrival

Comfort Lounge

SkyTeam Lounge

Emirates Lounge

HSBC Club Lounge
Domestic Lounges
"primeclass" Lounge

Turkish Airlines Lounge Istanbul Domestic
To book a lounge at Istanbul airport, click here.
4) Airport Transfer:
Need a safe and assured transfer to and from the airport? Get a limousine or airport transfer to comfortably escort you from the airport to your hotel. It is a safe way to travel in Istanbul without bargaining or hassle with taxi drivers. You can book the airport transfer service here.
5) Transit Service:
If you have a long layover in Istanbul, you can relax in a hotel with amenities to relax with and good food. Get this transit service here. Also, transit service includes fast track, concierge, and meet and assist. These services are ideal for making a quick airport transfer to your connecting flight. The agent will escort you to the lounge and you can book it here. These transit services ensure you have a stress free layover at Istanbul airport, which is one of the most visited airports for transfers.
Istanbul Ataturk Airport is Turkey's main and busiest airport. Booking an airport service or services is the best way to have a successful journey at Istanbul airport. These services are ideal for VIPs, celebrities, sports personalities, business executives, diplomats and politicians. They can be tailored to suit their requirements, so they can have a hassle free and smooth trip.
However, airport assistance services are available for elderly, mom traveling alone with kids, first time fliers, passengers with disabilities, non-English speakers, or groups. The services are available for arrival, departure, and transfer, which include check in assistance, immigration assistance, baggage handling, access to business center, and much more.
Airport Assistance by MUrgency offers all the above mentioned services and more at Istanbul airport. Send us a request and receive affordable rates for all airport assistance services. Enjoy the benefits of airport assistance services with us and have a comfortable, smooth, and hassle free experience.
Liked the article? We would love to know your comments/feedback. Drop in a message, in the comments box below or feel free to get in touch with us at MUAirportAssist@MUrgency.com.
---
---