---
Book Fast Track, Vip Services For A Comfort, Stress-free Time At The Sydney Airport
---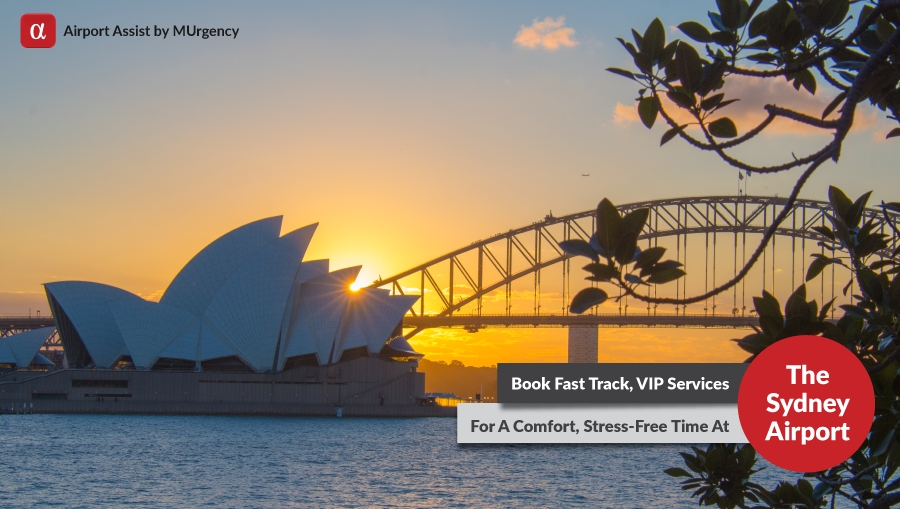 ---
It takes around 15 hours to get to Australia, but it is on the top of the list for most travelers. It has an attractive combination of vast landscape, heart-stopping adventure, and amazing food. This uncharted continent has peaked the interest of travelers and families, who are making a bee line to Australia. Hence, in 2016, the Sydney Airport witnessed an 8.9 percent increase in international passengers. They served 41.9 million passengers at the international terminal and 26.9 million air travelers at the domestic airport.
However, the growth in passengers has resulted in long lines at all airport procedures—check in, passport control, security, and customs; also, difficulty for non-English speaker and navigating through the crowds will test your patience. These factors can put a strain of you, especially after a long haul flight. Why get drained and burned out, when you have airport services that offers stress-free, hassle-free and comfort for the travelers.
Before we get to listing the Sydney airport services, find out which airlines serve at Sydney airport.
Airlines Operating at Sydney Airport
| | | |
| --- | --- | --- |
| Air Canada | Air China | Air India |
| Air New Zealand | Air Niugini | Air Vanuatu |
| AirAsia | Aircalin | All Nippon Airways |
| American Airlines | Asiana Airlines | Atlas Air |
| British Airways | Capital Airlines | Cathay Pacific Airways |
| Cebu Pacific Air | China Airlines | China Eastern Airlines |
| China Southern Airlines | Delta Air Lines | Emirates |
| Etihad Airways | Fiji Airways | Fly Pelican |
| Garuda Indonesia | Hainan Airlines | Hawaiian Airlines |
| Japan Airlines | Jetstar | Korean Air |
| LATAM | Malaysia Airlines | Polar Airways |
| Qantas | Qantas Link | Qatar Airways |
| Rex | Scoot | Sichuan Airlines |
| Singapore Airlines | Thai Airways | Tiger Air |
| United Airlines | Vietnam Airlines | Virgin |
| Xiamen Airlines | | |
In years to come, more flights will be added to this list to serve the increasing number of passengers. So, to avoid long lines, travel in comfort, and to keep your cool, familiarize yourself with the facilities and services available at Sydney Airport. It will save you time, ensure comfort and leisure, and have a relaxing trip to Australia.
1) Meet & Assist:
In Australia, the city of Sydney receives tourists by the hundreds. They are a mix of celebrities, business executives, first time flyers, elderly, solo travelers, and families. To make life easier at the Sydney airport, get Meet & Assist service. It entails a customized service where the attendant will meet you at the curb, escort you through the airport, guide you to the lounge, assist with other requirements, and ensure you have a comfortable passage through the airport. To book the service, click here.
2) Fast Track:
This airport service is ideal for passengers who hate to wait in the line or are perpetually late. The fast track service promises to get you through airport procedures within minutes. What would take more than one hour is cut short to few minutes. It is works great for elderly, corporates, celebrities, diplomats, and family with children. Get the fast track service here.
3) VIP Services:
Airport is a very public place, but there are ways to shy away from the public and have your own space at the Sydney airport. The VIP service ensures you are discreet and your privacy is maintained at the airport. You can get access to the airport lounge, the ultra-exclusive lounge. The attendant will adhere to your requirements, so all your airport needs are taken care and you can relax. You can get this service by clicking the link.
4) Limousine Service:
Getting to and from the airport just got easier and more comfortable. A chauffeur driven car will handle the luggage and safely get you to the airport or the hotel. It works great for families, corporates, elderly, and VIPs. You will reach the airport on time, without the fear of missing your flight. To get the limousine service, book here.
5) Elderly Assistance:
Air travel is agonizing for you and me, but worse so for elderly passengers. However, the Sydney airport understands the needs of elderly is offering a host of services for a relaxing and convenient air travel. It includes fast track, meet & greet, limousine service, check in and immigration assistance, medical help, medical assistance, and lounge access, to name a few. You can book these services from your parents & grandparents, by simply clicking here.
6) First Time Flyers:
The travel industry is expanding and every year people are exploring the air travel industry. And Australia is one of the top destinations to visit for first time flyers. They may tourists, students, or traveling to Australia for work. These passengers can avail of the First Time Flyer services, which includes a convenient and hassle free passage through the airport. The attendant will personal escort you the various airport process. For non-English speakers the attendant will be well-versed in the desired language. Avail of the service here.
7) Passengers With Disability:
Sydney airport is disability friendly and has a host of services catering to passengers with special needs. They include:
Wheelchair assistance
Medical oxygen
Seating accommodations
Cognitive and developmental assistance
Assistance for deaf or hard of hearing
Assistance for blind or low vision
Safety Assistant
Special Meals
8) Lounge Access:
The best place to unwind before or after a long flight is at the Sydney airport lounge. Get access to the lounge and enjoy the benefits of delicacies from Australia, beverages, internet, spas, showers, etc. Get access to the business center to stay connected with your clients. Book access to the Sydney airport lounge here.
Sydney airport is vast, but it has airport assistance services to make air traveling fun, relaxing and easy. Airport Assist by MUrgency is the key player for all airport services at Sydney airport. To book these services, click here or email at MUAirportAssist@MUrgency.com. Our agent will dutifully help you with your requirements.
Liked the article? We would love to know your comments/feedback. Drop in a message, in the comments box below or feel free to get in touch with us at MUAirportAssist@MUrgency.com.
---
---