---
Thanksgiving Day Air Travel Made Easy With Fast Track, Meet & Assist, & Other 5 Airport Assistance
---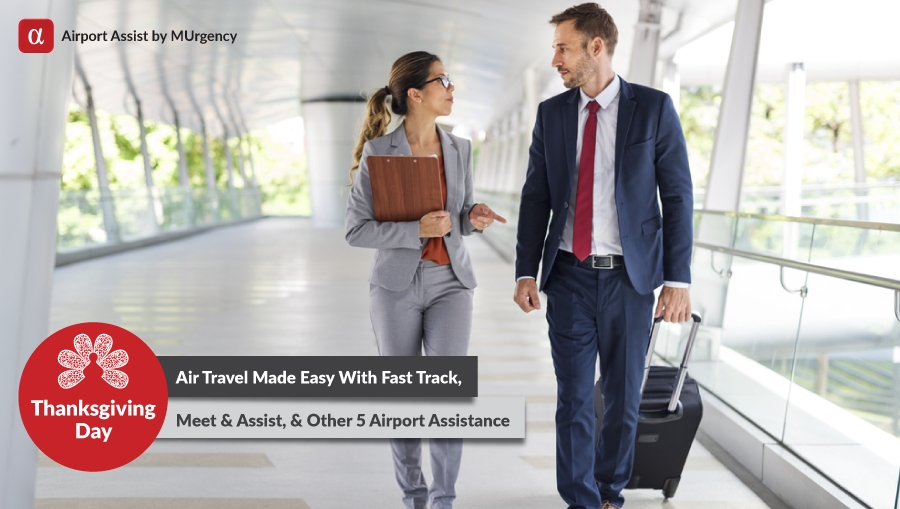 ---
Major US airports are expecting a far bigger surge in passengers for Tahnksgiving, making it one of the busiest times for US aviation industry. The American Automobile Association 'expects, with airfare the cheapest since 2013, 4 million will take to the air.' This will lead to long lines, exhaustion, and tempers flaring. If you are flying for Thanksgiving Day, Wednesday before Thanksgiving and the Sunday after is the worst time for fliers.
Also, you have to take into account local travel to the airport. For example, if you are heading from midtown Manhattan to John F. Kennedy International Airport via the Long Island Expressway, it can easily amount to two hours of your time.
This is where Airport Assist by MUrgency steps in with offers to make your air travel during Thanksgiving a pleasant experience. We are offering up to 15 percent on off on the following airport assistance services, which is applicable at all US airports.
Fast Track To Beat Thanksgiving Day Rush
Standing in long lines is the most frustrating way to spend time at the airport. The quickest way to get ahead of the lines at all airport procedures is to get fast track for you and your family. Fast track assures you are in and out any US airports within minutes, rather than an hour. The discount on family or group booking is the ideal way to save time at the airport. Spend time with the family and make memories over the Thanksgiving weekend and not at the airport.
Meet & Assist For Families & Elderly
The thought of traveling with kids will give any parent nightmares. However, with the meet & assist airport service you are guided through the terminal swiftly with our representative. They know the airport inside and out, and escort you and the children efficiently through any US airport.
Likewise, for elderly flying to be with their families, the meet & greet service effortlessly guides you at a comfortable pace.
Limousine Service For Relaxed Ride To & From The Airport
You are assured of major traffic snarls on the way to the airport during the Thanksgiving Day holidays. Book a vehicle of your choice to pick you up at the airport and drop you off at your location. Never miss a flight with this service.
Baggage Handling For Easier Transfer
Carrying gifts and goodies for loved ones for Thanksgiving can pack in the pounds in the suitcase. If you have pulled such a luggage, then you are aware of back and muscle pain popping up at various parts of the body. For a smooth transfer and without trudging your luggage, a porter service will help you with it effortlessly. It is available at any US domestic airports and you can book here.
Travel App For An Amazing Airport Experience
It has a flight tracker so you know your flight in on time, currency converter, and you can book airport assistance services from this app. Another unique feature of the app is Meet People, where you can social with others at the same airport or meet them as you wait for your flight. It is easy to use and just what you need for the holiday season.
Thanksgiving Day is the start of the holiday season travel. Families, friends, and couples will fly out to make the next few weeks a memorable one. The above airport assistance services are ideal for first-time fliers, celebrities, physically and differently disabled, non-English speaker, unaccompanied minors, executives, and regular travels.
These services changes the way you travel for the holiday season – swift, time saving, effortlessly, and efficiently. For group bookings and bigger discounts, book airport assistance services here.
Liked the article? We would love to know your comments/feedback. Drop in a message, in the comments box below or feel free to get in touch with us at MUAirportAssist@MUrgency.com.
---
---