---
Enjoy The Air Travel Experience To Melbourne Airport With Fast Track, Meet & Assist
---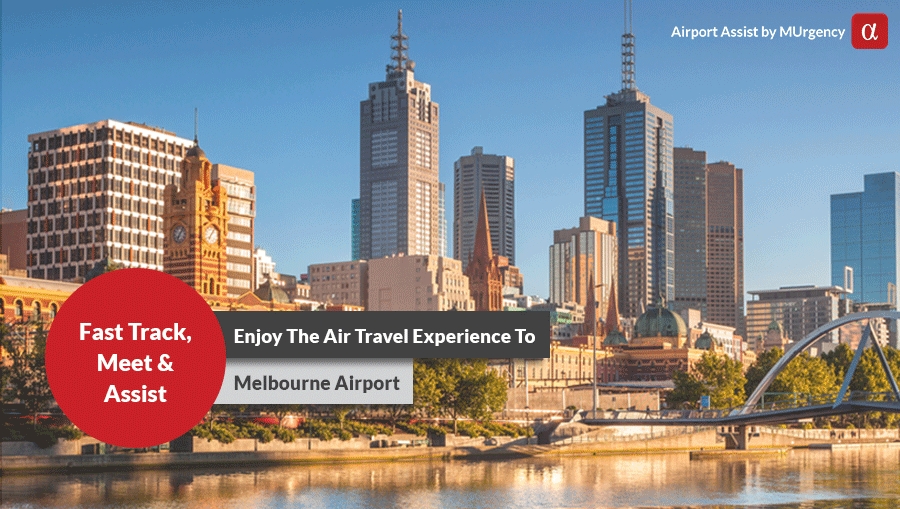 ---
Australia never cease to amaze tourists, but the city of Melbourne is has a thriving cultural mix, thanks to the cosmopolitan citizens. However, Melbourne is Australia's sports capital that hosts sporting events all year round. The city has welcomed sportspersons and enthusiasts, students, and business people alike. Hence, the Melbourne Airport has seen a rapid growth in passengers in this decade. In September 2017, Melbourne Airport jumped seven percent in air passengers. Approximately 931,000 people flew internationally as compared with 870,000 the previous year. This trend has given rise to better airport facilities and services such as fast track, meet & assist, concierge, etc. to take the stress out of traveling to this southern continent.
Lyell Strambi, the Chief Executive at Melbourne Airport told Herald Sun, "Melbourne's rapidly growing population, and its attractiveness to international visitors, is combining to drive passenger volumes higher month after month." However, the capacity is going to increase, which has increased investments in the aviation sector. He said, "The most important part of that investment will be building our third runway, which will increase capacity from our current limit of around 55 movements per hour to more than 90 movements per hour."
This exponential rise in air traffic will see a rise in comfortable airport services to ease the stress of air traveling. The demand will see an increase in air carriers at Melbourne Airport. These are the existing airlines present at Melbourne.
Airlines Operating At Melbourne Airport
| | | |
| --- | --- | --- |
| Air Asia | Aircalin | Air Canada |
| Air China | Air India | Air Mauritius |
| Air New Zealand | Air Vanuatu | Capital Airlines |
| Cathay Pacific | China Airlines | China Eastern |
| China Southern Airlines | Emirates | Etihad |
| Fiji Airways | Garuda Indonesia | Hainan Airlines |
| Hongkong Airlines | Japan Airlines | Jetstar |
| LATAM | Malaysia Airlines | Philippine Airlines |
| Qantas | Qatar | Royal Brunei |
| Scoot | Sichuan Airlines | Singapore Airlines |
| SriLankan Airlines | Thai | United Airlines |
| Vietnam Airlines | Virgin Australia | Xiamen Air |
As months pass by, expect to see more airlines joining the list. So, how is the airport going to accommodate the needs and address the increasing requirements to reduce the stress of traveling? The best way is to make traveling comfortable, fun, and stylish. Melbourne Airport has in place several airport services in place, following are the ones that you need to book for a hassle-free journey.
1) Fast Track For Melbourne Airport
What is the most annoying situation at any airport? The long, serpentine lines for each airport procedure. It tests your patience and tolerance. However, you can skip the long lines and get priority treatment at each step—check in, security, passport control, and customs. Fast track is the service available at Melbourne Airport that gets you this breeze-through effect. Passing through the airport has been quicker with fast track. Feel the happiness of this service—book it here.
2) Meet & Assist Service At Melbourne Airport
Melbourne is a new experience for many tourists exploring Australia. It is home to a diverse culture built on different nationalities. If this is your first visit to Melbourne, first time flying, or difficulty in language, the meet & assist service is ideal in these scenarios.
Our representative will wait with the name board to meet you at the curb, at the meeting point decided within the terminal building or at the passenger bridge if in transfer.
It works great for business executives, celebrities, and sports personalities, who prefer a quick and escorted getaway from the airport. This service is tailored to suit your requirements such access and guidance to the airport lounge, taste the flavors of Melbourne at the airport restaurant, or a relaxing spa treatment at the airport. Get the Meet & Assist here.
3) Transfer Services At Melbourne Airport
If you are in transit at Melbourne, make a smooth transfer with these services:
Connecting Flight Accommodation
Flight Monitoring
Baggage Handling Service
Visa & Security Clearance
Meet & Greet
Cart Transportation In The Airport
Passport Fast Track
Lounge Access
Upgrade & Re-Booking
Escort To Aircraft
4) VIP Services For Travelers At Melbourne Airport
Airport style is a big trend for us mere mortals and the paparazzi love getting that snap of celebrities wearing they stylish comfy attire. However, the VIP service loves maintaining your privacy, so you can have a quiet, down to earth time at the airport. The VIP service includes the best care you can get, right from your doorstep to your seat. It can be customized to suit your requirements. It can include limousine pick up & drop, fast track, meet & assist, VIP lounge access, baggage handling, and much more. To book this stylish, comfortable service that guarantees a luxurious experience, click here.
5) Other Services At Melbourne Airport
The Melbourne Airport is equipped to cater to students, sports personalities, celebrities, and tourists. Passengers can avail of the various services available such as airport lounges, ATMs, baby changing facilities, children's playing area, foreign exchange service, luggage services, massage chairs, medical, Airport Hotels, postal service, showers, traveler's aid, travel agency, and others. It serves the needs of pets too. Chinese passengers can feel at home at Melbourne Airport; simply walk to the Chinese information service desk. The airport is friendly to the needs of disabled passengers. Learn more about the services and facilities at Melbourne airport here.
When traveling to Melbourne, connect with Airport Assist by MUrgency to book the above services and check out the list of other services available at arrival, departure, and transit. It is a one-stop airport assistance company, which has a wide reaching network across Australia. It present in 136 countries, and serves more than 626 airports in the world. So, you can have a smooth and comfortable air travel anywhere on the globe.
Liked the article? We would love to know your comments/feedback. Drop in a message, in the comments box below or feel free to get in touch with us at MUAirportAssist@MUrgency.com.
---
---