---
7 Berlin-tegel Airport Services To Get For A Smooth Journey – Fast Track, Meet & Greet, & More
---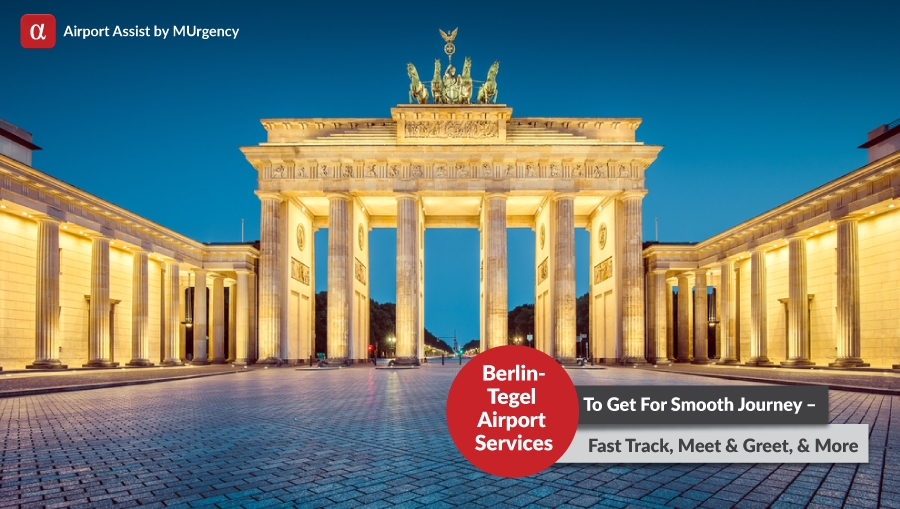 ---
Berlin Tegel "Otto Lilienthal" Airport or Flughafen Berlin-Tegel (TXL) is the gateway to Germany's capital, Berlin. It is one of the airports that serves Berlin; the other airports are Berlin Brandenburg Airport (BER) and Berlin-Schönefeld (SXF). However, the Berlin-Tegel airport is the closest to the city and is the hub for EasyJet and Eurowings. Its proximity to the heart of the capital sees an influx of passengers on a daily basis. Airport Assistance services such as VIP Assistance, Fast Track, Check in & baggage assistance help you tackle the busy airports crowd, long lines at airport procedures and irate passengers.
The Berlin Airport caters to 63 airlines arriving and departing to mostly European and Asian countries. It is a hub for transit passengers connecting to domestic airlines too. Here are the airlines at the airport.
Airlines Operating At Berlin-Tegel Airport
| | | |
| --- | --- | --- |
| Adria Airways | Aegean Airlines | Aer Lingus |
| Aigle Azur | airBaltic | Air Canada rouge |
| Air France | Air Malta | Air Serbia |
| Alitalia | AtlasGlobal | Austrian Airlines |
| Azerbaijan Airlines | Blue Air | Bora Jet |
| Braathens Regional Airlines | British Airways | Brussels Airlines |
| Bulgaria Air | Bulgarian Air Charter | Condor |
| Corendon Airlines | Croatia Airlines | Czech Airlines |
| Delta Air Lines | easyJet | Eurowings |
| Finnair | Flybe | Freebird Airlines |
| Georgian Airways | Germania | Germanwings |
| Hainan Airlines | Iberia Express | Iceland Air |
| Iraqi Airways | KLM | LOT |
| Lufthansa | Luxair | MHS Aviation |
| MIAT | Onur Air | Pegasus Airlines |
| Qatar Airways | Rhein-Neckar Air | Royal Air Maroc |
| Royal Jordanian | S7 Airlines | SAS |
| SkyWork | SprintAir | Sun Express |
| Sun Express Deutschland | Swiss | TAP Portugal |
| TUIfly | Turkish Airlines | Ukraine International Airlines |
| United Airlines | UTair | Vueling Airlines |
In the melee of passengers arriving and leaving the Berlin-Tegel airport, it is easy to get lost at this major international airport, get lost in German translation, or miss your flight, which is the most dreaded feeling. So, the Berlin Airport offers an array of facilities and services to take the stress from traveling and make you feel comfortable. Book them in advance, before arriving to the airport to smoothen journey.
1) Fast Track at Berlin-Tegel Airport
The quickest way to wiggle through airport procedures and avoid crowd is to get fast track. This service guarantees swiftness and gives you priority at check-in, security, immigration, and customs. Passing through these process would take you approximately an hour, but with fast track service you are complete the formalities within minutes. It is a time-saving service, which works in favor for VIP, celebrities, corporate, business professionals, and those who hate to wait in long lines. Book the fast track at Berlin Airport here.
2) Meet & Assist for Easy Travel
If you are traveling in a group, first time flier, or first time to Berlin, the Meet & Assist service is what you need for an effortless travel through the airport. The attendant will meet you at the curb and escort you through the various processes of the airport, and guide you to the number of facilities avail too. If you are not familiar with German, we will arrange for an attendant conversant in your language. This service works great for elderly passengers too. You can book the Meet & Assist service at the Berlin-Tegel airport here.
3) VIP Service at the Airport
We understand the needs and discretion of VIP passengers traveling through the Berlin Airport. A personal attendant is assigned to you to escort you through the airport, guide you to the VIP lounge, arrange for porter service, limousine service, and adhere to any requirements. It is the ultimate luxury package for air travel. Get the VIP service at Berlin airport and avoid hassle.
4) Limousine Service
If you are new to Berlin or prefer a complete travel experience from hotel to doorstep, get the limousine service. A chauffeur driven car is assigned to you to handle you luggage, pick and drop you off at the airport. You will never miss a flight, and have a smooth journey to and from the airport. Here's where you can book the limousine service for the Berlin airport.
However, the Berlin-Tegel Airport is well-connected and accessible via buses, trains, car, car sharing, taxis, or car hire.
5) Special Needs
We ensure all passengers feel at home and enjoy air-traveling experience. The Berlin-Tegel airport offers a host of facilities and services for passengers with special needs. At departure, the passenger is helped with check-in, baggage drop-off, security checkpoint, transfer to departure gate, boarding, stowing hand luggage. As for arrival, the special needs passenger is aided with deplaning, transfer to baggage claim, immigration and customs, transit within the terminal to your connecting flight. The attendant also take care of food, beverages, shopping, and toilet before the flight leaves. You can book these special needs services for the Berlin airport here.
6) Transfer Service
The Berlin-Tegel Airport is an international airport, but it also offers services for transit passengers such as hotel accommodation, international-to-domestic transfer, and vice versa. These are personalized services to meet your needs and requirements. Book the transfer service for Berlin Airport here.
7) Miscellaneous Features, Facilities, & Services at Berlin Airport
Observation Deck – You can enjoy the view of airplanes arriving and departing from our airports.
Assistance for unaccompanied minor
Traveling with pets
Traveling with children
C-Lounge
Sleeping cabins
Meeting point
Mobile service
Online check-in
Night before check-in
Self-service check-in
Lost and found
Berlin Airport Club Lounge
Tour planning
Bar, restaurants, café, fast food joints
The Berlin-Tegel airport is one of the oldest airports in Germany, but it is well equipped to take on the influx and demands of the 21st century passengers. These services works great for old and young, luxury and budgeted travelers too.
Go to Berlin Airport Assist by MUrgency to book any service at Berlin-Tegel Airport. They will arrange the facilities you need at the Berlin airport, so you can sit back relax the journey. It is also you one-stop platform to book airport-related services at any airport in the world. The Airport Assist by MUrgency offers airport services at more than 626 airports in the world. They redefine the way to travel.
Liked the article? We would love to know your comments/feedback. Drop in a message, in the comments box below or feel free to get in touch with us at MUAirportAssist@MUrgency.com.
---
---