---
8 Airport Services Available At Brisbane For A Smooth Flight—fast Track, Meet & Assist, Etc
---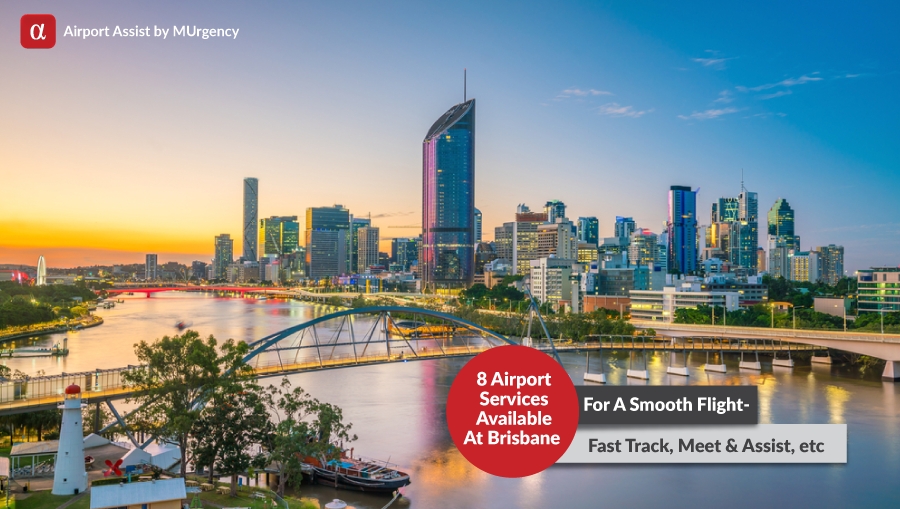 ---
Brisbane is one of the most populous cities in Australia and the capital of Queensland. Tourists flock to this trending destination for its Great Barrier Reef, Daintree Rainforest, river, tropical lifestyle and rooftop bars and dining. These factors besides the cultural diversity has attracted 5,803,549 international and 17,402,153 domestic passengers in 2017. To cater to this rapid increase air travel to this city, Brisbane Airport (BNE) offers a list of services to ease the stress of passengers arriving to the third busiest airport in Brisbane. They include fast track, meet & assist, VIP services, limousine, terminal transfer, lounge access, and more.
The Brisbane Airport welcomes flights from all over the globe, especially from Asia. It is important to note which airlines operate here.
Airlines Operating At Brisbane Airport
| | | |
| --- | --- | --- |
| Air Canada | Air China | Air New Zealand |
| Air Niugini | Air Vanuatu | Aircalin |
| Alliance Airlines | Cathay Pacific | China Airlines |
| China Eastern | China Southern | Corporate Air |
| Emirates | Etihad Airways | Eva Air |
| Fiji Airways | Fly Corporate | GAM Air |
| Hainan Airlines | Hawaiian Airlines | JETGO |
| Jetstar Airways | Korean Airlines | Malindo Airways |
| Nauru Airlines | Philippine Airlines | Qantas |
| REX | Seair Pacific | Singapore Airlines |
| Skytrans | Solomon Airlines | Thai Airways |
| Tigerair | Virgin Australia | |
To overcome crowd, lingual limitations, corporate or group demands, and special needs, the Brisbane Airport has established amenities to ease the stress of air travel. Following are popular airport services that are in great demand at the airport.
1) Fast Track
During peak hours or when several planes land around the same time, the airport is bustling with passengers. This also means long lines at check in, passport control, security, and customs. If you want to avoid these serpentine lines book fast track at Brisbane Airport. It is a guarantee you will pass through these airport processes within minutes. With this service, you jump ahead of the line at each procedure. Get fast track at Brisbane Airport here.
2) Meet & Assist
This service can be customized to suit your requirements. It is ideal for large groups, first time flyers, non-English speakers, elderly, VIP, corporate, business groups, diplomats, and sports personalities. Meet & Assist is an end-to-end service. The attendant will meet you at the curb and escort you to through the airport procedures till you are safely in your seat. This service takes away the stress of traveling, especially if you are not familiar with English or new to the airport. The attendant will guide you to the lounge, assist with check in, and help you any airport needs. Book Airport Concierge service for Brisbane Airport.
3) VIP Service
This is the ultimate luxury service with the goal of pampering the clients. The VIP service ensures your privacy is maintained at the airport, you have access to the lounge, porter service, fast track, and receive the ultimate treatment at the Brisbane Airport. The VIP service is offered to anyone such as high-profile clients, diplomats, celebrities, business executives, and sports personalities. Book the VIP service for Brisbane Airport.
4) Lounge Access
The Brisbane Airport is home to six airport lounges:
Air New Zealand Lounge
Virgin Australia Lounge
Singapore Airlines Lounge
Emirate Lounge
Qantas Club
Plaza Premium Lounge
Enjoy the luxuries of your lounge while you wait your flight. Book lounge access.
5) Terminal Transfer
The Brisbane Airport caters to domestic and international terminals. However, the terminals are four kilometres apart, and takes approximately 10 minutes.
Transfer Bus departure locations
Domestic Terminal - look for the orange Terminal Transfer Bus stop outside towards the Qantas end of the terminal. The transfer bus arrives into Level 4 - Departures of the International Terminal.
International Terminal - the Terminal Transfer Bus departs from kerbside on Level 2 of the Arrivals hall.
6) Special Needs Assistance
The Brisbane Airport is designed to accommodate every passenger. It is disability-friendly airport and caters to passengers with special needs. You can request for:
Wheelchair assistance
Medical oxygen
Seating accommodations
Cognitive and developmental assistance
Assistance for deaf or hard of hearing
Assistance for blind or low vision
Book the special assistance at Brisbane Airport.
7) Miscellaneous Services
The Brisbane Airport also provides:
ATMs
Baggage Storage
Charging Station
Currency Exchange
First Aid Rooms
Hotels
Massage
Parent Room
Postal Service
Prayer Room
Showers
Vending Machines
WiFi
Water Stations
Car Rental
Parking Amenities
8) Accepts Bitcoins
The Brisbane Airport is the first airport in the world to accept bitcoin at the terminal shopping area. "Many people around the world have made money investing in cryptocurrencies and a lot of these people travel internationally, so it makes sense to offer a digital currency experience within our terminals," says Roel Hellemons, a general manager at the Brisbane Airport Corporation.
To book any of these services and other, connect with Brisbane Airport Assist by MUrgency. They are your one-stop airport service provider. They also offer airport services to more than 626 airports in the world.
You can book our service from our:
Website: AirportAssistbyMUrgency.com
Service Booking Form: http://www.murgencyairportassistance.com/service
Email Us: MUAirportAssist@MUrgency.com
Call: + 971 50 462 7611
Liked the article? We would love to know your comments/feedback. Drop in a message, in the comments box below or feel free to get in touch with us at MUAirportAssist@MUrgency.com.
---
---