---
Making Travel Through Adelaide Airport Quick & Easy With Meet & Assist, Fast Track
---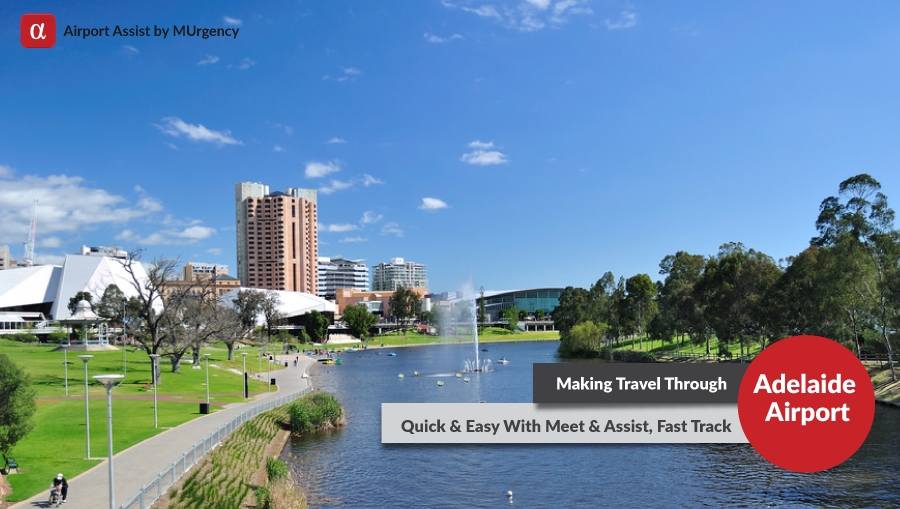 ---
The Adelaide International Airport is fast expanding and the passengers arriving and departing from this airport has crossed 8 million in 2016-2017. This is a major boost to aviation industry in Adelaide, but it also means long lines at various airport procedures, chaos during the holiday season, and increase in international passengers. So, the Adelaide airport provides numerous airport assistance services to ease the stress of air traveling, especially for long haul travelers.
These services include fast track, VIP services, meet & assist, limousine service, etc., which are ideal for families, elderly, corporates, or celebrities. Firstly, it is important to note which airlines serve at the Adelaide airport. Secondly, which are the services available at the airport. Let us break it down.
Airlines Operating At Adelaide International Airport
| | | |
| --- | --- | --- |
| Air New Zealand | Cathay Pacific | Fiji Airways |
| Singapore Airlines | China Southern Airlines | Emirates |
| Qatar Airways | Malaysia Airlines | Jetstar Airways |
Airlines Operating At Adelaide Domestic Airport
| | | |
| --- | --- | --- |
| Jetstar Airways | Qantas | Tigerair |
| Virgin Australia | | |
Regional Airlines Operating At Adelaide Airport
| | | |
| --- | --- | --- |
| Air South Charter | Alliance Airlines | Cobham Aviation Services |
| Qantas | Qantas Link | Regional Express |
| Sharp Airlines | | |
Charter Airlines Operating At Adelaide Airport
| | | |
| --- | --- | --- |
| Air South Charter | Alliance Airlines | Cobham Aviation Services |
| Corporate Air | Dick Langs Desert Air | KJM Air Charter |
| Lucas Air | Regional Express | Ross Air |
| Sharp Airlines | | |
These airlines have seen an increase in passengers at Adelaide airport, which has increased the need to have facilities and services for a convenient, quick, and easy time at the airport. So, Adelaide Airport offers these services for international and domestic air travelers.
1) Fast Track For Passengers At Adelaide Airport
Getting on and off from a long haul flight is taxing, but the ordeal continues at the airport too. All you want to do it magically complete the airport procedures such as check in, passport control, security, and customs, within minutes. These steps can take over an hour depending on the crowd, so Adelaide airport offers fast track service. It allows you to jump ahead of the line and get priority services at all the airport procedures. To book fast track for Adelaide airport, click here.
2) Meet & Assist At Adelaide Airport
The beautiful city of Adelaide is a melting pot of cultures and welcomes a plethora of nationalities. The meet & assist service work great for first time fliers, corporates, families, and non-English speaking passengers. The attendant will meet you at the gate and escort you through all the airport procedures, until you are in your vehicle and vice versa. It is a great service to book for elderly parents visiting Adelaide or families flying in for a sightseeing. It works great for non-English speaking passengers too, to have a hassle-free journey. Get the service for Adelaide airport here.
3) VIP Services
For the finest air traveling experience, you need the best services at Adelaide Airport. When you book the top VIP services, you enjoy privacy, alacrity, comfort, and save time. VIP service is tailored to meet your requirements at the airport. It can include fast track, meet & greet, access to luxurious airport lounges, best foods, spa treatments, and hotel room, to name a few. Your personal airport attendant will assist you with any needs to ensure you have a relaxing time at the airport. You can easily book the service here.
4) Terminal-To-Terminal Service
Switch terminals is quite a hassle and time consuming. Going from domestic to international means going through numerous processes. So, this service handles the stress and airport procedures, while to change terminals conveniently. Meet the attendant when you get off the plane and he or she will swiftly escort you through the terminals efficiently. Enjoy the benefits of this service by clicking here. This is great for families, elderly and first time fliers.
5) Limousine Service At Adelaide Airport
Enjoy Adelaide and leave the hassle of traveling to and from the airport, to airport service providers. This ensures you never miss your flight and have a pleasant trip. To book a ride, click here.
However, the airport is well connected and offers other modes of transport including bicycles, rental cars, public transport, taxis, and car share.
6) Miscellaneous Airport Services
Duty Free
Smoking Areas
Pet Collection
Internet Access
Family Facilities
The Adelaide airport also provides:
Baggage Storage Lockers
Currency Exchange & Banking
Medical
Postal Services
Place To Worship
Ton Of Australian Dining Options
Adelaide International Airport is bound to expanse further, especially with an increase in air travel passengers to this part of Australia. If you are planning to visit Adelaide, Australia from another continent, get airport assistance to take away the stress of traveling. The above mentions services eases the experience and ensures you have a pleasant journey to this continent.
Book the above services with Adelaide's Airport Assistance for a prompt service. Enjoy your visit to Australia, but enjoy the trip too.
Liked the article? We would love to know your comments/feedback. Drop in a message, in the comments box below or feel free to get in touch with us at MUAirportAssist@MUrgency.com.
---
---