---
4 İzmir Airport Services For A Stress-free Trip
---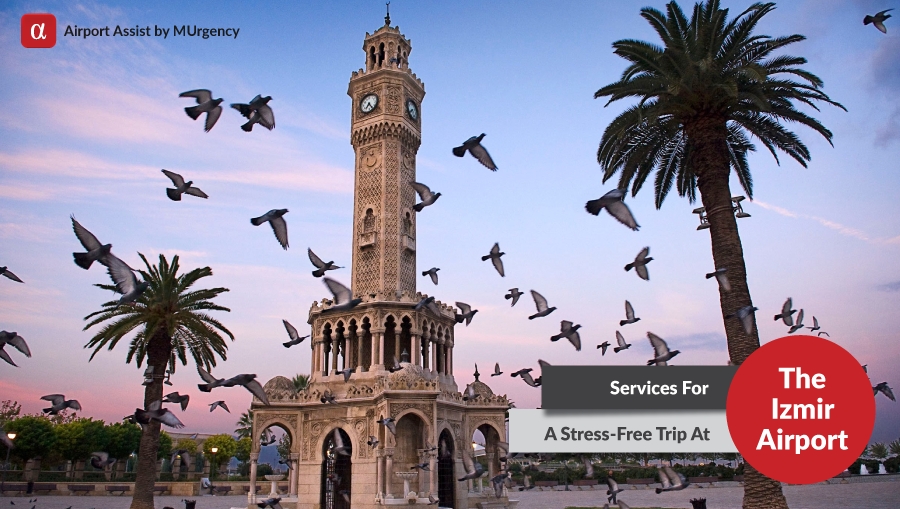 ---
Turkey is a beautiful country, but the city of Izmir oozes intrigue, beauty, history, food, culture, and landscape. You have to be here to experience the life, serenity, and architectural marvels. In 2016, the İzmir Adnan Menderes Airport welcomed approximately 1,19,51,183 passengers, who visited Izmir to witness the influence of the Greeks, Romans, and the Ottoman Empire. To have a pleasant time at the international and domestic airports in Izmir, the authorities have a list of services to facilitate you.
Tourists, families, elderly, corporates, and celebrities can avail of the numerous services, no matter if you are flying in on a private jet or commercial airline. When flying to Izmir Airport, it is important to note the airlines operating at the airport—international and domestic, so you can have a smooth flight.
Airlines Operating At İzmir Adnan Menderes Airport
| | | |
| --- | --- | --- |
| ABELAG AVIATION | ABS JETS A.S. | ADO AIR |
| ADRIA AIRWAYS | AEGEAN AIRLINES | AER LINGUS TEORANTA |
| AERO4M | AERODIENST | AIR BALTIC |
| AIR BERLIN | AIR BLUE | AIR BUCHAREST |
| BULGARIAN AIRWAYS | AVIANCA BRAZIL | BADR AIR |
| BATAVIA AIR | AIR CAIRO | AIR CANADA |
| AIR CHINA INTERNATIONAL | AIR INDIA COMPANY | ALITALIA |
| BONAIR BUSINESS CHARTER | BORAJETS | CORENDON DUTCH AIRLINES |
| DELTA AIRLINES | Denim Air | DNIPROAVIA AVIATION COMPANY |
| AIR ALLIANCE EXPRESS | AIR EUROPA | Air Explore |
| AIR INDIA EXPRESS | Bryansk Air Enterprise | CHINA EASTERN AIRLINES |
| EASY JET | AIR FRANCE | FAI AIRSERVICE |
| FINNAIR | FLY AIR | ATLAS GLOBAL |
| CONDOR FLUGDIENST | GAIN JET AVIATION | GAMA AVIATION |
| GARUDA AIRWAYS | GAZPROMAVIA | GEORGAVIA |
| GEORGIAN AIRWAYS | AIR HAMBURG | ELLINAIR HELLAS |
| HAHN AIR | HAINAN AIRLINES | HELI AIR SERVICES |
| HELIOS AIRWAYS | HELVETIC AIRWAYS | HI FLY AIRLINE |
| AIR ICELAND | AIR MARSHALL ISLANDS | AIR MOLDOVA INTERNATIONAL |
| ARKIA ISRAEL AIRLINES | ANADOLU JET | GIR JET |
| GLOBAL JET AUSTRIA | GLOBAL JET LUXEMBOURG | IMPERIAL JET |
| HONG KONG AIRLINES | KAM AIR | KARPAT AIRLINES |
| KENYA AIRWAYS | KISH AIR | KLM ROYAL DUTCH AIRLINES |
| KOGALYMAVIA AIRLINES | AIR LEC | AIR LIBERTE |
| AIR LUBO | AUSTRAL LINEAS AEREAS | Fleet Air International LTD |
| AIR MALTA | AIR MEDITERRANEE | AIR MEMPHIS |
| AVIO IMPEX MACEDONIAN AIRLINES | AIR NAMIBIA | AIR NEW ZEALAND |
| AIR NOSTRUM | AL NASER AIRLINES | ALL NIPPON AIRWAYS |
| ARKEFLY TUI AIRLINES NEDERLAND | NESMA AIRLINES | NETJETS TRANSPORTES A'EREOS S.A |
| AIR ONE | OLYMPIC AIR S.A | OMAN AIR |
| ONUR AIR | BLUE PANORAMA AIR | CATHAY PACIFIC AIRWAYS |
| CEBU PACIFIC AIR | ENTER AIR POLAND | POLISH AIRLINES |
| PAKISTAN INTERNATIONAL AIRLINES | PALMALI AIR | QANTAS AIRWAYS LTD |
| QATAR AIRWAYS | QESHM AIR | QATAR AMIRI FLIGHT |
| QUICK AIR JET CHARTER | AEROFLOT RUSSIAN AIRLINES | JAZEERA AİRWAYS |
| RED WINGS AIRLINES | AIR SERBIA | AIR SEYCHELLES |
| BUDAPEST AIR SERVICE LTD | AIR TRANSAT | AMERICAN TRANS AIR |
| DANISH AIR TRANSPORT | GHADEMES AIR TRANSPORT | AIR UKRAINE |
| AIR URGA | THOMAS COOK UK | VASO AIRLINE |
| VIAGGIO AIR | VIETNAM AIRLINES | VIM AIR |
| VIRGIN ATLANTIC AIRWAYS | VISA JET | Cham Wings Airlines |
| Royal Wings Airline | SILK WAY AIRLINES | WANANIYA AIRLINES |
| WELCOME AIR | FLY ASIAN XPRESS | XL AIRWAYS FRANCE |
| YAKUTIA AIR | YAMAL AIRLINES | YANAIR |
| YEMENIA YEMEN AIRLINES | SMALL PLANET AIRLINES | ZAGROS AIRLINES |
| AVIACON ZITOTRANS | ZAGROS JET | |
With flights coming in from Asia, Europe, Africa, Australia, and US, Izmir Airport turns into a cosmopolitan place. To cater to the growing number of visitors arriving from all over the globe, the airport is offering a ton of services. Perfect for a time saving and comfortable time at the airport. Here are the services available at the İzmir Adnan Menderes Airport:
1) Meet & Greet:
This is an ideal service for first-time fliers, first-time to Turkey, elderly, and corporates. If you have language limitations, an attendant familiar with your language will meet you at the gate and escort you through the terminal, assisting you with the airport procedures. It is the best way to travel through the Izmir terminal and feel the ease of traveling. You can book the meet and greet service here.
2) Fast Track:
Airport procedures can easily take an hour or more depending on the crowd. This is a complete waste of time, but you can skip the line and receive priority service. All you need to do is book fast track at Izmir Airport and experience the joy of this time saving service. It will get you through the services within minutes.
3) VIP Services:
Corporates, celebrities, or diplomats require the luxury treatment and Izmir Airport offers just that. The VIP service is tailored service that ensures the needs of the customer are met and entails privacy and access to the VVIP lounge. From fast track to fine dining, the VIP service has it all. Get the service for Izmir Airport.
4) Limousine Service:
Enjoy the amazing city of Izmir and leave the airport transfer to the professionals. We ensure you never miss you flight and dropped off at the right location. It is a pick up and drop service to and from the Izmir Airport. The chauffeur will handle the baggage and the traffic. Book the limousine service for Izmir Airport here.
The Izmir Airport provides an array of restaurants, lounges, shopping, and options of airport transfer to suit your budget. To book any of the services, contact Airport Assist by MUrgency for Izmir Airport and for services at any airport in the world. Enjoy world class quality of air travel with us.
Liked the article? We would love to know your comments/feedback. Drop in a message, in the comments box below or feel free to get in touch with us at MUAirportAssist@MUrgency.com.
---
---