---
9 Venice Airport Services That Will Ease The Stress Of Traveling Like Fast Track, Meet & Assist
---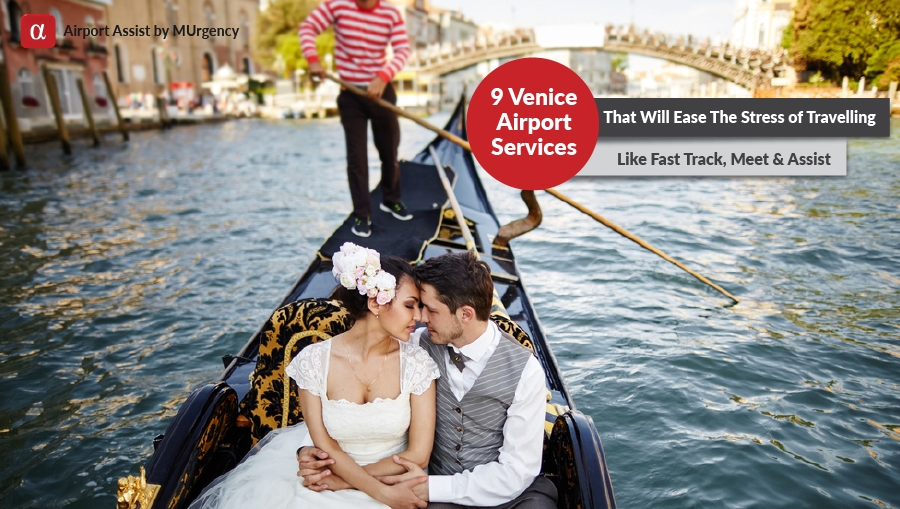 ---
Venice is one of the most beautiful cities and one of the most romantic. Cruising down the canals in a gondola is what dreams are made of and surely brings couples closer. However, Italian airports can get crowded during peak season, including Venice. Whether it is the summer holidays, Christmas, Easter or Valentine's Day, the place is beaming with tourists. So, to avoid bumping into angry Italians and tourists at the Venice Marco Polo Airport, we have few vital suggestions that will change the way you travel.
However, there are certain flights traveling to and from Venice. Following is a list for all the airlines operating at the Venice Marco Polo Airport.
Airlines Operating At Venice Marco Polo Airport
| | | |
| --- | --- | --- |
| AEGEAN | AER LINGUS | AEROFLOT |
| AIR ARABIA MAROC.COM | AIR BALTIC | AIR CANADA |
| AIR DOLOMITI | AIR EUROPA | AIR FRANCE |
| AIR MALTA | AIR MOLDOVA | AIR SERBIA |
| AIR TRANSAT | ALBAWINGS | ALITALIA |
| AMERICAN AIRLINES | ASIANA | AUSTRIAN AIRLINES |
| BRITISH AIRWAYS | BRUSSELS AIRLINES | CROATIA AIRLINE |
| CZECH AIRLINES | DELTA AIR LINES | EASYJET |
| ELAL | EMIRATES | ERNEST AIRLINES |
| EURO WINGS | FINNAIR | FLYBE |
| FLYONE | HOP! | IBERIA |
| JET2COM | KLM | LOT |
| LUFTHANSA | LUXAIR | MERIDIANA FLY |
| NORWEGIAN | QATAR AIRWAYS | ROYAL AIR MAROC |
| RYANAIR | SCANDINAVIAN | SWISS AIR LINES |
| TAP AIR PORTUGAL | TRANSAVIA | TUNISAIR |
| TRANSAVIA FRANCE | TURKISH AIRLINES | UKRAINE INTERNATIONAL AIRLINES |
| UNITED AIRLINES | URAL AIRLINES | VOLOTEA AIRLINES |
| VUELING AIRLINES S.A. | | |
With flights coming from mainly from Europe, but also arriving from the vast corners of the world like US, Canada, it is important each nationality feels welcomed and comfortable at the airport. So, the Venice Marco Polo Airport provides a list of services and facilities at the airport that promises a hassle-free journey. As Venice is a high rollers' playground, the airport offers high end, luxury services for private flights or charter planes and their customers.
Here's a collated list of airport services to suit every traveler, tourist, corporate, and luxury traveler.
1) VIP Services at Venice Marco Polo Airport
When you travel in the lap of luxury, you receive the best service. First-class passengers arriving via commercial flight or private, charter plane are offered meet & assist service. It ensures your privacy is maintained and all airport procedures are completed under full anonymity, away from paparazzi and cameras. It includes a limousine service, where you can relax as the chauffeur will handle you luggage and pick you or drop you off at the hotel. You can also request a VVIP lounge access to unwind or catch up on work at the business center. To get the VIP airport service click here.
2) Meet & Assist Service
This is a great service for VIP, celebrities, elderly, families, or groups. For inbound flights, an attendant will receive you at the gate and personally guide you through the airport procedures such as passport control, security, and customs, till you are in your vehicle. Likewise, for the outbound flight, the attendant will meet you at the terminal entrance, assist you with check-in, guide you through airport procedures, and escort you to the boarding gate. Book meet & assist service for Venice Airport here.
3) Multilingual Attendant
Venice is on the top of the list for several travelers. So, people from all over the world arrive in Venice. To cater to people of different nationalities, the Venice Airport provides a multilingual attendant to assist you with the airport procedures and arrangements for ongoing journey from the airport. Book the service here.
4) Fast Track At Venice Marco Polo Airport
During peak season, Italy receives an influx of tourists, which makes Italian airports one of the busiest. So, the best way to bypass the crowd and receive priority service is with the booking of fast track service. The services allows you to skip the lines at check-in, security, customs, and passport control. The fast track service is ideal for corporates, VIPs, elderly and celebrities. Get fast track for Venice Airport here.
5) Limousine Service
Book a chauffeur driven limousine to pick up and drop you off at the airport. It is a sure shot way to ensure you never miss your flight and are at the airport on time. Send a request for limousine service here.
6) Special Needs Service Available
The Venice Airport is special-needs-friendly. Passengers with reduced mobility, differently abled, or with autism can request for special service. To use the services, notify us here of your requirements.
7) Lounge Access
When at Venice Marco Polo Airport, get access to one of the finest lounges in the world - Marco Polo Club VIP Lounge. Enjoy the affluence of the club and services it offers its passengers.
8) Miscellaneous Facilities At The Airport
Just like the city, the Venice Airport offer a delectable range of restaurants, cafes, wine bar and beer lounge. When at the airport, you can book different types of tours – 30-minute city tour, visit to the vineyard, sample cheese, or a cultural tour.
9) Charter Flight Services
Get a complete service for the passengers, crew and the plane. Venice airport offers a wide range of services and facilities to ensure the passenger receives the utter most luxurious care; the crew is well taken care of at the airport, and the plane's maintained and others needs are met.
Venice is a city that attracts all types of travelers, families, couples, and the rich. The Venice Marco Polo Airport ensures with these services each passenger's requests are met. To facilitate the process and book these services, contact Airport Assist by MUrgency at Venice Airport. They will provide you with all the information and services you need at the airport, so you can have a pleasant and comfortable trip.
The beauty of Airport Assist by MUrgency is that is available worldwide. You can book airport services at any airport. Simply, get in touch with them here and enjoy air travel in a time saving and enjoyable way.
Liked the article? We would love to know your comments/feedback. Drop in a message, in the comments box below or feel free to get in touch with us at MUAirportAssist@MUrgency.com.
---
---