---
Airport Assistance To Get Back In Time With The Family & Be Well Rested For Holidays
---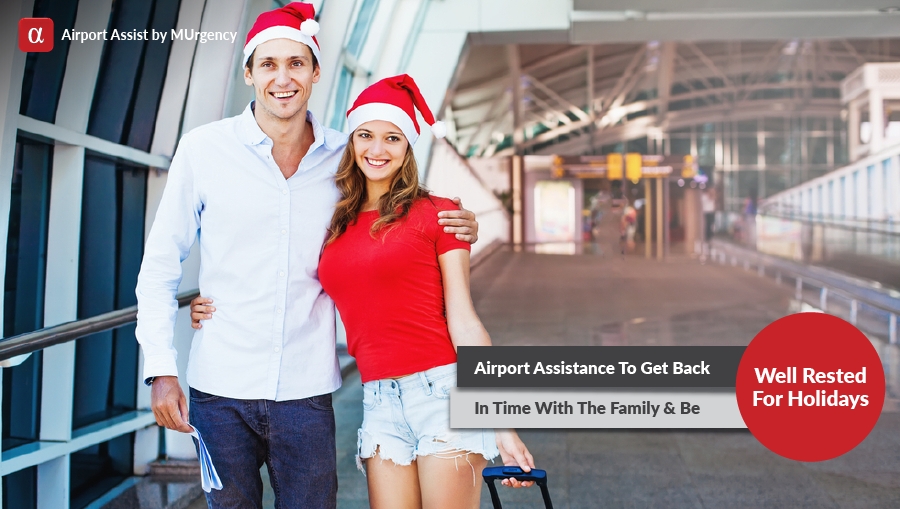 ---
Flying is the quickest way to fly out to spend Christmas and the holiday season with friends and family. The biggest hassle is the chaos, crowds, long lines, delay flights, cancelled flights, and a litany of air traveling woes during the busiest time of the year. We are offering novel ideas to beat this pandemonium and be relaxed during the holidays. Airport assistance is a Christmas miracle in more ways than one for air travelers.
There's a major misconception about airport assistance; many believe it is restricted to wheelchair assistance. However, it includes a host of airport services to ease air traveling stress for executives, corporates, elderly, physically disabled, students, moms traveling alone with kids, celebrities, and regular passengers. Such as:
Fast Track
VIP Concierge
Meet & Assist
Lounge Access
Baggage Handling
Transfer Assistance
Limousine Pick Up & Drop Off
Unaccompanied Minor
Travel Insurance
Boarding Pass Holding Service
Airport Access Service
Airport Shuttle
Medical Insurance
Car Rental
Airport Taxi
Parking Assistance
Baggage Delivery Service
Meet & Greet
Flight Check In
Seat Change
The beauty about these airport services is that anyone can avail it. Also, depending on your budget, you can avail of different service class that is a combination of various airport services, such as:
Bronze
Business Class
Coach Service
Corporate Assistance
Emerald
Executive
First Class
Flying Companion
Gold
Pearl Assist
Platinum
Priority Pass
Ruby
Saphire
Silver
VIP Service
During the holiday season, the number of business trips reduces and there's an evident spike in families and friends traveling. The spirit of Christmas is such that is draws people closer and bygones are bygones. It is that time of the year where love is all around us, and we want to share it friends and family. So, when flying out to meet them, don't let airport chaos drain you off the spirit of Christmas. The above mentions airport assistance services are available to:
Airport Assistance For Elderly/Seniors
Several grandparents fly out to spend Christmas or the holiday season with their families. The sweetest thing, but it comes at a cost of passing through crowded airports. They can book a meet & greet service; where the representative will personally escort them from the boarding gate to the exit. Great service if you are navigating through a large airport. Some airports are massive, so it helps to book cart transportation in the airport.
Airport Assistance For Moms Traveling With Kids
Large, busy airports can be a nightmare for families with kids, worse so, if moms are traveling alone with children. The above-mentioned, meet & assist is a great service for moms as you can leave the navigation of the airport to the representative. In addition, they know the airport inside out, so they can direct you to a nursing or play area too. Fast track airport service is the best service to get the kids from boarding gate to exit or terminal gate to the boarding gate within minutes, instead of an hour.
Airport Assistance For Physically Disabled & Differently Abled
From the parking lot to the boarding gate, airport assistance will serve you. You can request for parking assistance, airport shuttle, baggage handling, baggage delivery, holding your boarding pass, lounge access and meet & greet. You can request to visit a medical station or the pharmacy or request for an attendant to help the passenger in any way. Airport services can be customized to meet the needs for the passenger. Do not hesitate to request for services that are not mentioned in the above list.
Airport Assistance For Non-English Speakers
If you are visiting friends and family in a foreign country for Christmas, you can request for a translator to escort you through the airport services. No matter the language barrier we are here to bridge the gap.
Airport Assistance For First-Time Flyers
Christmas and the holiday season is a perfect time to tightening relationships. It is said that distance makes the heart fonder, and during this time of the year, the distance is reduced. It pushes us to unite with our friends and families, even if it means taking the plane for the first time. Don't fret, have a relaxed flight by booking any of the services such as fast track or meet & assist or lounge access, which eases the stress of air traveling.
Airport Assistance For VIPs
If you are traveling for work or you love traveling during Christmas and you love doing it in style, get airport assistance for VIPs. It includes celebrities, executives, corporate groups, sports personalities, diplomats and models. This service ensures you pass through the airport in complete privacy and enjoy the perks at the airport lounge. You are entitled to swift, comfortable, and luxurious passage through the airport.
You can book any of these services at one place and get served at any airport in the world. Airport Assistance by MUrgency offers personalized airport services in 136 countries in the world. We are proud to assist you during Christmas and the holiday season, so you can be relaxed with your friends and families.
To book the services click here. Travel right, travel effortlessly.
Liked the article? We would love to know your comments/feedback. Drop in a message, in the comments box below or feel free to get in touch with us at MUAirportAssist@MUrgency.com.
---
---