---
Alternative Airports At The Top 8 Summer Destinations Help You Avoid The Crowd At Airports
---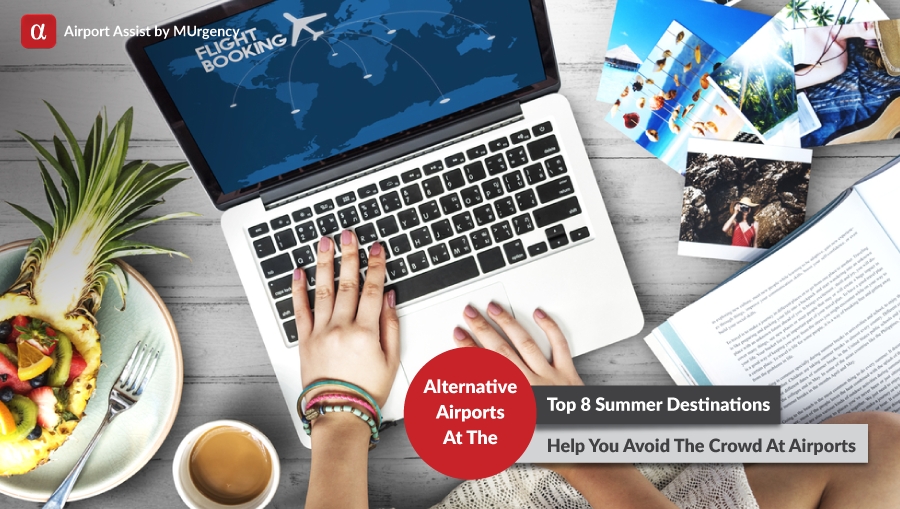 ---
Planning your summer vacation? Take into account alternative airports at favorite summer destinations such as New York, Bali, Rome, Greece, Paris, Amsterdam, London, Barcelona, Thailand, and Jamaica. The reason being: cheaper flight tickets, avoid the crowd, and shorter lines at check in, passport control, security, and customs. During summer, airports are stressful, which can drain the excitement from your vacation. So, why not book flights to an alternative airport near these popular summer vacation destinations. Following is a list of airports that ensures a smooth, easy and relaxing trip.
New York
The John F. Kennedy International Airport (JFK) is the primary airport serving the bustling New York city. However, it is one of the busiest airports in the world and busier during summer and holidays. To avoid the rush and have a stress-free trip, book your flights to and from the neighboring airports. Such as:
LaGuardia Airport (LGA), which is situated at the northern part of the New York City borough of Queens.
Islip or Long Island MacArthur Airport (ISP), which is based at Long Island, in Ronkonkoma, Town of Islip.
Stewart International Airport (SWF) is approximately 60 miles north of Manhattan and situated at southern Hudson Valley, west of Newburgh, New York
Rome
The city of Rome has intrigued many for centuries and the allure of Rome continues till today. Rome and Italy welcome numerous tourists from all over the world during summer. This leads to frustratingly long lines at all airport procedures at the Leonardo da Vinci International Airport or Rome Fiumicino Airport (FCO). However, modify your itinerary to land in Italy at these alternative airports:
Florence Airport, Peretola (FLR) or Aeroporto di Firenze-Peretola was formally Amerigo Vespucci Airport. This international airport serves the capital of the Italian region of Tuscany.
Venice Airport Marco Polo (VCE) is the gateway to one of the most romantic cities in world.
Milan–Malpensa Airport (MXP), formerly City of Busto Arsizio Airport is the second busiest airport in Italy.
Athens
It is one of the most picturesque summer destinations in the world. Sun kissed beached, amazing culture, great food and wine, and excitement. Athens, Greece has the perfect combination of fun in summertime. However, the Athens International Airport "Eleftherios Venizelos" (ATH) sees an influx of tourists in summer. But you can make your way to either of the Greek airports:
Mykonos International Airport (JMK) serves the Mykonos Island—a popular destination for tourists.
Syros Island National Airport (JSY) caters to the Syros Island in Greece and also called Syros National Airport 'Demetrius Vikelas'.
Milos Island National Airport (MLO) is situated at Milos, which is an island in the Cyclades.
Paris
Come summer, this French city will be bursting with activity, life, culture and love. Paris has always been a romantic and summer destination with ever nationality. People from all over the world make a beeline to the France's busiest and largest airport, the Paris Charles de Gaulle Airport (CDG) or Roissy Airport. However, to accommodate this influx for passengers, Paris has alternative airports to ease the summer rush.
Paris Orly Airport (ORY) or Orly, is an international airport located partially in Orly and partially in Villeneuve-le-Roi, 7 NM south of Paris, France.
Beauvais–Tillé Airport (BVA) is known as Paris-Beauvais Airport. It is an international airport near Beauvais.
Amsterdam
The weather is perfect in summer in Amsterdam, which makes it a great destination to unwind and relax. A vacation in Amsterdam is perfect for friends, solo travelers, and family. However, to beat the rush at Amsterdam Airport Schiphol (AMS) direct your itinerary from this airport and breeze through it:
Eindhoven Airport (EIN) is the second largest airport in the Netherlands.
Barcelona
Spain has the perfect combination of culture, wine, food, sun, and beaches. If you wish to avoid the crowds at the Barcelona–El Prat Airport (BCN) here are few alternative airports near Barcelona.
Reus Airport (REU) is located by the beaches of Costa Daurada.
Girona–Costa Brava Airport (GRO) is easily accessible to the Costa Brava and the Pyrenees.
Thailand
This is favorite destination for Asian, Australians, and New Zealanders. This top summer destination attracts a lot of people and the best gateway to this paradise is through the Suvarnabhumi Airport (BKK). However, the other option is: Don Mueang International Airport (DMK).
Jamaica
You can never go wrong with a vacation on Jamaica's beaches and relaxed atmosphere. It is just what you need after months of working. Jamaica's life and nature attracts tourists from far and wide. Sangster International Airport (MBJ) is the main hub for international flights arriving and departing from Jamaica. However, Norman Manley International Airport (KIN), formerly Palisadoes Airport is a great alternative and serves Kingston.
Airport Assist by MUrgency is aware of the long lines and crowds at top summer destinations in the world. So, we are offering a relaxed and time saving airport assistance services that promises swiftness, comfort, and ease. We provide fast track, meet & assist, VIP service, lounge access, and much more at 135 countries and at more than 626 airports in the world.
You can book these services from:
Website: AirportAssistbyMUrgency.com
Service Booking Form: https://www.murgencyairportassistance.com/service
Email Us: MUAirportAssist@MUrgency.com
Call: + 971 50 462 7611
Liked the article? We would love to know your comments/feedback. Drop in a message, in the comments box below or feel free to get in touch with us at MUAirportAssist@MUrgency.com.
---
---