---
10 Airport Services For Hajj Travelers When Returning Home From Jeddah
---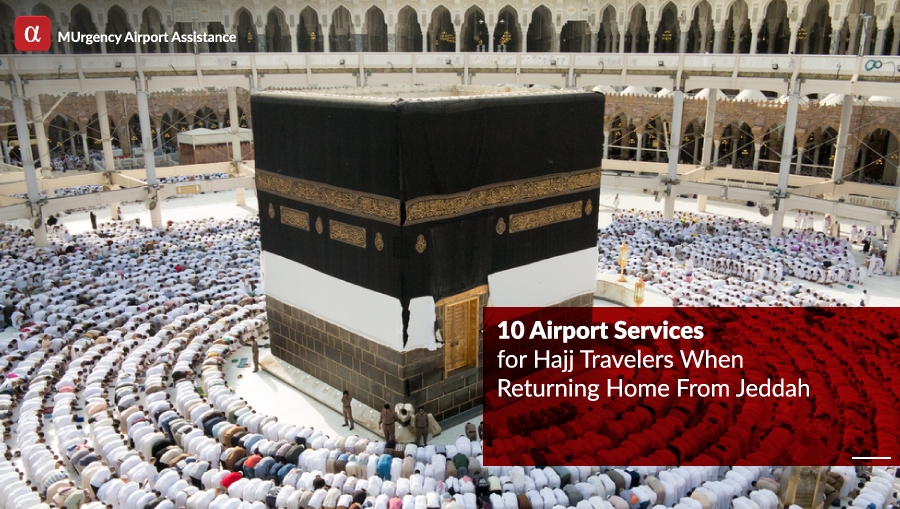 ---
At the end of the Hajj pilgrimage, you are bursting and glowing with the experience, happiness, and calmness. But a part of you is tired and exhausted and dreading to pass through the chaos at the King Abdulaziz International Airport (Jeddah airport). For most pilgrims the journey back home is long one. If you have a layover at Dubai, which is an important and one of the busiest transit destination for many airlines, you are bound to bump into the rush of passengers.
However, your home bound journey can be different. You can travel back home in a relaxing, comfortable, and luxurious way. The following services make you feel like a VIP and create a bubble apart from the pandemonium at the Jeddah airport.
When at Hajj Terminal at King Abdulaziz International Airport there are some facilities that service Hajj pilgrims.
prayer areas
rest areas
banks
currency exchanges
post office
telephone facilities
markets
restaurants
general information desks
airline information counters
medical clinic
first-aid services
The Jeddah airport has designed a special Terminal for VIPs. It is an exclusive terminal fit for royalty. As the name suggests, the VIP Terminal is reserved for kings, heads of state, official guests, and VIPs.
However, the Jeddah airport also offers services and facilities that cater to families, elderly, and differently abled passengers. These services promise convenience, comfort, and priority services that bypasses the airport rush.
Fast Track: It is ideal for families, elderly and VIPs, and those with special needs. This service ensures you reach the boarding gate within minutes and you receive preference at security, immigration, and customs. Whether you are traveling from Jeddah during peak Hajj and Umrah season or traveling to Jeddah for business, fast track is the best way to avoid lengthy lines at the airport.
Meet & Assist: This is a great service for Hajj pilgrims, first time fliers, elderly traveling for the first time, or even business travelers. A personal concierge will meet and greet the pilgrim or business traveler at the Terminal gate or driveway and escort them through the airport procedures to the boarding gate. Book this service.
Airport Lounge: If you want to escape the hustle and bustle at the departure terminal and relax in peace and quiet, get access to the airport lounge. In the North Terminal, you have the 24 hours First Class Lounge at the airside. The lounge is air conditioned and it is accessible to the disabled. The lounge has fax, internet, telephone, television, newspaper, magazines, and a flight information monitor. To buy airport lounge pass and access, click here. The South Terminal has the Al-Fursan Golden Lounge also at the airside.
Airport Limousine: Get a comfortable and timely ride to the airport. With this service, the chauffer driven vehicle of your choice will pick you up from your hotel and drop you off to your departure terminal. Your bag and baggage will be in tow. Get this service for Jeddah Airport here.
Disability Assistance: The King Abdulaziz International Airport is designed and equipped to accommodate disabled and differently-abled passengers and make them feel comfortable. You can book assistance for medical and cognitive disabilities too. These are some of the medical services available at Jeddah airport:
Wheelchair assistance
Medical oxygen
Seating accommodations
Cognitive and developmental assistance
Assistance for deaf or hard of hearing
Assistance for blind or low vision
Airport Assistance for Elderly: Airports are tiring and stressful for elderly, especially if the airport is unfamiliar to them. However, Jeddah Airport offers elderly assistance from escorting them with their luggage to attending to any medical requirements. The representatives are trained to offer care and support any way possible. Book this service.
Airport Assistance During Layover At Dubai Airport: Flights heading towards other cities in Asia, especially if you are flying with Emirates, is bound to stop over at Dubai. But this is one of the busiest airports in the world and receives a large number of transit passengers. So, to avoid the crowd and travel peacefully through the Dubai airport, book services such as:
Fast Track
Meet & Assist
VIP Concierge
Lounge Access
Cart Transport Between Terminals
Baggage Handling
Connecting Flight Accommodation
Upgrade & Re-booking For Flight Tickets
Escort To Aircraft
Flight Monitoring
Airlines Operating at Jeddah Airport
When you are flying from Jeddah or the King Abdulaziz International Airport, these are the airlines that depart from the airport.
| | | |
| --- | --- | --- |
| Air Afrique | Air Algerie | Air France |
| Air India | Alitalia | Air Mauritius |
| Bangladesh Biman | British Airways | Cameroon Airlines |
| Cyprus Airways | Dallo Air | Egypt Air |
| Emirates | Ethiopian Airlines | Garuda Indonesia |
| Gulf Air | Iran National Airlines | KLM Royal Dutch Airlines |
| Kuwait Airways | Kenya Airways | Libyan |
| Lufthansa | Malaysian Airlines | Middle East Airlines |
| Nigerian Airways | Olympic Airways | Oman Aviation |
| Pakistan International Airlines | Palestinian Airlines | Qatar Airways |
| Royal Air Maroc | Royal Brunei Airlines | Royal Jordanian |
| Saudi Arabian Airlines | Singapore Airlines | Somali Airlines |
| Sudan Airways | Swiss Air | Syrian Arab Airlines |
| Trans World Airlines | Tunis Air | Turkish Airlines |
| Uzbekistan Airlines | | |
During the Hajj season, Jeddah airport is a nightmare. You have to wait in long lines at each point and jostle through the passengers to reach the boarding gate. This experience takes away from the spiritual Hajj experience, but the above facilities and services offer a haven for Hajj pilgrims. These services make the life of business travelers easier during this season.
Airport Assistance by MUrgency is an airport service provider present at Jeddah and Dubai airport and other 626 airports in the world. We offer affordable and professional airport services for Hajj pilgrims and business travelers departing from Jeddah airport. Leave your details and requirements here and ensure promptly serve.
The Jeddah airport services are just what you need to have a comfortable and content air travel experience. Have a blessed pilgrimage and a safe relaxing journey home.
Liked the article? We would love to know your comments/feedback. Drop in a message, in the comments box below or feel free to get in touch with us at MUAirportAssist@MUrgency.com.
---
---