---
Services For Those Flying For Graduation & Graduates
---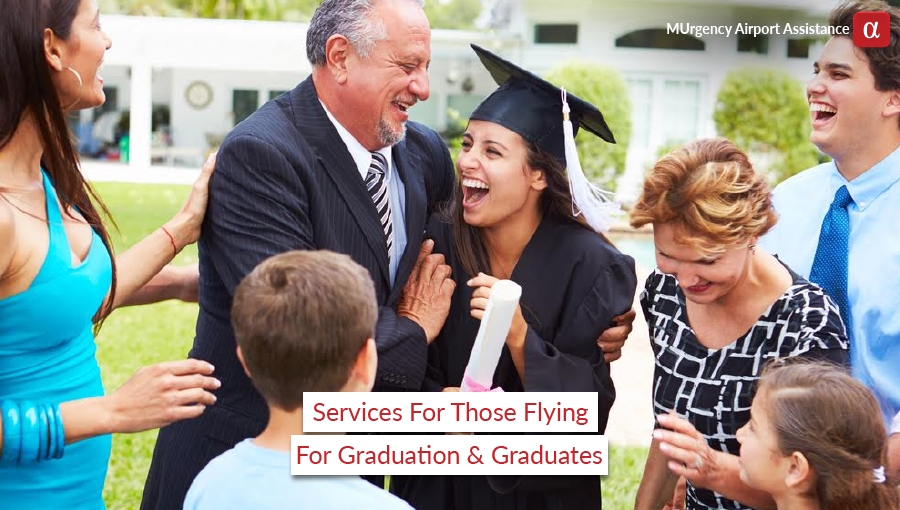 ---
Graduation is a proud moment and big day for parents and grandparents. And it is a major step for young adults entering a competitive world. Many will be flying in to witness and celebrate their child's or grandchild's graduation. To make it an enjoyable trip, MUrgency Airport Assistance offers services to suit all your travel needs. Graduates can also avail of airport assistance for their after-graduation vacation for a complete fun and relaxing time. These are the services apt for graduates, parents, and grandparents.
Parents: Graduation is a proud moment for parents. Their children's efforts have paid off and trained to take the next big step—post graduation or a job. Air travel is turning into a stressful situation. However, airport assistance such as meet and greet, personal escort, fast track, and lounge access are some of the services that will make air travel a pleasant experience.
Parents can also get check-in assistance and luxury services for a trip without problems.
Grandparents: Airport rush and the experience of air travel can be daunting, worse so for first-time fliers. It may be a turn off from attending your grandchild's graduation. However, airport assistance services is what you need for a smooth and hassle-free passage at the airport.
Get end-to-end services, so you don't have to stress over airport procedures and standing in long lines. Start off with limousine service, which will pick you up from your location and ensure you make it to the airport on time. Personal escort service entails meeting and greeting you at the curb, and the fast track services ensures you avoid the lines at check in, security, etc. The porter service will assist you with your luggage.
For first-time fliers, airport assistance is the best way to get around the airport and its processes. Non-English speakers can avail of translators to usher them through the airport. Special requests are also accommodated that can include safety assistance, wheelchair assistance, special meals, and medical requirements.
Graduates: After months and years of hard work, a vacation is what you need before going off for further studies or get a job. Airport assistance such as limousine service, lounge access, and special requests can make air travel a lot more relaxing and enjoyable.
Graduation is a big deal for families. So, we want to ensure families have a comfortable time at the airport. You can book any of these services here and expect a problem free trip.
Liked the article? We would love to know your comments/feedback. Drop in a message, in the comments box below or feel free to get in touch with us at MUAirportAssist@MUrgency.com.
---
---